Questcor Pharmaceuticals (QCOR) is the maker of FDA approved Acthar Gel. Acthar is a hormone and has been proven to speed recovery from MS relapses. It works by helping the body produce natural steroid hormones to reduce inflammation. Its a prescription medication containing the hormone adrenocorticotropin ("a-DRE-no-cor-ti-co-tro-pin"), also known as ACTH. Acthar is one of the first effective medications approved by the FDA for the treatment of acute relapses of multiple sclerosis (MS) in adults. Controlled clinical trials have shown that Acthar is effective in speeding the resolution of acute relapses of MS. There is no evidence, however, that it modifies the progression of the disease.
Recently, the company's stock has collapsed from the $50 level to $18 - $19. It seems to have stabilized now. See chart below. When fear strikes, stocks can fall and this might have been exacerbated by what is known in the industry as a "Bear Raid" and then investor capitulation (panic) brings the shares to what I would call extremely oversold at these levels.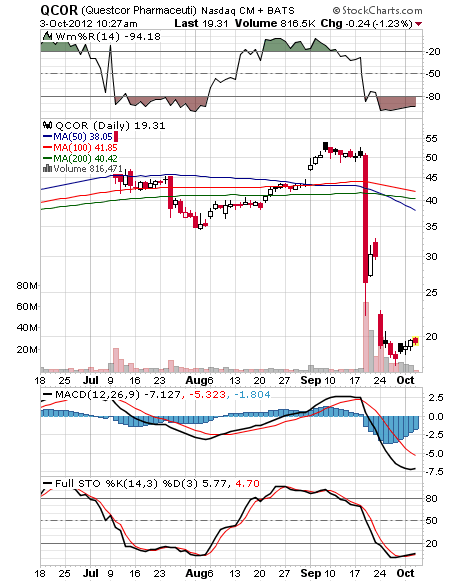 First of all, as with any pharmaceutical company, you are buying into the management and the pipeline of drugs in biotech stocks. From all indications and due diligence, this company seems to look solid and the management appears to be very strong as well. So, despite some report giving great concern's over a drug and its policies (because they are probably in cahoots with the "shorts") the product seemed to be doing well. That's why the stock had previously risen from the teens to over $50. It all makes sense, except for the Bear Raid by powerful hedge funds. That's what they are capable of doing. They work their agenda. Let's look deeper here at what the company has to say since they are more in tuned to what the real story is here.
Due Diligence - Key Points By Management:
Don Bailey, CEO - Comments to Investors:
Since the July earnings call, we have continued to make significant progress with our business. Sales and prescription performance continues to improve and vials shipped during the quarter continued to be strong.
Company has completed the expansion of their nephrology and neurology sales forces and initiated a pilot selling effort in rheumatology, using the same formula that worked so well with MS and nephrotic syndrome.
Prescriptions are coming in as a result of our pilot rheumatology effort, focusing on Acthar, polymyositis and dermatomyositis indication.
Company is seeing prescriptions beginning to get paid and shipped.
Company recently announced a positive development regarding our Medicaid rebates.
Most importantly, since that July call, many more patients who had essentially run out of treatment options across multiple FDA approved Acthar indications have been helped with Acthar. We remain committed to helping patients with serious, difficult-to-treat autoimmune and inflammatory conditions. It is this core focus that drives us to further invest in building our scientific and clinical understanding of our unique drug Acthar, and to further educate healthcare providers on its appropriate role in helping patients.
Stephen Cartt, COO - Comment To Investors:
First and foremost insurance reimbursement continues to be very good for Acthar and MS relapses, Nephrotic Syndrome and IS.
we hear many reports from doctors that Acthar treatment is producing very positive results in patients.
For MS exacerbations, there are only two FDA approved therapies. They are steroids and Acthar. All these factors are contributing to the rapid increase in Acthar usage and to our continuing "solid insurance coverage".
Acthar is a highly specialized, very low volume, premium priced drug, used for devastating conditions that are well recognized as being particularly tough to treat. We do not claim in any way that Acthar should compete with or superior to primary drugs such as IV steroids for MS relapses.
Acthar should actually be withheld just for those patients who have already been through the primary treatment regimens and the doctor determines that the patient still requires another treatment approach.
Once the patient and physician chooses Acthar as a treatment patients are typically handled on a very intensive, case-by-case basis through the entire reimbursement process.
Prior authorizations are the norm rather than the exception.
Initial denials by insurance are frequent.
Following these denials, the coverage decisions are often appealed successfully provided of course that the patient has already attempted one or more primary treatments particularly when there are no FDA approved treatment options available.
Company has a team of over 30 reimbursement specialists fully dedicated to the effort to handle the reimbursement process for an Acthar prescription.
A number of plans over the last five years have ratchet up coverage criteria and yet through our support programs and appropriate patient targeting, we have continued to successfully ensure coverage for our patients.
Company works very diligently about educating the prescribing offices about what to expect in the reimbursement process when prescribing Acthar.
Acthar is typically approved for coverage and shipped to the patient.
Company is very experienced on how to manage this process for prescribing doctors and patients in need successfully.
Company stated that their results to-date have been very good.
Questcor cannot stress enough that they are only pursuing those patients who needed an additional FDA approved treatment option having tried the primary treatments unsuccessfully.
Summary: Company officials are confident and stand behind Acthar and its policies. There is a concern over insurance coverage from firms like Aetna (NYSE:AET), however it doesn't seem ethical for carriers to turn away patients in need of their approved medication, especially those already being covered. The recent drop in shares has already priced an unfavorable outcome following the report and investigation that I strongly believe has been backed by the "shorts." The upside appears to be greater over the next few months and may outweigh further the downside risks. Look at the chart. It appears to be setting up for a reversal once nerves have been calmed a bit. The management of Questcor anticipates that insurance coverage for Acthar will continue to be available for such patients through their health insurance plan. In the meantime, all this fear has quite possibly created a very good buying opportunity for those who can endure the risks.
Also - the company is showing confidence by announcing a new stock dividend and a doubling of the current stock repurchase program, from 3 million left on the last one to a total of 7 million shares.
Disclosure: I am long QCOR. I wrote this article myself, and it expresses my own opinions. I am not receiving compensation for it (other than from Seeking Alpha). I have no business relationship with any company whose stock is mentioned in this article.