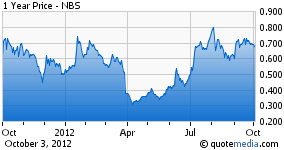 2012 has been the year of cell therapy. It seems like overnight the perception and outlook for this transcendent space has went from non-existent to one of the bright spots of biotechnology. We have watched as companies in the space have traded higher by large margins and as clinical data has proved that the use of regenerative medicine is in fact the best treatment to curing diseases that were once considered incurable. There have been several companies responsible for this change in sentiment, but none poised to benefit more than NeoStem (NBS) due to its diversified presence in the space.
NeoStem is a pioneer in the future of cell therapy and is now the first company that comes to mind when we think of the future concerning this space. It is a small company with a $105 million market cap but has a well-documented and diversified presence in the industry. As a long-term investment, NeoStem's upside has been made evident with its presence in the clinical and manufacturing segments of cell therapy. But short-term, the stock also looks ready to pop, specifically in the month of October due to a number of key presentations that will begin on October 4.
Earlier this week the company announced that it would be presenting at several important conferences. The first will be on October 4 at the RetailInvestorConferences.com, a conference that reaches tens of thousands of active and engaged individual investors each month. NeoStem will present with a variety of other companies in a large range of industries such as the oil and gas company Vanguard Natural Resources (NYSE:VNR), the financial company TCP Capital (NASDAQ:TCPC), and one of the best performing consumer companies, Reed's (NASDAQ:REED). Therefore, this presentation will reach investors that far exceed those interested in cell therapy. As a result, NeoStem will be given the opportunity to explain its value, upside, and its many catalysts that are forming its future. This particular conference will be very important and could lead to significant upside, with 81% of the participants being long-term investors (according to RetailInvestorConferences.com), therefore making the stock's reaction worth noting.
Next week the company will present at The RedChip 15th Annual Fall Small-Cap Conference in San Francisco, California. This particular conference is much smaller but is considered an important venue for small cap companies looking for institutional investors. The companies invited all have promise and exciting technology, and are all battling for the support of the wealthy investors who come and are looking for a hidden gem. I believe NeoStem will impress at this particular conference, although the company is complex, it is not difficult to identify its upside once its presence in the large fast-growing industry is explained.
The final two conferences of the month will be a celebration of regenerative medicine and cell therapy with the industry's elite. Both the "Regenerative Medicine Foundation 2012 Conference" and the "2012 Stem Cell Meeting on the Mesa" will be important for building relationships with potential investors, companies, and with scientists and analysts. Over the years important collaborations have been created and these two conferences serve as the perfect opportunity for these companies to all learn from competitors, so that they may reach a common result, which is to cure incurable diseases. In the process, it is a good opportunity for NeoStem to attract new clients to its manufacturing segment (PCT), along with new investors to its stock.
With four public, and largely followed conferences this month, NeoStem is well positioned for large returns throughout the month. The company will most likely provide information on its PRESERVE Phase II clinical trial of ARM-001 for the treatment of acute myocardial infarction and could possibly gain new clients for its manufacturing segment due to the success and barriers it has crossed in the last year. Other than these two potential catalysts, I don't know what the company will present. I find it interesting that the company is presenting at four conferences, so close together. It seems reasonable to suggest that some news could arise from one if not all of these conferences. Tomorrow, I look for the company's CEO Dr. Smith to put her best foot forward and focus on the potential for this company, especially considering the number of people who follow the conference.
The stock is currently trading around its support, therefore indicating minimal downside in the foreseeable future and significant upside due to upcoming catalysts. NeoStem has maintained a market cap around $100 million for the last three months, after doubling in size over the last six months. The company is undervalued considering its $77.20 million in revenue throughout the last year and its growing clientele in the manufacturing segment of its business. The stock is currently priced near its 20 and 50 day simple moving average and is oversold by all technical indicators, therefore the timing of the upcoming conferences could serve as a great catalyst to push the stock higher, possibly into a new range.
The only risk I foresee over the next month is market related rather than company related. I don't expect Dr. Smith to announce anything negative, but if the market begins to trend lower then it could affect the stock price of NeoStem. The S&P 500 is currently trading at 1451.60, near multi-year highs, and most would agree that its recent rally has been somewhat confusing. The global economy remains uncertain, U.S growth has been slowing, unemployment is dismal, and expectations for this upcoming earnings season have continuously been revised lower. Therefore, it is possible that a correction takes place and the markets trade lower. But then again, the markets have been flat since 2000, and we have seen improvements over a course of many years. As a result, it is possible that the markets are posting a correction higher, and that this rally could continue. If so, this would serve as additional support for NeoStem, possibly taking shares even higher if indeed the upcoming presentations create some sense of optimism.
The purpose of any conference is to provide information to potential and current investors, prospective partners, and to promote the company to a new audience. Therefore, with four conferences, NeoStem will expand and reach investors that were previously unaware of its company. And with the progress in the space, its technology, and its upside, the company could very well see gains in the month of October, making it a stock to watch. The key will be to determine which conference may result in strong buying pressure, or when the stock may rise. At the company's current price, coupled with the upside potential that is being presented, I feel it is a buy, both long and short-term.
Disclosure: I am long NBS. I wrote this article myself, and it expresses my own opinions. I am not receiving compensation for it (other than from Seeking Alpha). I have no business relationship with any company whose stock is mentioned in this article.
Additional disclosure: The material in this article is for informational purposes only and should not be used to determine any investment decisions