Alcoa (NYSE:AA) reports their calendar 3rd quarter, 2012 financial results after the bell next Tuesday, October 7th, 2012, with analyst consensus looking for $0.01 in earnings per share (NYSEARCA:EPS), (versus $0.15 a year ago), on $5.6 bl in revenues, for a 14% decline in revenue growth year-over-year.
Alcoa kicks off earnings season every quarter for the S&P 500 and this October is no exception.
AA has been a massive underperformer, up just 1.5% this year (as this preview is written) versus the S&P 500 +15% - 16% through the 3rd quarter, and down 45% in 2011.
While Alcoa's CEO Klaus Kleinfeld is doing his best to contain costs and to try to improve cash-flow, the fact is there is still too much aluminum in inventory relative to demand, and pricing continues to be soft.
The downward revisions to earnings estimates have been frightening: (The following table is 2012 and 2013 eps estimates as of month ends)
Oct 3'12: $0.23 and $0.72
Sep'30'12: $0.23 and $0.72
Jul31'12: $0.29 and $0.74
Apr30'12:$0.56 and $0.94
jan31'12: $0.53 and $0.95
Oct31'11: $1.03 and $1.23
Those are frighteningly large reductions for 2012 (almost 80% reduction) and for 2013, the estimate has declined about 52% over the last 12 months.
The key question is - have the fundamentals bottomed?
Technically, Alcoa continues to trade around its multi-year low hit in early October, 2011 near $8.40, and although the stock has been lower, it has not stayed below $8.40 for long. We would definitely like the stock to hold these current levels - another test of $8.40 and we will likely re-test the Great Recession lows near $5. A trade above $9.38 and $11.30 and the stock will have traded above key technical levels on the weekly chart.
From a valuation perspective, AA is pretty attractively valued, if you are a "deep-value" investor who likes to be patient. With current eps estimates of $0.23 and $0.72 per share from 2012 and 2013, AA is trading at 12(x) 2013's p/e (we do not think 2012 is relevant at this point), but more importantly, AA is trading at 0.40(x) price-to-sales (assuming no big change in share count) and 5(x) price to cash-flow.
The most compelling valuation metric is AA's book value: with tangible book value (shareholders equity less goodwill divided by shares outstanding) of $11.04 per share as of June 30th, AA is trading 80% of tangible book value.
We really need to see the long-term aluminum price start to improve as it has traded around $1.00 for some time, while most analysts have $0.90 in their valuation models. Maybe it will take a European economic recovery or maybe it will require less alumina mining in China, or a combination of both to jump-start the stock.
We are not expecting anything positive from the q3 '12 earning report, but AA does begin to lap easier comp's in q4 '12 (it was in q3 '12 that forward earnings estimates really started to fall off the cliff.)
We sold AA from taxable accounts to book the loss earlier this summer but still maintain a position in the stock in tax-deferred accounts. For us, AA represents a deep-value position, and as long as the stock doesn't trade below $8.40 again, we will likely continue to hold.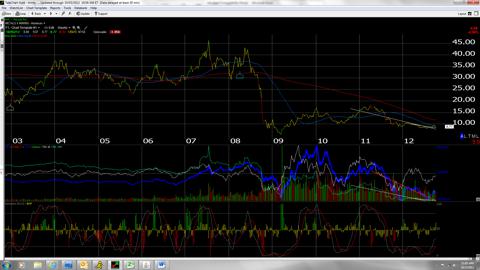 Click to enlarge
Disclosure: I am long AA. I wrote this article myself, and it expresses my own opinions. I am not receiving compensation for it (other than from Seeking Alpha). I have no business relationship with any company whose stock is mentioned in this article.