In theory, the exchange traded fund price war seems like it would benefit investors. Investment provider Charles Schwab has recently undercut long time low-price leader Vanguard Group in the race to cut ETF fees. However, fees are not the only consideration when it comes to cost.
"A no-brainer, right? Perhaps for some. But for most investors the choice is still pretty complicated. One big reason is that, while previous rounds of price cuts have helped companies like Vanguard Group upend the ETF world, investment fees on most funds are now already so low that other factors like trading costs can often have a bigger impact on investors' bottom lines," Ian Salisbury wrote for SmartMoney.
Charles Schwab has used low fees as a selling point for its ETF line. It began with free trades for in-house brokerages and has since evolved into a fee war among other providers. To date, Schwab now has the cheapest broad-based ETFs trading. Salisbury points to the Schwab U.S. Large Cap ETF (NYSEARCA:SCHX), which will cost investors $4 per year per $10,000 invested, from $8.
"We want to offer investors the lowest-cost solution," says Schwab's Managing Director of ETFs, Eric Pollackov. "It's the one thing we can control."
The choice that investors now face has to do with investing in an ETF or a conventional mutual fund that has a similar investment strategy, but does not charge brokerage fees. The brokerage fees are the expenses that can add up, especially if the investor is adding capital to their investment every quarter.
A commission is not the only other cost that can add up. The bid-ask spread is a big deal for investors because these are small price mark-ups that add up when market makers trade. The cost is carried over to the investor. According to Morningstar, the spread on Schwab's Large-Cap ETF amounts to $3 per $10,000 invested versus $1 for the SPDR S&P 500 (NYSEARCA:SPY), cutting into the Schwab fund's advantage on fees. Less liquid, harder to trade funds that track bonds or emerging markets can reflect these bid-ask spreads.
Overall, an investor has to decide which fund to invest in based on how well it tracks its promised area of the market. No matter how low the fee is, it may not be such a deal if the liquidity or bid-ask spreads cut into returns.
Schwab U.S. Large Cap ETF
(click image to enlarge)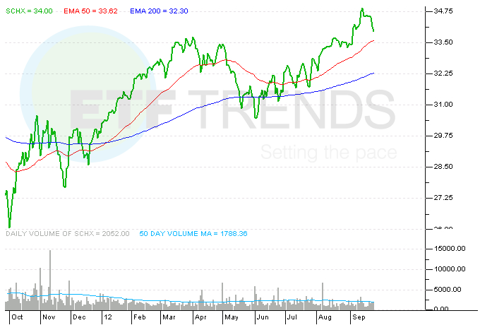 Tisha Guerrero contributed to this article.
Disclosure: I am long SPY. I wrote this article myself, and it expresses my own opinions. I am not receiving compensation for it. I have no business relationship with any company whose stock is mentioned in this article.