In the first part of this series I explained why I expect exports from the U.S. to areas of higher demand to drive natural gas prices. In this part I'm going to elucidate the rapidly growing usage of natural gas as a transportation fuel and the effect I expect it to have on domestic prices.
Several years ago legendary Texas oilman T. Boone Pickens hatched a plan to free the US from its addiction to OPEC oil. The first step of his plan was to take advantage of America's vast wind resources. There is enough wind blowing steadily north through the Texas panhandle to power the entire nation, if you can capture and transmit it. The purpose of developing wind resources was to free up domestic natural gas for transportation. Pickens knew that fracking would yield enough gas to replace diesel in the trucking industry, what he didn't know was that there was enough for both transportation and electric utilities.
Luckily, Pickens hasn't allowed unforeseen changes in America's natural gas production capabilities to derail his plan. The overall goal of the Pickens Plan was, and still is, to liberate America from OPEC oil, and there's a very good chance that the plan will succeed. Clean Energy Fuels Corp. (NASDAQ:CLNE), a company that Pickens founded and still chairs, is rapidly developing a coast to coast network of compressed natural gas filling stations. By the end of next year an 18 wheeler running on Liquefied Natural Gas will be able to haul cargo to nearly every major city across the lower 48.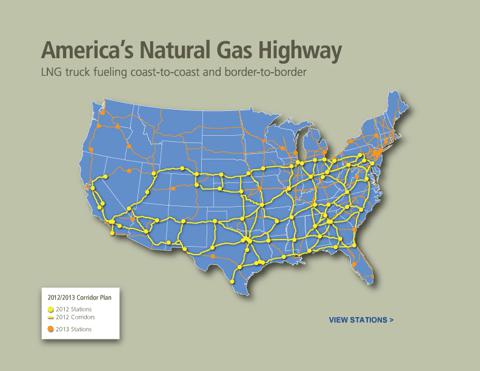 Clean Energy's strategy is to first build out corridors that allow 18 wheelers fitted with natural gas engines to deliver their cargo between major cities across the country.
In fact he not only intends to reach his goal, but to profit from it as well. Pickens currently holds over 18 million shares of Clean Energy Fuels. If that isn't a commitment to achieving a goal, then I don't know what is. Although I'm bullish on Clean Energy Fuels, holding that many shares would be enough to give me a heart attack. The company has been bleeding money while it builds the pumping stations that will provide its main source of income.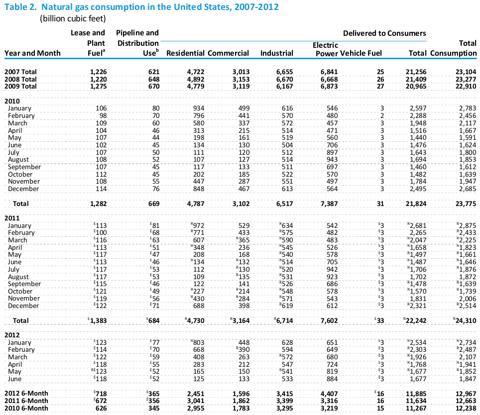 Natural gas as vehicle fuel is on the rise but still only about 0.1% of total consumption.
Natural gas is gaining traction on U.S. highways. The amount of natural gas consumed in the United States as vehicle fuel has been trending upwards since 2007. In their latest 10-Q, Clean Energy Fuels has shown that year on year, gasoline gallon equivalents delivered in the first half of 2012 have increased by about 24%, from 74.7 million in 2011 to 92.3 million in 2012.

Of course, Clean Energy Fuels is not the only company investing in America's future natural gas fueling infrastructure. Shell (NYSE:RDS.A) and Travel Centers of America (NYSEMKT:TA) are also building natural gas pumps at over 100 existing truck stops across the U.S. Once switching rates rise a bit further, bigger players like Exxon Mobil (NYSE:XOM) and Chevron (NYSE:CVX) will no doubt jump on the bandwagon and offer natural gas pumps at their existing stations to avoid losing market share.
Sempra Energy (NYSE:SRE) subsidiary, SoCalGas is adding to the 100 plus public access CNG stations in Southern California, while also engaging the general public to buy CNG vehicles, like the Honda (NYSE:HMC) Civic NG. Not surprisingly, Southern Californian heavy to medium duty fleets have mostly been converted to CNG vehicles that save their operators a fortune. In fact, nearly half of all natural gas consumed as vehicle fuel in the U.S. is sold in California alone.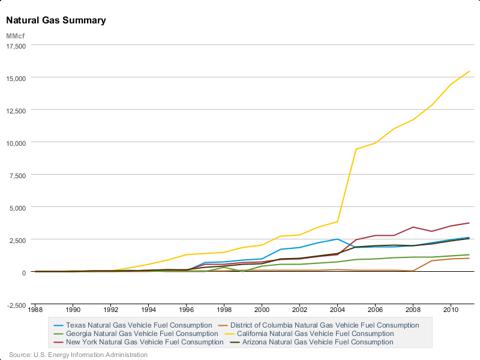 As of 2011 only 5 states and the District of Columbia consumed more than 1 billion cubic feet of natural gas as vehicle fuel.
State and Municipal governments are clamoring for more Natural Gas options from Detroit and I think they will get them. In the meantime, BAF Technologies, a subsidiary of Clean Energy, is converting popular Ford (NYSE:F) utility and cargo vehicles. Currently in the U.S., the only vehicle with a factory installed CNG tank is the Honda Civic NG. General Motors (NYSE:GM) and Ford both sell natural gas capable versions of their models in foreign markets; I suspect they will be bringing them home soon.
In Italy, natural gas vehicle sales are surging. Despite an 20% decline in overall car sales, the amount of new NGVs on the roads is up 90% this year. An economic slump and high gasoline prices (conditions not uncommon in the U.S.) are helping Fiat sell their NGVs just as fast as it can make them. Toyota (NYSE:TM), Hyundai and Mitsubishi, just to name a few, also sell NGV versions of their popular models.
With respect to medium- to heavy-duty vehicles, Cummins Inc. (NYSE:CMI) and Westport Innovations Inc. (NASDAQ:WPRT) have combined resources to build natural gas engines based on already popular Cummins diesel engines. Trucking companies know they're getting an engine they trust that will also save them a fortune on fuel costs. Since 2007 Cummins Westport has sold over 13,000 of its 8.9 liter natural gas engines. In response to demand for more power, it plans to produce a 11.9 liter model in 2013. The vehicles are more expensive, but very popular. I expect that as the availability of natural gas pumps rises, heavy duty natural gas truck sales will outpace diesel in the U.S.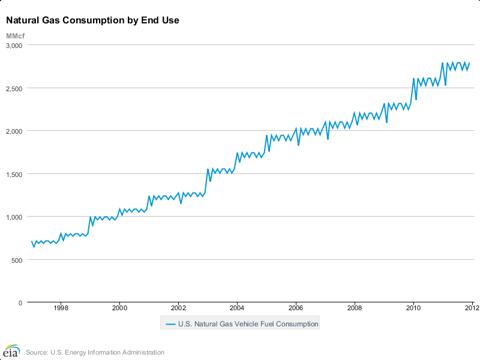 Looking at the chart from the U.S. Energy Information Administration it is crystal clear that there is an upward trend for Natural Gas Vehicle Fuel Consumption. However, nearly half of all the natural gas consumed for vehicle use is within the state of California. There are 11 states that consume none, and a majority of states consume less than 2 MMcf per month. Vehicle fuel currently makes up about 0.1% of total U.S. natural gas consumption. I'm confident that within the next few years that number will grow exponentially and be one of the main forces driving U.S. natural gas prices.
Disclosure: I have no positions in any stocks mentioned, but may initiate a long position in CLNE over the next 72 hours. I wrote this article myself, and it expresses my own opinions. I am not receiving compensation for it (other than from Seeking Alpha). I have no business relationship with any company whose stock is mentioned in this article.