Anadarko Petroleum (NYSE:APC) is reporting record sales volumes and a massive drop in income growth at the same time. In the second quarter of 2012, Anadarko reported selling the equivalent of 742,000 barrels of oil a day, an increase of 20,000 barrels a day over the first quarter. This amounted to a 27.2% increase in sales growth, even though the company reported a whopping 450.4% drop in income growth. This created a negative profit margin of 9.15%
Not surprisingly, figures like this have value investors looking closely at the company. Anadarko is a good company with great resources and good potential that has been going through a rough stretch. That makes it a classic value play, right? Perhaps, or at least the market seems to think so.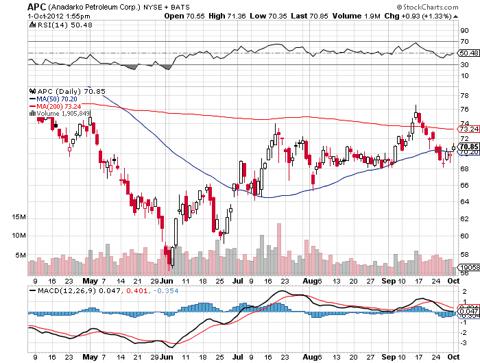 Anadarko's share value has gone up in recent days with some shrewd moves by the company. Anadarko has sold its 30% stake in the ES-M-661 offshore block in the Campos Basin off Brazil to Petroleo Basilerio. Anadarko made that move to reduce debt. It currently has a debt-to-equity ratio of .73%, which seems a little high for an energy company.
Potential in Africa
In spite of this sale, Anadarko still has some interesting cash generating assets. The company has drilled successful exploration wells at the Atum and Golfinho gas fields off the coast of Mozambique. Anadarko estimates this new field might contain between 10 and 30 trillion cubic feet of natural gas. The fields are located entirely within Anadarko's Area 1 Block, which is just 10 miles offshore. The close proximity to the shore will reduce development costs in the area.
Off the coast of Ghana, Anadarko conducted a drill stream test, which found a field that might produce up to 20,000 barrels of oil a day at the Ntomme 2A well. The company plans to submit a plan of development for this deposit to the government of Ghana in the third quarter. Also off Ghana, Anadarko found 43 net of oil and 65 net feet of gas condensate at the Wawa discovery.
Ghana and Mozambique are not the only African plays paying off for Anadarko. The company made a light oil discovery that might contain up to 100 feet of oil pay off the Ivory Coast (Cote d' Ivoire).
In the Gulf of Mexico, Anadarko encountered an estimated 620 feet of oil pay at the Vito discovery. This raises the Vito discovery's potential to 300 million barrel of oil equivalents (BOE) from the previous 200 million BOE.
Growth in the Rockies
Anadarko has also managed to increase its sales volume from fields in the Rockies by 6%. Two oil fields in the Rockies, Greater Natural Buttes in Utah and Wattenberg in Colorado, saw sales volume increases of 20%. Greater Natural Buttes produced 533 million cubic feet of natural gas in the second quarter of 2012, which was 19% higher than the same period in 2011.
Anadarko has also shown that it is capable of reducing drilling costs while increasing production. It was able to reduce well completion costs in Marcellus Shale by 33% in the past year. Savings were even greater in the Haynesville Shale, where it cut costs by 50%, and in the Eagleford Shale, where production costs in 2012 were 40% lower than in 2011.
Anadarko was able to increase its sales volume from the Eagleford field in Southwest Texas by 132% between the second quarter of 2011 and second quarter 2012. The Eagleford field produced the equivalent of 29,700 barrels a day in the second quarter of 2012. The company was also able to increase its production in the Permian Basin by 21% between the second quarter of 2011 and second quarter of 2012. The Permian wells produced the equivalent of 17,700 barrels of oil a day in the second quarter of 2012.
Big Growth in Marcellus Shale
Anadarko's production in the Marcellus Shale in Pennsylvania increased by 165% between the second quarter of 2011 and second quarter of 2012. In the second quarter of 2012, Anadarko was producing 1.2 billion cubic feet of natural gas a day from 340 wells in the Marcellus. Anadarko also has three wells in production at the Utica Shale in Ohio.
The Utica and Marcellus Shale gas fields might give Anadarko the opportunity to start selling liquefied natural gas for export. Dominion Resources (NYSE:D) has plans to develop a liquefied natural gas (LNG) export facility in Calvert County, Maryland. This facility is within easy reach of Anadarko's Marcellus wells.
Mystery Partner in the Gulf
Anadarko is also planning to resume its development drilling program in the Gulf of Mexico. The company signed an agreement with what it calls an undisclosed third party that will finance $556 million worth of capital costs in the Lucius property in the Gulf. Obviously, this brings added risk because the identity of the third party is unknown. This lack of transparency and "trust us, we know what we're doing" attitude is troubling in light of the Chesapeake Energy (NYSE:CHK) meltdown.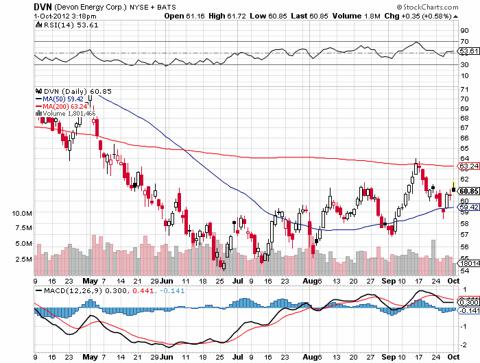 Note: The chart is just for comparison. I have no reason to believe that Devon is Anadarko's mystery partner in the Gulf.
Anadarko has demonstrated a capability to increase sales and lower costs. Yet it still has a negative income, unlike competitors such as the Apache (NYSE:APA), EOG Resources (NYSE:EOG), Noble Energy (NYSE:NBL), and Devon Energy (NYSE:DVN). This makes Anadarko an interesting, but risky value play in the energy sector. If it can continue its sales growth, Anadarko could be the best bargain in energy.
Disclosure: I have no positions in any stocks mentioned, and no plans to initiate any positions within the next 72 hours. I wrote this article myself, and it expresses my own opinions. I am not receiving compensation for it (other than from Seeking Alpha). I have no business relationship with any company whose stock is mentioned in this article.