In looking for future winners among small caps, I searched for stocks with very strong growth prospects. Those stocks would have to show stable financial conditions and generate positive free cash flow. However, in order to find the proper moment for an opening position, a technical analysis with a momentum indicator can be of great assistance for investors.
I have described a screening method, which shows stock candidates following these lines. Nonetheless, the screening method should only serve as a basis for further research.
The screen's formula requires all stocks to comply with all following demands:
The stock is included in the Russell 2000 index. Russell Investment explanation: "The Russell 2000 Index measures the performance of the small-cap segment of the U.S. equity universe. The Russell 2000 is a subset of the Russell 3000® Index representing approximately 10% of the total market capitalization of that index. It includes approximately 2000 of the smallest securities based on a combination of their market cap and current index membership. The Russell 2000 Index is constructed to provide a comprehensive and unbiased small-cap barometer and is completely reconstituted annually to ensure larger stocks do not distort the performance and characteristics of the true small-cap opportunity set."
Earnings growth estimates for the next five years (per annum) is greater than 30%.
Long term debt to equity is less than 1.2.
10-day moving average is above 20-day moving average, and the crossover happened two days or less prior to the start of the screen (Short term momentum indicator).
I used Portfolio123's powerful free screener to perform the search. After running this screen on October 3, 2012, I obtained as results the three following stocks:

Data: finviz.com
ABIOMED, Inc. (NASDAQ:ABMD)
Abiomed is a global technology leader focused on recovering hearts and saving lives. The company's efforts focus on developing ground-breaking technologies designed to assist or replace the life-sustaining pumping function of the failing heart. ABIOMED, Inc. was founded in 1981 and is based in Danvers, Massachusetts.
Abiomed has no debt at all, and the average annual earnings growth estimates for the next five years is very high at 35.2%. On September 11, 2012, it was announced that Abiomed recently received approval from the U.S. Food and Drug Administration for its new Impella product dubbed Impella CP (Cardiac Power). It is known as the Impella cVAD outside the U.S. The percutaneous heart pump can successfully pump roughly four liters of blood in one minute. The ABMD stock seems to be a good investment right now.
(click images to enlarge)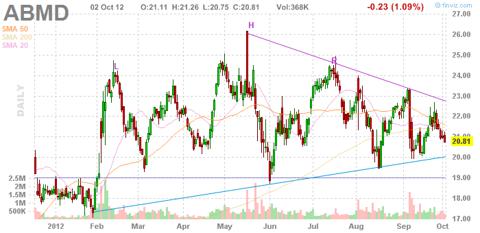 Chart: finviz.com
AMN Healthcare Services Inc. (AHS)
AMN Healthcare is an innovator in healthcare workforce solutions. Their solutions include: managed services programs, recruitment process outsourcing solutions, recruitment and placement of temporary and permanent healthcare professionals and consulting services. The company was founded in 1985 and is headquartered in San Diego, California.
AMN Healthcare's price to free cash flow for the trailing 12 months is quite low at only 11.13, and the average annual earnings growth estimates for the next five years is very high at 31.6%. On September 27, 2012, Zacks Investment research added AHS stock to the Zacks #1 Rank ("strong buy") List. All of these factors make the stock quite attractive.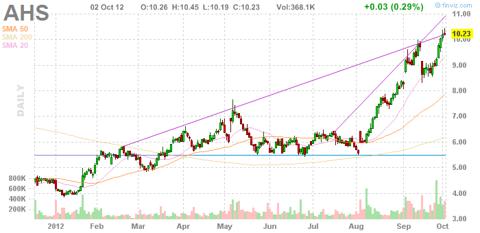 Chart: finviz.com
Francesca's Holdings Corporation (NASDAQ:FRAN)
Francesca's is one of the fastest growing specialty retailers in the United States. Their retail locations are designed and merchandised to feel like independently owned, upscale boutiques and provide their customers with an inviting, intimate and differentiated shopping experience. The company was founded in 1999 and is headquartered in Houston, Texas.
Francesca's has low debt (total debt to equity is only 0.12), and its PEG ratio is quite low at 1.16. The average annual earnings growth for the past five years has been very high at 32.39%, and the average annual earnings growth estimates for the next five years is also very high at 34.17%. Among the 10 analysts covering the stock, three rate it a strong buy, four rate it a buy and three rate it a hold. As such, Francesca's stock seems to be a good investment right now.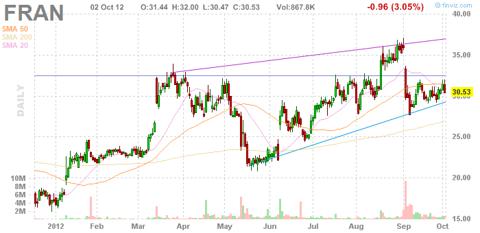 Chart: finviz.com
Disclosure: I have no positions in any stocks mentioned, and no plans to initiate any positions within the next 72 hours. I wrote this article myself, and it expresses my own opinions. I am not receiving compensation for it (other than from Seeking Alpha). I have no business relationship with any company whose stock is mentioned in this article.