In June 2012, Vringo (VRNG) received four out of six positive construction Markman rulings in its cases against tech giants; Aol (NYSE:AOL), Google (NASDAQ:GOOG), and Target Corp (NYSE:TGT). If you are new to this story please read a previous article written back a few months ago talking about some current Global Patent Wars that are currently taking place.
New Details Just Released Today
Today in court, the judge overseeing the company's legal battle with Google denies Google's request for a summary judgment, and has further ordered that the parties engage in settlement discussions between United States magistrate, Judge Lawrence R. Leonard at 10:30am, Tuesday October 9, 2012. There are other talks scheduled to take place on October 5th.
So far today, the stock has returned to investors as much as 30% alone today and it looks like a clear pennant breakout on the charts following the Bear Raid down through $3.00 last Thursday - Friday (please see the chart). Those who held with conviction like I have are being rewarded today.
Today's Chart: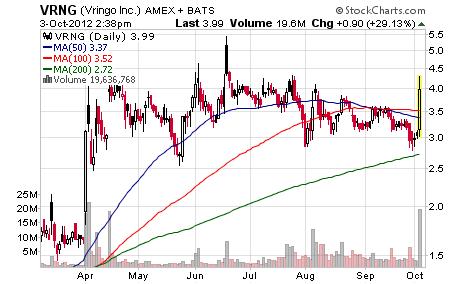 What's Next?
Either a settlement or trial with Google looks likely, but will Google risk a huge judgement against them? And, what about the recent ZTE shot across the bow letter that was just sent to this Giant telecom company in China? People don't seem to be giving the Nokia (NYSE:NOK) patent acquisition much value, at least not yet. This may soon change, so please stay tuned for more Nokia updates that may soon be forthcoming.
Some Relevant Background and History
This current case involves relevance filtering technology used in the search engine industry. In the mid-to-late 1990s, the amount of content (e.g., web pages) available on the Internet was relatively small compared to today. Users would frequently access Internet web pages by visiting portal sites, which presented content categorized directories through which the users could select links to available pages. The leading portal sites of the time (i.e., AOL, Lycos, etc.) used manually maintained content catalogs.
As the Internet expanded its reach, manual logs presented both accuracy problems, as well as difficulty in maintaining substantially larger amounts of information. After working together on several products, Plaintiff's Lang and Kosak developed technology that would provide more accurate search results to users by combining content-based data and collaborative feedback data from other users to satisfy a particular user's query or search request.
On September 15, 2011, I/P Engine filed a Complaint in the United States District Court for the Eastern District of Virginia, alleging that the Defendants use I/P Engine's technology on various sites to provide advertising and search services.
Stay tuned for more relevant information regarding this Google case and others like Zte (OTCPK:ZTCOF), which appears to be reading like a David vs. Goliath novel.
Disclosure: I am long VRNG. I wrote this article myself, and it expresses my own opinions. I am not receiving compensation for it (other than from Seeking Alpha). I have no business relationship with any company whose stock is mentioned in this article.