The story so far
There is no argument that the products of Apple (NASDAQ:AAPL) and its stock had a remarkable run since the launch of the iPhone in 2007. The company is already the largest firm by market capitalization and has an astonishing year to date growth of more than 60%. The law of large numbers seems to deflect on Apple's might, and analysts predict that there is more to come with price targets of well over $1,000, which would take the company's market cap to around $1 trillion. Despite the high market cap and the enormous growth of the stock, most analysts indicate that the company is still fairly valued with a forward P/E of just 12.58x, very high profit margins, no debt, and a strong growth in revenue and profits.
Are fundamentals telling the full story?
The basics discussed above are sure to give someone more than enough reasons to buy the stock, particularly given the small dip that it experienced last week. The problem, however, is that the often quoted fundamentals are not painting the full picture, and a more holistic view of the company's outlook is needed. The relatively low P/E ratio is often cited as an indicator for the cheap value of Apple. However, P/Es can sometimes be misleading. While earnings of Apple have been strong, much of the sales seem to be based on hype. Apple products seemed to have represented the "cool" factor and a certain cult developed around its brand.
But, can this be sustained? The problem with hyped up demand is one related to sustainability. Yes, Apple products are still perceived to be "cool" and a must have gadget, but, if the next coolest thing comes out, or even if the current hype around its gadget fades away, earnings could begin to falter to a great extent. As a matter of fact, we only need to look a few years back and consider the coolest gadget at that time. In November 2008, just after the iPhone 3G was released, Research in Motion (RIMM) had a market cap of $24B at a P/E of just 12x! Today, the company has a market cap of under $4B and falling. If you were to make an investment decision in late 2008, and had a firm belief that the BlackBerry could easily withstand competition from the likes of Apple, a P/E of 12x would look pretty cheap. As a matter of fact, RIM's value increased to around $45B (almost 90%!) through the first half of 2009. But, we all know how that came to an end.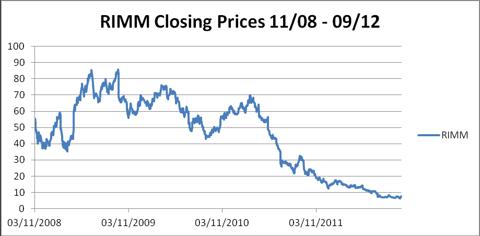 Diversification
When it comes to sustainable long term growth, a diversified product portfolio is impeccable for mainstream OEMs. Unfortunately, Apple has not been a good example in this regard. In fact, almost 70% of Apple's profits are estimated to come from iPhone sales. Any significant loss of momentum in the sale of this product could severely affect earnings, especially since competition is not insignificant anymore. Sales of Samsung's (OTC:SSNLF) flagship Galaxy S3 handset have recently overtaken iPhone sales in the US for the first time. Of course, many will argue that this was due to consumers waiting for the iPhone 5. But, this in itself constitutes a problem. Having a company with a low level of product diversification and only a yearly upgrade cycle does not sound very sustainable. In fact, the company is giving the competition a full year in which faster, better, more innovative mobile devices would be introduced by competitors using Google's (NASDAQ:GOOG) Android or Microsoft's (NASDAQ:MSFT) Windows Mobile ecosystems. The weak product diversification and yearly upgrade cycles therefore put the company's products at risk of losing their "cool" factor.
How much Cash warrants a King?
With cash and short term investments of $27.65B and long term investments worth $89.57B, the company has amassed a war chest of $117.22B. Since the firm has famously no long term debt, it would act as a safety net for investors, which is around $125 per share. And since Cash is King, this could only be good for long term investors, right? Well, not exactly. Leaving aside the fact that the current stock price is more than 5 times that figure, it also paints a dire picture of the company's future prospects. Put simply, it seems to have no meaningful way to use this money, for example, to grow its business. Instead, the company is hoarding cash and investing it in corporate debt, treasuries and the like. As a matter of fact, its total long term investments represent almost 55% of total assets. Compare this with Google and Microsoft whose long term investments are only 1% and 8% of total assets respectively and it goes to suggest that investing in Apple might come close to investing in a mutual fund, which locked up most of its assets in long term investments. In effect, Apple invests more in securities than it does on its own business.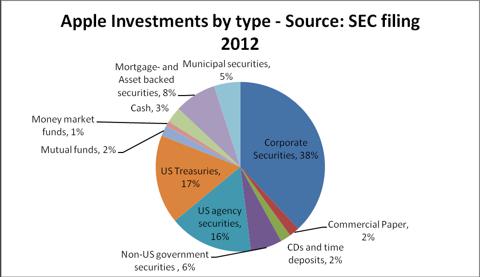 Stalling Innovation
The fact that Apple might be hitting a wall when it comes to innovation and future growth potential is further evidenced by its R&D spending. While Google (GOOG) and Microsoft (MSFT) not only had a much higher R&D spending in absolute terms, the R&D of both the companies was almost 13% of revenue as well. In comparison, Apple's R&D spend was only 2.24% of revenue in 2011. While Google and Microsoft are building out their product portfolios and designing products to compete with the iPhone and iPad, among others, Apple seems to be betting on continued success of its existing flagship products, without major product innovations. And thus, we have the problem of a weakly diversified product portfolio yet again. To put it simply, a company needs to research in order to develop new products and innovate the existing ones, and since research comes at a price, it needs to spend more on this. However, the company's declining R&D/revenue ratio might suggest that it is headed in the opposite direction, which is a sign for concern.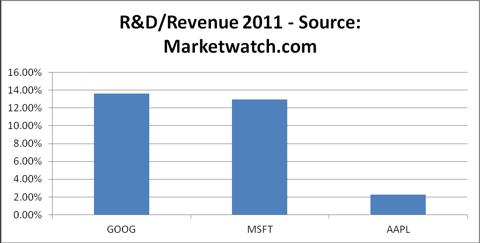 iPhone 5 and the Apple Strategy
Stalling product innovation can already be observed in the firm's product portfolio. The recent launch of the long awaited iPhone 5 received a mixed reception from tech analysts. Besides the quality issues that were found, many believed that the firm once again only offered a minor incremental upgrade. A bit taller, a bit faster and you have the new flagship model for the next 12 months, which is already catching up to the competition.
In fact, some phone review sites, such as Phonedog and Techradar, ranked the latest iPhone iteration below some competing Android devices for the first time. While Jimmy Kimmel's iPhone 5 prank revealed that many people are still prone to the marketing of the firm, one might think that the firm would have no problem in selling almost exactly the same model of a phone, increasing just the model number and people would still buy it en masse.
However, consumers seem to start losing interest in the gadget. As a recent poll conducted by CNET showed, around 60% of more than 14,000 respondents would buy the Samsung Galaxy S3 over the iPhone 5. In fact, many people may already be switching away from the iOS ecosystem, as it tends to limit their choice of mobile devices. Moreover, the ones that are available would not experience major upgrades, which would warrant a replacement of their original model or would lose the "cool" factor over time. This strategy also leaves the company open to strong competition, which is why (in my opinion) they are so keen on limiting serious competition from the likes of Samsung and Google.
Apple, I believe, is repeating its mistakes from the late 1980s when it also bet on the exclusivity of its products. While Microsoft products were widely available from many different manufacturers at different price points, Apple products were limited to only their own hardware. The story does not seem to differ when looking at the unfolding iOS and Android story. Android already dominates the markets and its manufacturing partners release several high quality phones a year, which can easily compete with the iPhone. According to Google, activations of new Android devices already reached 1.3 million a day, with a growing tendency. The emergence of Windows 8 will again lead to more stiff competition in the smartphone and tablet market.
Apple (in my opinion) has once again missed making the iPhone 5 a product, which could withstand competition for the next year, until the next iPhone is introduced in the market. In fact, the current iteration might look dated already, when the next iterations of Android and Windows 8 phones launch during this Christmas season. This makes me highly doubtful that Apple will be able to meet its EPS target for Q4/2012. And given the company's huge dependence on iPhone sales, this is very concerning.
iPad Mini
One might argue that products such as the rumored iPad mini (itself a big driver of the stock lately), although not very innovative, might be the first step towards a more diverse product portfolio and boost future earnings. The iPad mini is supposed to compete directly with Amazon's (NASDAQ:AMZN) Kindle Fire and Google's Nexus 7. Despite the late Steve Jobs' reluctance for a smaller version of the iPad, suggestions that the introduction of the iPad mini will be a major boost for earnings seem highly speculative. The reason why Apple was able to command higher prices in the iPhone and iPad markets was that it had partly created these markets. A market for smaller tablets already exists, however, and it is dominated by Android users who are probably tied in to the ecosystem. I believe that Android users would not be willing to pay a 50% premium (the Kindle comes at $199 and iPad mini is expected to come in at $299) for the iPad mini, and the product would not be as disruptive in this segment as the firm might hope. On the contrary, this move could hurt Apple's earnings as it will probably affect between 10%-20% of the larger iPad's sales.
iTV
One area in which Apple could innovate and add to its product portfolio is the widely anticipated iTV, which has also been a big driver for the stock price. Speculations about the launch of such a product are going on for more than 2 years, albeit with no meaningful results. In fact, Bloomberg recently reported that negotiations with media and cable companies are going nowhere. While it is possible that the speculation for an iTV launch could keep the stock price rising, investors need to be realistic about the impact that such a device could have.
Unlike the other products on its offering, TVs have a much higher durability and are, on average, replaced every 8 years. The company would most likely have a high price tag on such a product, which would most likely put off many of those who are replacing their current TVs. As for those who do buy the device, they will stick to their replacement cycle and not upgrade for at least 5 years, because there is hardly any household that replaces its TV every year or two.
Innovative high-end offerings are already available on the market, and the whole industry is suffering from low margins. Apple's high margin strategy could be too risky here, and in any case, any sort of penetration into this market would be slow.
China Mobile
Of course, one could argue that even without any major product innovations, the company still has huge potential for its current mobile devices in the Chinese market when it strikes a deal with China Mobile, which has almost 700 million subscribers and is the largest mobile network operator in the world. In fact, this has excited investors for a long time now. The usual consensus is that when Apple makes a deal with China Mobile, sales will go through the roof. But, is it as simple as that?
First, we should take a closer look at China Mobile's consumer base. In comparison to China Telecom and China Unicom (the other two Chinese operators), China Mobile's main customer base is in the rural areas. According to the Chinese National Bureau of Statistics, the average disposable income for Chinese households is around $3,000 per year per working person. This figure varies greatly between urban and rural regions. While the average disposable income per person in cities like Shanghai or Beijing can reach up to $12,000 a year, in rural regions it is just about $1,000. Compare this to the starting price of the iPhone 5, which comes in at around $800, and you can see that the phone is out of reach for most Chinese consumers, particularly those in the rural areas. However, those based in major cities might also not consider its purchase. Add that to the fact that China mobile does not subsidize its phones and the potential for Apple's mobile gadgets in the Middle Kingdom become slimmer.
In fact, the rural focus of China mobile is also reflected on its client's use of mobile technology. According to a Wireless Technology forecast for Q2/2012, 90% of China Mobile subscribers will be on 2G networks and only 10% on 3G. Compare that to Apple's current partners China Unicom, which is expected to have 22% on 3G and China Telecom, which has around 143m subscribers, all of whom use the 3G networks. Given this, it appears that Apple is already at its best in China with its current partners, which are strong in the cities and whose subscribers are on faster networks. Add to that the competition from the likes of Samsung, ZTE, Huawei and Lenovo, all of which offer smartphones at lower price points, and the impact of a China Mobile deal might at the end prove to be not that big after all.
The bottom line
While the company had a great run and looks impressive, too much emphasis has been laid on its historic development as a guide to its future potential. Coverage of the stock has also tended to be one sided with hardly anyone attempting to account for all possible contingencies. Given that Apple's business model appears to be tailored to a niche company - weak diversification of product portfolio, exclusivity, high margins, etc - the company's mainstream endeavor (in my opinion) is nearing its end.
That is not to say that I do not think that the company has some very good products and can continue to be profitable. As a matter of fact, I personally believe that this firm will continue to be profitable in its own niche. However, I do not think that this will justify such a large market cap, and we could see this reverse in near term.
Should investors look to sell this stock short? Absolutely not! As the late John Maynard Keynes put it, "Markets can remain irrational longer than you and I can remain solvent". But, if you have already invested in Apple, it might be worthwhile for you to consider taking some profits at this stage.
Disclosure: I have no positions in any stocks mentioned, and no plans to initiate any positions within the next 72 hours. I wrote this article myself, and it expresses my own opinions. I am not receiving compensation for it (other than from Seeking Alpha). I have no business relationship with any company whose stock is mentioned in this article.