Commercial mortgage REIT BRT Realty Trust (NYSE:BRT), an originator of short-term bridge financing, is pumping out some smokin' hot dividends. In the Company's most recent 10-Q, it disclosed that in additional to its regular quarterly dividend of $0.62/share, BRT would also be paying a $0.70/share special dividend. Including the special dividend, BRT's annual yield rises to a stunning 27%.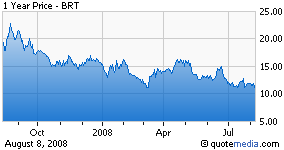 Remember the old adage: Where there's smoke, there's fire. BRT is rapidly burning through its legacy investment in Entertainment Properties Trust (NYSE:EPR), an equity REIT that invests in retail center. Sales of EPR shares have been supporting BRT's earnings for several quarters now, and until this most recent quarter, prevented the Company from recognizing a net loss. For the third fiscal quarter, however, BRT suffered a loss of $0.48/share after recording an addition of $6,400,000 to its allowance for possible loan losses ($0.54 per share) and an impairment charge of $4,019,000 ($0.34 per share), primarily related to real estate acquired in foreclosure and deed in lieu of foreclosure.
The provision increase and impairment losses, however, aren't taxable until realized -- but the significant gains from sales of EPR shares are taxable income. These capital gains are artificially accelerating BRT's taxable income, either forcing or enabling (depending on your point of view) the REIT to continue its high dividend payouts despite its significant drop in loan originations and foreclosure issues.
BRT, however, is rapidly burning through its backstop in EPR shares. BRT's holdings in Entertainment Property Trust shares has declined from 332,576 shares at June 30 to just 141,287 shares as of the date the 10-Q was filed. Thus, BRT has sold off 57% of its remaining EPR holdings in the current quarter (BRT's fiscal fourth quarter) alone.
Once BRT finishes divesting its shares in EPR, its taxable earnings will be solely dependent on earnings from its loan origination business, which is in rapid decline. BRT can use the gains from its share sales to support the dividend until September 2009, but after that, if business doesn't heat up, the dividend is likely to go up in smoke.
Disclosure: None