We think this is a good time to look at Starbucks (NASDAQ:SBUX) stock given that there

are several positive catalysts that are not built into the stock and the company reports earnings on November 1st. The three main catalysts for the stock are a strong balance sheet, the arrival of the Verismo machine, and the falling prices of coffee beans.
Valuation: The stock is currently trading at $49.125 versus its 52-week range of $35.12-$62 and a four-month low of $43.16. The stock trades at a P/E multiple of 27.63x versus McDonald's (NYSE:MCD) at 16.83x and YUM! Brands (NYSE:YUM) at 20.37x. The three positive catalysts mentioned above are still to be included in the price of the stock.
Strong Balance Sheet: Starbucks has $2.5 billion in cash and short-term investments with $550 million in long-term debt, and total leverage of a low 10%. We can never exaggerate the importance of a strong liquidity position for retailers in a recessionary environment. When positive free cash flow quickly turns into cash burn in a weak consumer spending environment, a strong cash position is the only saving grace. Starbucks generated $1 billion in cash in 2011 and YTD free cash flow is $610 million. We think this might trigger an increase in buybacks and dividends going forward. Starbucks stock currently yields 1.4%
Arrival of the Verismo machine: Early September, the Verismo machine arrived priced at $199 versus the Nespresso machine priced at $229-$249 and the Keurig at $230. The coffee pods are priced at $1 versus the milk pods at $0.83. This is in comparison to Nespresso capsules at 60-65 cents per cup and Vue cups at 90 plus cents. We will have to hear what the company's plans are for the distribution of the pods via SBUX stores and via grocery stores. We estimate that the wholesale to retail mark up is in the 20-25% range, which means that Starbucks will capture as much as 75 cents for every pod sold at $1 at retail. Although we need more details from company management, it's safe to believe that if these pods are well received by the consumer, an EPS growth of 10-20% becomes more achievable.
The chart below compares share performance over the past year. "E"s mark earning reports.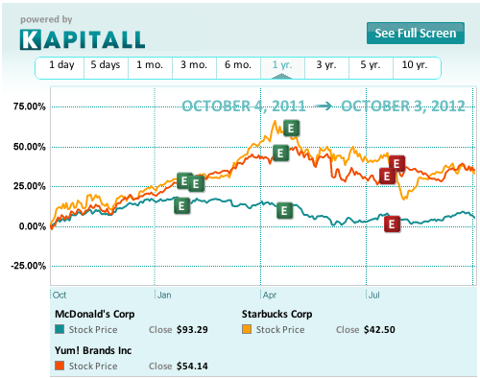 A drop in the price of coffee beans: Price of beans has been dropping in the last 2-3 months, which is a significant benefit to the buyers of Arabica coffee including Starbucks. Today, a pound of coffee will cost a buyer about $1.95 a pound versus $3 last year. We see this as a significant benefit to Starbucks margins in 2013 and 2014. That timeline is reasonable considering SBUX probably buyers coffee beans six to nine months in advance.
To look at the average monthly and annual price of Arabica coffee, you can refer to the ICO site here.
Conclusion: The stock has placed itself in a strong position with the worst behind and several positive catalysts, results of which will be seen in the rest of 2012 and 2013. With a solid growth profile, this name is worth your radar screen.
Risks: The main concern going forward is a drastic change in consumer behavior in a prolonged recession.
Written by Kapitall's Sabina Bhatia. Tool provided by Kapitall.
Disclosure: I have no positions in any stocks mentioned, and no plans to initiate any positions within the next 72 hours. I wrote this article myself, and it expresses my own opinions. I am not receiving compensation for it (other than from Seeking Alpha). I have no business relationship with any company whose stock is mentioned in this article.