Telefonica (NYSE:TEF) is a Spanish telecommunications company offering a range of services from mobile to landline and wireless services. TEF is one of the largest carriers worldwide and operates in the leagues of Verizon (NYSE:VZ), Deutsche Telekom (NYSE:DTE) and AT&T (NYSE:T).
Telefonica has recently abandoned its dividend policy. In the past, large amounts of free cash flow were being paid out to shareholders making the stock particularly attractive for income oriented investors who were looking for additional income. TEF yielded over 10% per annum based on its dividend payout policy. I assume that most of Telefonica's investors actually owned the stock because of its high dividends. In comparison to other European telecommunication companies, Telefonica was one of the highest yielding carrier stocks around.
Since I assumed that most investors were more conservative by nature, I would have expected a sell-off in case the dividends were suspended. Naturally, I would have thought that conservative investors lose interest in the stock as its income stream falls away. The market, however, reacted quite differently to the announcement of a dividend suspension until 2013. As can be seen in the following chart, the market reacted quite positively to the dividend suspension with Telefonica addressing the markets' concerns about high leverage.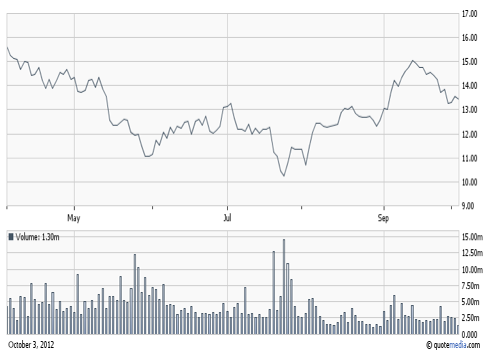 Spain suffers from dismal economic conditions with high unemployment (especially youth unemployment), high debt levels and refinancing issues as investors' confidence in public finances is weakened. Given this macroeconomic framework that is shaken by uncertainty, I believe it was the right move to shift the focus from shareholder remuneration toward debt reduction (Telefonica has a debt-to-equity ratio of about 3.3). In uncertain times a company should push as much risk from the balance sheet as possible. In the current investment climate, Telefonica and its investors are better off when the company reduces risk by applying cash flow to reduce leverage instead of paying it out to its shareholders. Telefonica should reduce its debt levels and should come out leaner and stronger after the restructuring of the balance sheet. A move investors are likely to profit from.
Telefonica currently trades at a P/B of 2.4 and a P/E of 7.5, which is still very cheap. Investors also need to remember, that the dividend is only temporarily suspended with good chances of resumption in 2013. Once the company takes one year worth of dividend payouts and applies them to debt reduction directly or making the company more competitive, investors should support this move.
Given the economic uncertainty and still high leverage of south European telecommunication companies, I would consider it likely that Telefonica works as an example and other companies in the sector follow suit. Telecom Italia (NYSE:TI) Portugal Telecom (NYSE:PT) might be well advised to shift their focus toward risk and leverage reduction.
Disclosure: I am long TEF. I wrote this article myself, and it expresses my own opinions. I am not receiving compensation for it (other than from Seeking Alpha). I have no business relationship with any company whose stock is mentioned in this article.