Market Recap
The market got some more positive data today, with news that the ADP Employment Change was higher than expected. Additionally, ISM Services came out better than expected as well. ADP Employment showed over 160K jobs added, while 130K were expected. That news is definitely a plus as we head into an important Non-Farm Payrolls report. The last series of employment data was pretty disappointing, and if this data shows a turnaround, it would be very bullish for the market. ISM Services were also strong, beating expectations of 53, as the index came in at 55. Spain, though, held the market in check. What looked like a potential bailout for Spain has now been pushed back and caused some jitters in European markets. The European situation is not going anywhere, and will keep gains in check until some resolution occurs. At the same time, better data and QE3 will keep a nice floor on the downside. Look for a fairly flat move over the next several weeks.
Here are some stocks we like moving through the week and beyond:
Stocks To Trade
Today, we are looking at an earnings trade in Walt Disney (NYSE:DIS), longs in Eastman Chemical (NYSE:EMN) and Oracle (NASDAQ:ORCL), and shorts in Qualcomm (NASDAQ:QCOM) and Hewlett-Packard (NYSE:HPQ).
For an earnings trade, we like the looks of Disney. The stock has been very strong this year, and we believe it should continue a nice stretch into earnings. The recent weakness in the stock is a buying opportunity for sure. Going into earnings, the company is expecting a 20% increase in earnings, as well as 5% increase in revenue. Several lines of business have been very strong. The company had a very successful quarter with ESPN, as ratings for the NFL have been very strong. Additionally, the company's release of "Brave" has also been promising, emerging as Disney-Pixar's thirteenth No. 1 movie. The stock formed a great bull flag at the 20-day MA, and it has not broken its 50-day MA since April, which gives us a lot of comfort that this stock is not going to breakdown, even in downturns.
Trade: DIS, Long and DIS, Nov17, 50/45 Bull Put Spread
Max Gain: 12% on spread.
(click images to enlarge)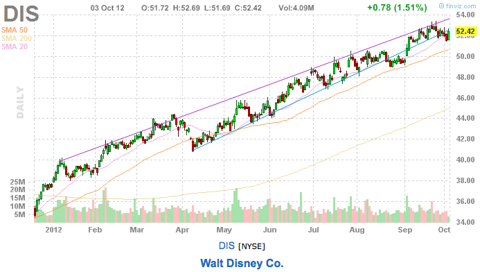 Click to enlarge
For longs, we like the looks of Eastman Chemical and Oracle. We have rated both stocks a Buy. We just added EMN to our Extended Value long-term portfolio, and we believe the stock is very close to a breakout. First off, the company is going to make a nice move on its next round of earnings. The company's last earnings were a major catalyst, taking the stock up 15% over the next two months. We are expecting another strong report of around 20-25% growth in earnings and 25-30% growth in revenue. The market is still not fairly pricing this stock, as its future PE is still only 9, and we believe that its next earnings report at the end of October could be a very strong breakout time. We are looking for the stock to move to $70 by the end of the year.
ORCL is looking good for an options play right now, as the stock recently signaled a bottom at $31. The company is still very cheap compared to its competition, and we believe recent comments from CEO Larry Ellison are showing that ORCL has some very strong plans for the next couple years. The company has built its own "Cloud" lineup that will allow it to grow organically, which is much more powerful for valuations than acquiring a company like Netapp (NASDAQ:NTAP). We believe the stock is worth around $40 by the end of the year, and could see it making a big move as sales/figures become more available from ORCL's cloud products. We like a bull put spread to take advantage of ORCL's upside.
Stock Trade: Long, EMN
Breakout Point: N/A
Options Trade: ORCL, Oct20, 31/30 Bull Put Spread
Max Gain: 20%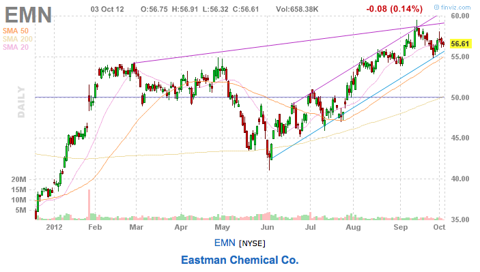 Click to enlarge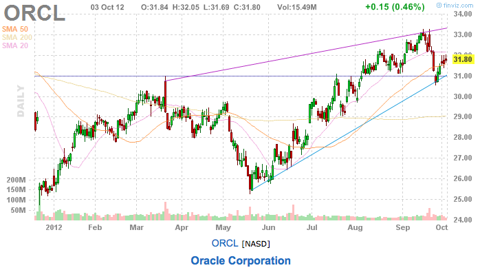 Click to enlarge
For shorts, we like the looks of Qualcomm and Hewlett-Packard. Currently, QCOM is signaling a breakdown, as the stock has had trouble over the past couple weeks and is now riding its 50-day MA. The story for QCOM is that it is heavily tied to the iPhone, and supply issues there could mean less phones than were originally expected. If that is true, it would mean a weak Q4 for QCOM. The excitement over the iPhone 5 has faded quickly for QCOM, and if it fails its 50-day MA, we could see short sellers step in heavily and buyers take gains.
HPQ had a major breakdown today, as the company announced it is going to see an 11-13% decline in enterprise services for next year, as well as its growth being mostly tied to GDP. Neither comment was seen as a boost, and the stock plummeted. Will it bounce back? The issue for HPQ is really one of technology moving past it. Laptops/PCs are becoming more and more potentially obsolete, and HPQ has not done a great job of moving into new markets like phones/tablets/cloud networks. We are very concerned about the company's future, and we can make money on those concerns. The $18 line seems nearly impossible at this point, and more downside may be in store. We like a conservative bear call spread, though.
Stock Trade: QCOM, Short
Breakout point: Failure of 50-day MA
Options Trade: HPQ, Jan13, 18/20 Bear Call Spread
Max Gain: 8%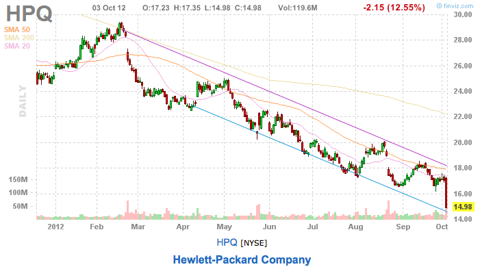 Click to enlarge
Tomorrow's Outlook
The market gets some more signals as to unemployment tomorrow with Challenger Job Cuts and Initial Unemployment Claims, which should be important to movement. Additionally, tonight's presidential debate will definitely be a talking point for the market. How much it can do in either direction is hard to say, but it should be on traders'/investors' minds. Additionally, we will get data on Factory Orders, and the FOMC will release meeting minutes. Not much should be expected from those minutes, as the Fed is probably done taking any more action for the year. Europe will continue to be the market's ugly reflection in the mirror, and it's just a matter of whether we want to ignore it tomorrow or get spooked by it. More troubles in Spain could bring in some selling.
Our Moves/Holdings
We had a nice day in the market, as we were able to lock in a 10%+ gain on a long-term position we have in Fusion-IO (NYSE:FIO). We added a pair trade long JM Smucker (NYSE:SJM) and short Cooper Industries (CBE), as well as the above position in DIS.
We have the following positions:
In our Short-Term Equity Portfolio, we are long JM Smucker, Panera Bread (NASDAQ:PNRA), Genesee-Wyoming (NYSE:GWR), and Freeport-McMoRan (NYSE:FCX). We are short Cooper Industries and SPDR S&P (NYSEARCA:SPY).
In our Options Portfolio, we are long Intuit (NASDAQ:INTU), Williams-Sonoma (NYSE:WSM), and Apple (NASDAQ:AAPL). We are short iShares Russell (NYSEARCA:IWM).
In our Earnings Alpha Portfolio, we are long Disney Travelers (NYSE:TRV), Goldman Sachs (NYSE:GS), Alexion (NASDAQ:ALXN), Costco (NASDAQ:COST), Polaris (NYSE:PII), and Crocs (NASDAQ:CROX). We are short Buffalo Wild Wings (NASDAQ:BWLD) and SPDR S&P .
In our Goldman Sachs Up/Down Paper Portfolio, we are long Apple, Manitowoc (NYSE:MTW), and Netsuite (NYSE:N). We are short WR Berkley (NYSE:WRB).
Chart courtesy of finviz.com.
Disclosure: I have no positions in any stocks mentioned, and no plans to initiate any positions within the next 72 hours.
Business relationship disclosure: The Oxen Group is a team of analysts. This article was written by David Ristau, one of our writers. We did not receive compensation for this article (other than from Seeking Alpha), and we have no business relationship with any company whose stock is mentioned in this article.