By Sabina Bhatia
In July, we wrote an article titled "Supervalu: Last Chance To Shine." Today, we continue to keep our eyes on Supervalu (NYSE:SVU) and its management in order to track the progress of the restructuring of the company. Although the short term is still a challenge, the small steps taken by the company are necessary. Let's first look at the progress made by the company in the last two months.
Store Closures
Supervalu finally announced plans to close 60 underperforming stores, which will generate $35 million in cash proceeds in the next 12 months and $90 million in the next three years. Do keep in mind that the company owns one-third of these stores, which will in essence generate cash once Supervalu monetizes on the real estate and eliminates the operating losses. Although this is a small necessary step, the long-term survival is still in question.
Balance Sheet Still a Significant Risk
In the last two months, Supervalu has completed two debt financing transactions totaling $2.5 billion. This has helped the company to roll over some of its short-term debt. With a mere $151 million in liquidity, declining operating cash flow since 2009, and close to $9 billion n long-term debt, the company has a long way to go for a turnaround in this weak economic and consumer spending environment.
Valuation
The negatives overshadowing the fundamentals are clearly reflected in the valuation of the stock. Supervalu currently trades at 3.3 times the 2013 estimated EPS of $0.68 vs. the three-year historical average of 6.5 times, and trades at an EBITDA multiple of 4 times vs. the historical average of 4.4 times. We rather look at EBITDA vs. earnings growth considering earnings are negative and fundamentals are the weakest with no short-term catalyst to trigger an improvement. Competitors such as Kroger (NYSE:KR) trade at a 6.8 times and Safeway (NYSE:SWY) at 4.8 times, hence making Supervalu a much more attractive takeover target. That said, the risk remains in the fact that a successful and timely turnaround is still in question. Although Wal-Mart (NYSE:WMT) is one of Supervalu's competitors, given its size we don't think it's fair to compare it to Supervalu to determine the probability of a takeover.
According to the San Francisco Chronicle, the company has attracted interest from billionaire Ronald Burkle and buyout firms KKR & Co. and TPG Capital. Burkle and the private equity firms are looking at parts of Supervalu rather than the whole. Also, Cerberus Capital Management might also be interested in some of the company's assets. We've heard this before, so the questions still remain: Is there really a buyer of Supervalu? If so, at what price and when? As we have continued to stress, time is of the essence.
The chart below compares share performance over the past year. (The "E"s mark earning reports.)
Click to enlarge image.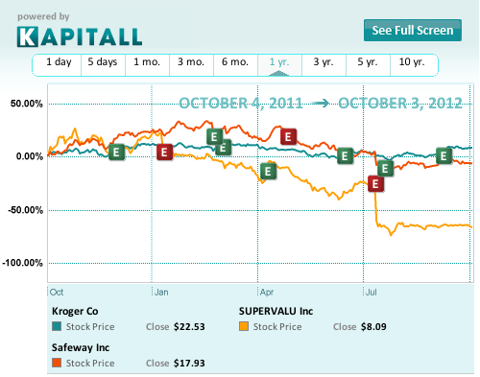 Conclusion
A wait-and-see approach is all that makes us comfortable at this point. We need to see a consistent strong performance from the new CEO or some real interest from a buyer to get excited about this name.
Risks
The biggest risk in investing in Supervalu is management's inability to fulfill its plans of restructuring the company. The fundamentals supersede the technicals in the case of Supervalu, which we believe is a long-term goal in this weak economic environment.
Disclosure: I have no positions in any stocks mentioned, and no plans to initiate any positions within the next 72 hours. I wrote this article myself, and it expresses my own opinions. I am not receiving compensation for it (other than from Seeking Alpha). I have no business relationship with any company whose stock is mentioned in this article.