In today's world of low-yields, it's good to know that a few companies have your back. Today, I will look at three dividend-yielding tobacco stocks. Yes, tobacco stocks. The trend that has been litigated, legislated and educated to death may still be a good investment.
Societal vs. Tobacco Company Trends
The chart below, from the Centers for Disease Control and Prevention, shows the declining smoking trend since 1965. Most would look at this and quickly dismiss anything remotely related to tobacco as a good investment.
Despite this, I decided to look at three big-American tobacco stocks that pay a 5%-plus dividend yield. I am not an expert on the industry, but I thought I'd share my initial research, while I search for yield in the tobacco sector.
Click to enlarge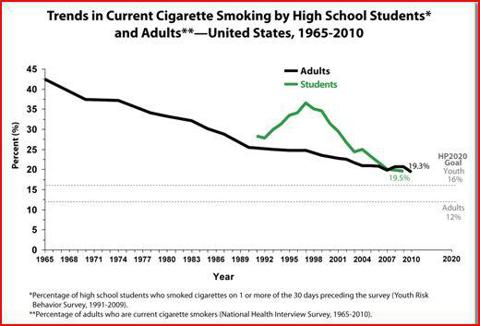 Click to enlarge
| | |
| --- | --- |
| Ticker | Company |
| (NYSE:RAI) | Reynolds American Inc. |
| (NYSE:LO) | Lorillard, Inc. |
| (NYSE:MO) | Altria Group Inc. |
Note: This is an initial screening to determine if any of these stocks are worthy of more in-depth research. This is not a solicitation to invest. Contact your financial advisor before making any investing decision.
Let's quickly dispel the myth that declining smoking rates automatically spell a death sentence for tobacco stocks. The following chart shows revenues for RAI, LO and MO over the past five years. As you can see, revenues have been flat-to-highly-positive.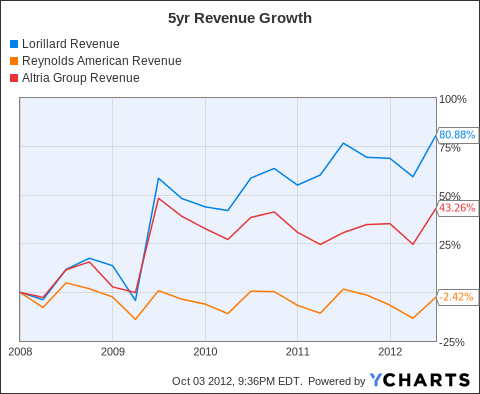 LO Revenue data by YCharts
During the same time, market caps have also risen substantially.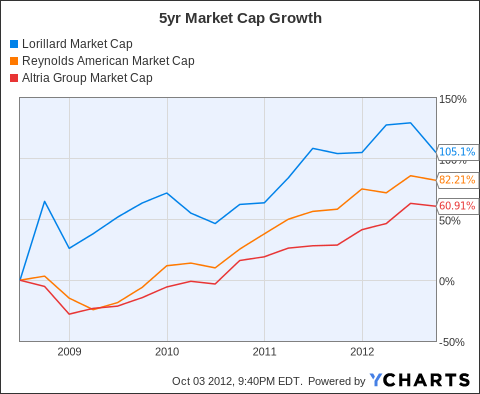 LO Market Cap data by YCharts
Finally, dividends paid per share have grown dramatically over the same period.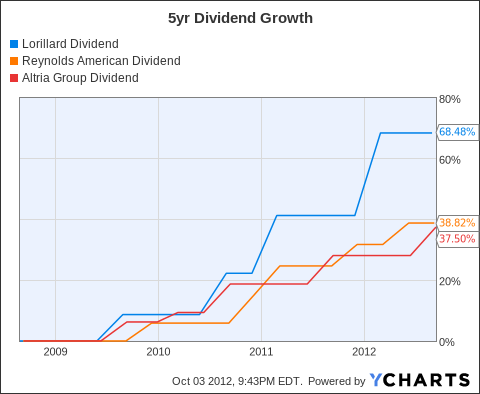 LO Dividend data by YCharts
Given the revenue, market cap, and dividend growth trends, I think it is reasonable to somewhat disassociate the tobacco investing decision from the smoking trends of the general US population.
Dividends
As I mentioned above, each of these stocks pay a fat yield, as indicated in the table below. These yields appear fairly sustainable, given the rolling payout ratios in the graph below.
| | |
| --- | --- |
| Ticker | Dividend Yield |
| RAI | 5.44% |
| LO | 5.32% |
| MO | 5.22% |
Given the fairly stable payout ratios over time, it appears like these companies have a track record of sustainability and good dividends management (i.e. they don't have a history of dipping into cash to fund unreasonably high dividends). This gives me greater comfort that if I invest in these companies for the dividends, I will actually receive my payments.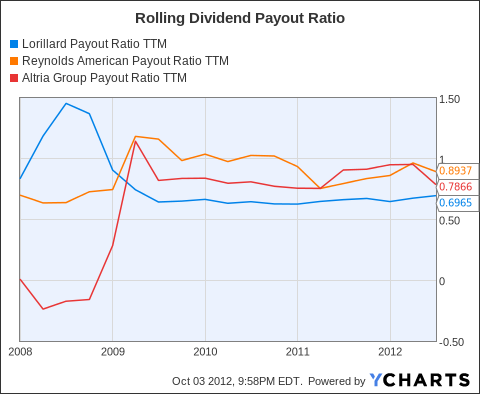 LO Payout Ratio TTM data by YCharts
Valuation
Turning away from dividends, these stocks appear to be reasonably valued, given their forward p/e ratios. However, given the other available ratios - P/S, P/B, P/Cash - I wouldn't necessarily consider any of these stocks glaring bargains.
| | | | | | |
| --- | --- | --- | --- | --- | --- |
| Ticker | P/E | Forward P/E | P/S | P/B | P/Cash |
| RAI | 17.21 | 13.77 | 2.92 | 4.17 | 24.4 |
| LO | 14.33 | 12.39 | 2.34 | n/a | 16.09 |
| MO | 15.62 | 14.17 | 2.81 | 16.06 | 44.87 |
Earnings and Profitability
Looking forward, these stocks are projected to have mid-to-high single-digit EPS growth over the next five years. This isn't a 'blow-the-lights-out' performance, but it is solid growth. It is enough to pay the bills, alongside a growing stream of dividends.
| | | | |
| --- | --- | --- | --- |
| Ticker | EPS growth this year | EPS growth next year | EPS growth next 5 years |
| RAI | 5.07% | 6.42% | 7.33% |
| LO | 17.82% | 9.81% | 9.15% |
| MO | -12.56% | 7.69% | 6.40% |
Finally, I looked at the rolling profit margin for each of these companies over the past five years. As you can see in the chart below, margins have more-or-less grouped around the high-teens, however, some margins are more volatile than others. RAI in particular has experienced major dips in profitability over the past five years. These types of dips - depending on the frequency and severity - are the types of things that could put a dividend at risk.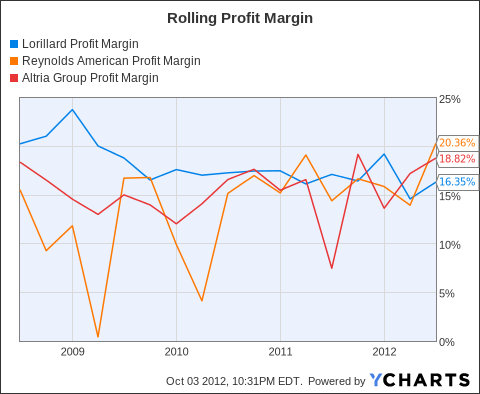 LO Profit Margin data by YCharts
Overall, while none of these stocks appear to be screaming buys, I might conduct further research to determine if they should be added to my portfolio. However, I will prioritize LO and MO because of their ability to grow revenues and maintain a relatively steady profit margin in such a challenging environment.
Disclosure: I have no positions in any stocks mentioned, and no plans to initiate any positions within the next 72 hours. I wrote this article myself, and it expresses my own opinions. I am not receiving compensation for it (other than from Seeking Alpha). I have no business relationship with any company whose stock is mentioned in this article.
Additional disclosure: Data sources: Finviz, YCharts. This is not advice. While the author makes every effort to provide high quality information, the information is not guaranteed to be accurate and should not be relied on. Investing involves risk and you could lose all your money. Consult a professional advisor before making any investing decisions.