By Siraj Sarwar
Transocean (NYSE:RIG) is an offshore drilling corporation with a fleet of 128 vessels, consisting of drill ships, semi-submersibles, as well as jackups that function in technically challenging locations such as Brazil, Nigeria, and the Gulf of Mexico. Transocean contracts with some of the biggest global exploration and production corporations in the world.
Transocean is currently in the middle of a number of different major events, including the Macondo Incident and Frade Incident with Offshore Brazil that are having a significant impact on this company.
Recent Incidents
It has been more than two years since the Macondo incident, where one of the ultra-deep water floaters sank after the blowout of Macondo well. Along with the fire and the explosion on the rig, the incident became a disaster. As fellow SA contributor, Qineqt suggests, this incident is expected to create about $2 billion liability on Transocean's side. However, I think this number is too high. After all, the responsibility should somehow be shared between British Petroleum (NYSE:BP) and Halliburton (NYSE:HAL). Also, the payment from insurance company can partially offset the total costs.
The Frade incident happened in last November, where an oil spill started in one of the wells operated by Chevron (NYSE:CVX). This spill was in negligible size compared to the oil spill in Gulf of Mexico. The Brazilian court imposed a very harsh ban on both Chevron and Transocean, halting their operations within 30 days. However, the ban was partially suspended, thanks to new favorable court order.
Recent Financials
Even so, the company recently announced total revenue for Q2 2012 of $2.575 billion, compared with $2.337 billion for the first quarter of 2012. Revenue efficiency was 92.5 percent in the Q2 of 2012, in comparison with 90.6 percent in the Q1 of the same year. Fleet utilization was 66 percent in Q2 2012, in comparison with only 61 percent in the first quarter. Such figures render Transocean a company that ought to be given serious consideration. We will therefore now ascertain Transocean's financial strength and future prospects in order to more clearly determine the health of this company.
Transocean documented total revenue of $2.575 billion for the second quarter of 2012, showing a boost of ten percent relative to the same period last year. Contract drilling revenue amounts to $2.39 billion in the Q2 of 2012, demonstrating an increase of 14 percent relative to $2.1 billion in the same period of 2011. The contract drilling revenue rose due to improved revenue earning days that can mainly be attributed to shipyard, maintenance, repair, equipment certification projects and mobilization. Additional revenue was also generated from the two semi-submersibles, which were a part of the purchase on Aker Drilling, and rig reactivation in 2012 and 2011. Other revenues documented for the Q2 of 2012 amounted to $185 million, displaying a reduction of 22 percent from Q2 2011.
Over the next five years, I am expecting Transocean to increase earnings at an average yearly rate of 15.77 percent. In FY2012 most analysts are predicting an earnings boost of 176.76 percent above last year. I believe that the company will increase its earnings by 55.07 percent in the upcoming year.
Cash Flows
Cash flow from operations for the second quarter of 2012 was registered at $459 million, showing an increase of 35 percent as compared to the same period during the previous year. The improvement in cash flows from operations was due to improvements in operating assets. Capital expenditures for the second quarter of 2012 were $236 million, down by 19.5 percent as compared to $293 million documented in Q2 2011. Cash and cash equivalents at the end of the first half of 2012 amounted to about $4 billion, rising from the $3.4 billion registered at the end of the first half of 2011.
Future Prospects
Offshore drilling giant recently released its monthly fleet update Summary, covering the corporation's drilling rig status and contract details. New contracts and extensions totaled a backlog of about $1.7 billion. The company is aiming to increase revenue, and analysts are subsequently estimating strong increases in earning-per-share levels.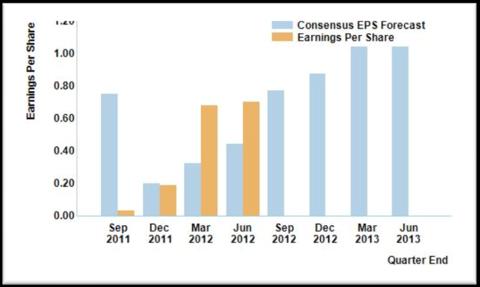 (Graph is sourced from NASDAQ)
Transocean has a current projected EPS of $0.87 for the fourth quarter of 2012. It had previously increased its net income from $1.26 billion in 2009 to $1.48 billion in 2011. In addition, Transocean had also increased its cash flow per share from $3.95 in 2010 to $4.22 in 2011, with a resulting $459 million in cash flows registered at the end of Q2 2012, up 35 percent from the same period in 2011. Furthermore, this company has a good interest coverage rate of 4.6, and the EBITDA improved from $2.05 billion in 2009 to $2.3 billion in 2011. These figures further support my decision to be bullish on Transocean.
Transocean has been awarded ten-year contracts for four new builds, involving dynamically located, ultra deepwater drillships by Royal Dutch Shell. The contracts contribute 40 years of upcoming rig work to Transocean's revenue backlog, approximately valued $7.6 billion.
Peer Analysis
| | | | | |
| --- | --- | --- | --- | --- |
| | Market Cap in Million | Dividend Yield % | 5-yr Rev CAGR % | D/E |
| Transocean | 16,582 | 5.1 | 18.7 | 0.6 |
| Diamond Offshore Drilling, Inc. | 9,098 | 0.8 | 10.1 | 0.3 |
| Noble Corporation | 8,884 | 1.2 | 5.1 | 0.6 |
| Ensco PLC | 12,469 | 2.7 | 9.4 | 0.4 |
(Table is sourced from Morningstar.com)
Transocean's main competitors are Diamond Offshore Drilling (NYSE:DO), Noble Corporation (NYSE:NE) and Ensco PLC (NYSE:ESV). Of these, Transocean has the largest market capitalization of $16.5 billion. Meanwhile, DO, NE and ESV have market capitalizations of $9.1 billion, $8.8 billion and $12.5 billion, respectively. Transocean also has a high dividend yield of 5.1 percent.
In 2011, Transocean paid a dividend of $0.79 on a quarterly basis for the entire year. However, the company's Board does not recommend a similar practice for 2012 in consideration of multiple factors relevant to the company's business in the context of its capital allocation strategy. Diamond, Noble, and Ensco have dividend yields of 0.8 percent, 1.2 percent and 2.7 percent, respectively.
Transocean is well above its competitors in revenue generation. Transocean has a five-year Rev CAGR of 18.7 percent, while DO, NE and ESV have five-year Rev CAGR of 10.1 percent, 5.1 percent and 9.4 percent, respectively.
Summary
Transocean's deepwater skills have made it ideally positioned to cash in on several offshore drilling technology breakthroughs, as well as higher oil and gas prices. These changes have led to solid secular trends promoting high ranges of offshore exploration and development well into the upcoming several years. Since Transocean possesses the world's largest offshore drilling fleet, it will gather billions from clients eager to exploit large discoveries under the sea floor. I believe the Macondo settlement is going to be in a satisfactory range, like $1.5 billion potentially or probably less. The Macondo settlement will reduce ambiguities involving outlandish predictions of $5 billion or $10 billion. In addition, the Brazilian courts have partially lifted the ban on Transocean. This decision will also help to reduce ambiguities around the stock.
Disclosure: I have no positions in any stocks mentioned, and no plans to initiate any positions within the next 72 hours.
Business relationship disclosure: EfsInvestment is a team of analysts. This article was written by Siraj Sarwar, one of our writers. We did not receive compensation for this article (other than from Seeking Alpha), and we have no business relationship with any company whose stock is mentioned in this article.