I recently wrote a short (and to the point) piece that examined Barrick Gold's (NYSE:ABX) year-to-date performance and returns relative to its peers that effortlessly concluded that Barrick is a poor investment for those seeking exposure to gold miners.
In what I thought will be a no-brainer and self evident in the article, to my surprise some investors (and probably ABX shareholders) strongly disagreed, echoing arguments that I constantly read and hear on the web and T.V.
The Underperformance Indicates Value
This argument is truly perplexing and is without merit unless changes in Barrick warrant a change in performance. There are reasons why Barrick's shares are lagging its peers and at the top of the list is the April 2011 acquisition of copper producer Equinox Minerals at the top of the market. Here, the gold producer used $7.3 billion (or roughly 13 percent of its market cap at the time) to acquire an African copper producer, which does not make much sense.
Historical valuations show that gold producers tend to trade at a premium to base metal producers which will explain some of the underperformance of Barrick relative to other gold producers that have copper as a small percentage of their production, if any. With the production of Equinox, Barrick significantly lifted its copper production (up to 20 from 10 percent) and exposure to politically risky regions like Saudi Arabia.
Past Performance is Not a Future Indicator
Of course the past is not an indicator of the future, but there is no reason to think that suddenly the stock will start performing in line with its peers - there must be a reason, a fundamental shift in the company.
As the figures below illustrate, even over a period of five years, which all investors will consider long enough to evaluate a stock, Barrick underperformed its peers materially. Barrick returned a feeble 10.7 percent over the past five years while Gold Corp (NYSE:GG) and Yamana Gold (NYSE:AUY) returned 57.3 and 74.2 percent, respectively.
| | | |
| --- | --- | --- |
| Ticker | Capitalization | 5 Year Returns |
| ABX | 41.13B | 10.7% |
| GG | 36.65B | 57.3% |
| AUY | 13.94B | 74.2% |
| GOLD | 11.24B | 299.0% |
| NGD | 5.65B | 96.1% |
| GDX | 8.52B in assets | 24.5% |
Even the GDX, a poor investment due to the over diversification, outperformed Barrick with a return of 24.5 percent for the past five years.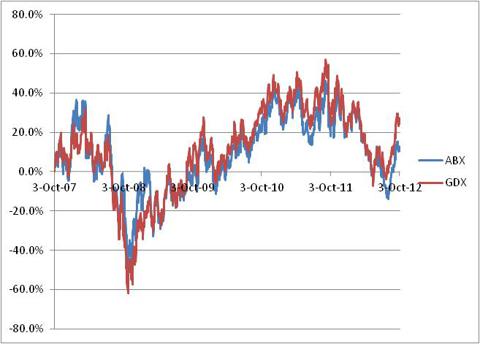 Click to enlarge
Underperformance is Not a Reason to Dump the Stock
This argument surely came from a retail investor that is simply happy his/her holding is going up than down. In reality, underperformance is a very good reason to switch from one investment to another. Portfolio managers that underperform get fired and such should an investor treat his/her investments.
As I outlined in the previous article, the ship can be turned through dispositions of underperforming, high cost mines, commitment to dividend increases and a cessation to mega capex projects that constantly get revised upward in capital costs.
Disclosure: I have no positions in any stocks mentioned, and no plans to initiate any positions within the next 72 hours. I wrote this article myself, and it expresses my own opinions. I am not receiving compensation for it (other than from Seeking Alpha). I have no business relationship with any company whose stock is mentioned in this article.