Fourth quarter day three: With its third consecutive day of gains, the S&P 500 is now batting 3 for 3 in Q4 (a metaphoric tribute to World Series month). Futures were up a tad before the market opened, and a better-than-expected ADP employment report certainly did no harm. At 10 AM the ISM Non-Manufacturing data also surprised to the upside. The index rose again around 11 AM and then meandered through the rest of the day, closing with a gain of 0.36%. "Meandering" is, I think, an appropriate way to frame Q4 to date. The 500 has wandered rather aimlessly in an 18-point range. Will Wednesday's first of three presidential debates move the market? My guess is ... no. To put it mathematically, Obama times Romney squared is less the Bernanke. The real market mover this week, if there is one, will be Friday's employment report.
Here is a 5-minute snapshot of Wednesday's action.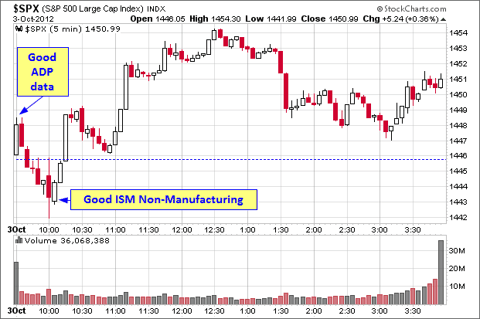 This three-day view shows the larger pattern of the week so far.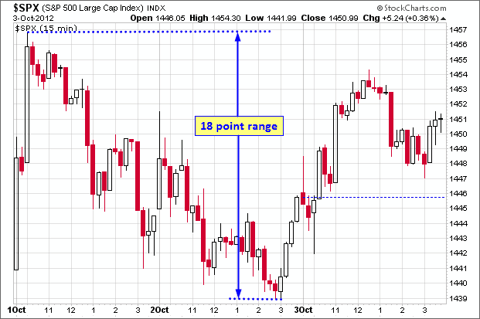 The index is now up 15.38% for 2012. From a longer-term perspective, the S&P 500 is 114.5% above the March 2009 closing low and 7.3% below the nominal all-time high of October 2007.
For a better sense of how these declines figure into a larger historical context, here's a long-term view of secular bull and bear markets in the S&P Composite since 1871.