Norwegian oil and gas giant Statoil ASA (NYSE:STO) has enjoyed great success in its exploration efforts over the past year or two and this greatly helps the company over the long term. One reason for this is simply practical. A company in this industry produces the oil and gas that it sells by pulling it out of resource fields in the ground. These fields have a finite amount of oil and gas in them. Therefore, the company needs to discover new resource fields or it will eventually run out of oil to sell. Additionally, a company that is attempting to grow by increasing production will also need to acquire (discover or purchase) the resources to do so. These two things are both true in Statoil's case. Statoil's recent success in this area is thus quite reassuring.
Historically, Statoil's center of production has been the North Sea and the Norwegian Continental Shelf. This is largely due to the company's origins. One of the predecessors of what is today Statoil was a company called Den Norske Stats Oljeselskap A/S. This company was created by the Norwegian government in 1972 to develop the Norwegian petroleum industry through the development of the substantial oil and gas resources on the Norwegian Continental Shelf. Today, most of the company's production still comes from Norway; but, Statoil has a significant and growing international presence.
Statoil has long had the ambition to grow its total average daily production to 2,500 mboe by 2020. As I mentioned in the introduction to this article, achieving this goal requires that the company discover new resources. Fortunately, Statoil has been quite successful at that. In fact, of all the largest private oil companies, only Italy's Eni (NYSE:E) enjoyed greater success in its exploration efforts over the period 2010-2012.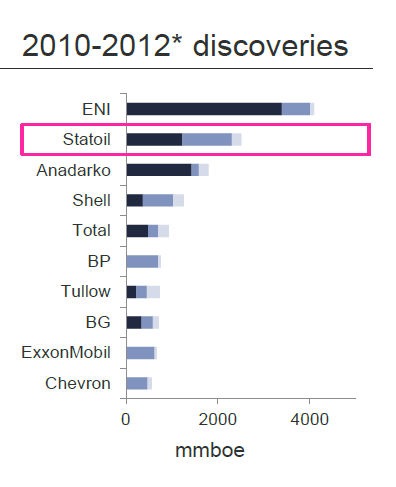 Source: Statoil ASA
Most of the company's new discoveries are located in areas outside of its traditional base of the North Sea and the Norwegian Continental Shelf. This is a particularly good sign because it proves the company's ability to operate outside of Norway. The North Sea and the Norwegian Continental Shelf have long been regarded as mature oil-producing areas. Despite a few high-profile discoveries in recent years, production from the area continues to decline. Thus, Statoil needs to expand its production base to other areas of the world if it desires to be sustainable as a company, let alone execute on its growth plans. Fortunately, the company has been successful at that, as illustrated here.
click to enlarge)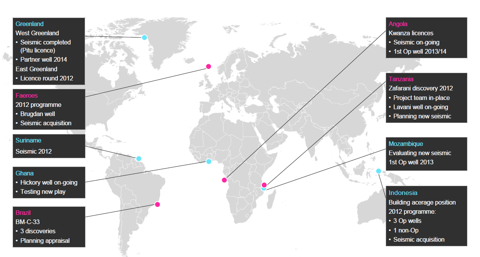 Source: Statoil ASA
Statoil has also become a major player in the area of unconventional oil production. The company entered the Bakken shale in a big way with last year's acquisition of Brigham Exploration and Production (BEXP). Statoil also has operations in the Canadian oil sands and the Marcellus shale in the Eastern United States. One particularly promising area of exploration for the company is the pre-salt plays off of the coasts of Angola and Brazil.
Statoil is the operator of two blocks in Brazil's pre-salt region and a partner in a third block in the region. That positions the company well to participate in the likely growth of this highly promising region.
click to enlarge)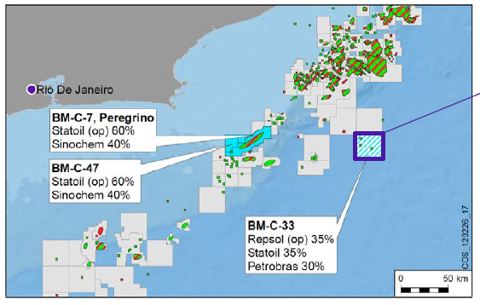 Source: Statoil ASA
High-impact discoveries have indeed been made in these blocks. The Statoil-operated BM-C-7 block contains the Peregrino South field. The company has verified that this high-impact discovery contains at least 300 million barrels of oil equivalent. Another discovery, at Pão de Açúcar in the BM-C-33 block, serves to confirm the very promising potential of this region. Statoil's ownership stakes in these two fields are 60% and 35% respectively. There also exists the potential for further discoveries in the company's blocks.
Statoil also has significant potential for further discoveries and to grow its production across the Atlantic, in the pre-salt region of Angola. I discussed the opportunities for Statoil in a previous article posted here on Seeking Alpha. Statoil is the operator of Blocks 38 and 39 in the Kwanza basin offshore Angola and holds partner stakes in three other blocks.
click to enlarge)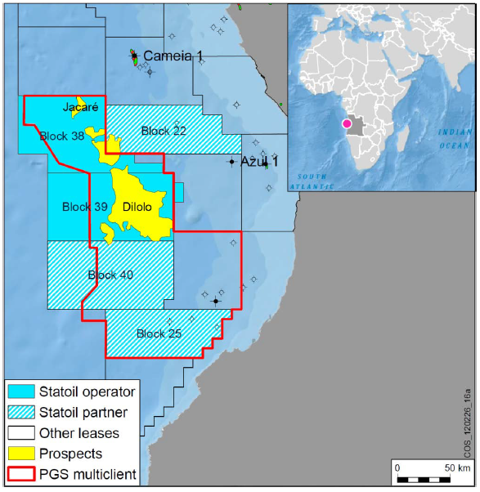 Source: Statoil ASA
The Brazilian pre-salt, which is part of the same geologic structure as the Angolan pre-salt, is believed to contain up to 100 billion barrels of oil equivalent. If this is also true of the Angola pre-salt, then Statoil could potentially grow its reserves dramatically. In fact, the company reported in its 2012 Exploration Seminar that its lead prospect in the region is estimated to contain more than a billion (potentially much more) barrels of oil equivalent. The company expects to drill its first well and test its prospect by the end of 2013 so verification of the size of this prospect will come at that time.
The company has also enjoyed great success in exploring the waters offshore Tanzania. In fact, the company's success here mirrors Eni's success just further south, at Mamba North and South in Mozambique. Statoil's Tanzanian find is much smaller than Eni's giant, but it is still large enough to offer great potential. Statoil's Tanzanian discovery, the massive Zafarani field, is estimated to contain at least 6 trillion cubic feet of gas in place. This positions the company well for the export of natural gas to Asia, an advantage which Eni also enjoys. In addition to Zafarani, Statoil has also discovered natural gas at the nearly Lavani field. Lavani is estimated to contain additional 3 trillion cubic feet of gas in place. These two fields thus give the company an estimated 9 trillion cubic feet of natural gas in Tanzania.
While there are opportunities here, there are also potential problems. An article in Reuters Africa mentions two of them. One problem is that Tanzania, like Mozambique, has limited infrastructure in place to accommodate the commercial development of a natural gas field. As a result, Statoil and its partner Exxon Mobil (NYSE:XOM) would need to build up this infrastructure. Project analysts expect that developing these fields and putting the necessary infrastructure into place could cost as much as $10 billion. This cost may make development economically infeasible unless more gas is discovered in the area. According to Tim Dodson, Statoil's executive vice-president of Exploration, "We would need another Lavani to feel comfortable [that] we have the gas for commercial development. There is a good chance, however, that Statoil will find the natural gas needed to remove all questions about the economic viability of developing the fields, given the resource abundance in the region."
Disclosure: I am long STO. I wrote this article myself, and it expresses my own opinions. I am not receiving compensation for it (other than from Seeking Alpha). I have no business relationship with any company whose stock is mentioned in this article.