There is a saying that slow and steady wins the race. In this world of high frequency trading, investment has become a fast money business with switches that toggle risk-on and risk-off. But if you are a retail investor who does not trade often, and wants lesser risks and yet good income and growth from investments, consider taking a look at this company: Home Properties Inc. (NYSE:HME).
About Home Properties
Home Properties is a Real Estate Investment Trust (or REIT) that is involved in owning, operating, acquiring, developing and even rehabilitating apartment communities mostly along the eastern coast of United States. The company basically acquires properties that appeal to senior tenants and middle-income families, probably to get longer lease terms and renewals.
After 2009, the real estate downturn actually helped such REITs in acquiring communities at low costs. By 2011, Home Properties was seeing increased rental rates already after a decline in 2009 and 2010. Since 1995, the company has consistently provided a solid dividend to shareholders, and the stock has appreciated greatly in the past 10 years. Take a look at the company's 10 year chart below.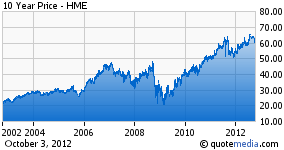 Fundamentals
Rental income has increased well from $462 million in 2009 to $532 million in 2011. The company's net income (adjusted for real estate gains and losses and depreciation/amortization) has been on a positive trend since 2009 as well, with $12.7 million in 2009, $26.7 million in 2010 and $37.9 million in 2011.
Revenues have consistently increased since FY 2009, and in fact, FY 2010 revenues of about $517 million was higher than pre-2009 revenue levels: $505 million in 2007 and $509 million in 2008. FY 2011 turned out even better, with $580 million annual revenues. Last but not the least, FY 2012 should see double digit growth in revenues, going as high as $640 million.
According to their 2Q 2012 earnings call, the company's average quarterly physical occupancy was up (96.2%) during the second quarter of 2012, compared to the same quarter in 2011 (95.8%).
Also, the 2Q 2012 earnings call showed that the average monthly rental rates increased by 4.5% compared to the year-ago period.
Home Properties currently offers a 4.35% dividend and the company's financial strength is adequate to maintain this cash distribution in the future. The company's dividend of 66 cents per share in 2Q 2012 was 6.5% higher than the year-ago quarter.
2Q 2012 results came out better than expected and the management has already raised the outlook for the remainder of 2012, resulting in raised estimates for the year 2012 and 2013.
Home Properties' most recent quarter's EPS growth was 35.7% and revenue growth was 15%. The trailing-twelve-months earnings growth was 52%. This kind of earnings growth is impressive for an REIT that pays more than 4% in annual dividends.
The company has a Debt/Total Capital of 66%, which is in-line with the industry average of 55%. More importantly, the company should be able to repay its debt comfortably, considering the Interest Coverage of 1.53. There is no imminent threat for Home Properties to cut its dividend yield in the near future.
The company's volatility is low, with a Beta of 0.75. I believe this is a low risk investment because the company has survived choppy markets and always maintained their price appreciation along with dividend payouts.
Industry catalysts
There are several macro level catalysts that will help Home Properties and its peers for the next couple of years.
Homeowner rate continues to remain low, in spite of all the Fed help.
New construction has slowed down due to economic conditions, and as long as this remains slow, REITs focused on apartments will continue to benefit.
Rents continue to increase in 2012, as the employment numbers are recovering at a lesser speed than required. Resident turnover decreases in such scenarios, especially for apartments that are targeted towards middle-class families.
Conclusion
Home Properties offers a good combination of growth and income for retail investors who want a solid total return with low volatility from their portfolios.
In my opinion, the investment horizon for this REIT should be long term (1-2 years) if investors want to get optimum benefit from the industry catalysts mentioned above.
Risks
With a high occupancy of more than 95% in its apartments, Home Properties has to rely on acquisition or development of new apartment communities at a low cost for higher growth and margins. Challenges in the acquisition process such as high costs or competition could adversely impact the company's growth prospects. Also, increased supply due to new construction or unsold units will always be a potential risk factor for Home Properties and its peers.
Disclosure: I am long HME. I wrote this article myself, and it expresses my own opinions. I am not receiving compensation for it (other than from Seeking Alpha). I have no business relationship with any company whose stock is mentioned in this article.