Yesterday's release of the ISM Services report for September came in better than expected (55.1 vs 53.1) for the third straight month. Today's report was also the highest reading since March. Looking at a combined ISM, which includes both the Manufacturing and Services reports and weights them according to their share of the US economy, September's reading came in at 54.5, which was 1.3 points above the reading for August and also the highest reading since March.
Perhaps the only bad thing to say about both charts below is that in each case, the indicators remain in downtrends from their February 2011 peaks.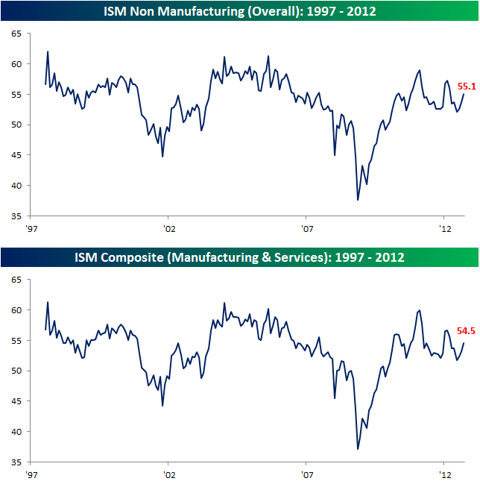 Click to enlarge
The table below shows the current levels for the ISM Services index and each of its subcomponents and compares the readings to last month and last year. As shown, although the headline index increased this month, the number of subcomponents that are currently below 50 increased to two, and only four subcomponents saw increases. Compared to a year ago, however, the numbers are actually more positive. Last year at this time there were three subcomponents below 50. Furthermore, seven of the ten subcomponents are higher now than they were a year ago.
We have also included charts of each subcomponent below. Like the overall headline index, many of these components are in short-term downtrends from their early 2011 peaks. Unfortunately, one indicator that is the closest to breaking its downtrend this month is Prices Paid, which came in at 68.1, which is the highest reading since February.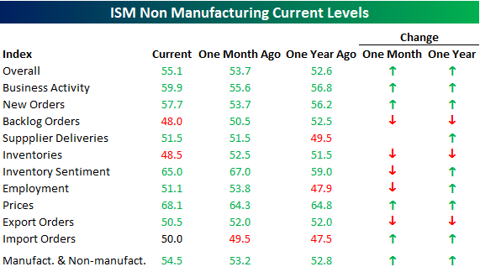 Click to enlarge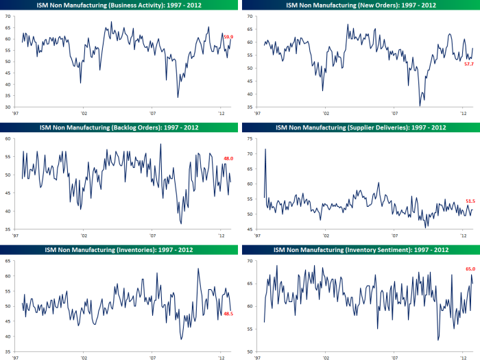 Click to enlarge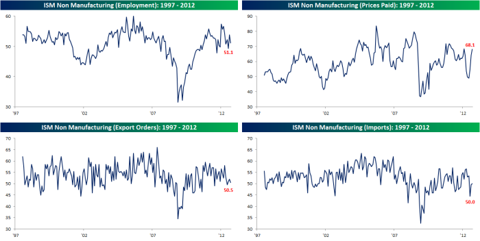 Click to enlarge