"Clean coal" is a myth and oxymoron. Electric cars have cost, range, and battery reliability issues. Biofuels cause huge dislocations and inflation in the food sector. Biofuels also keep us addicted to expensive and dirty liquid fuels when we should be transitioning to clean, cheap, and abundant natural gas. My readers know I believe America's best energy policy is natural gas transportation. On that front, there was a press release yesterday that rocked my world. Here's the headline:
Clean Energy Signs Agreement with Commonwealth of Virginia to Provide Natural Gas and Vehicle Conversion Services
This is awesome! Here is the first paragraph of the press release:
At a ceremony opening his annual Conference on Energy, Virginia Governor Robert McDonnell today signed an agreement with Clean Energy Fuels Corp. (CLNE) to enable the Commonwealth and local Virginia governmental entities to purchase Compressed Natural Gas (CNG) from Clean Energy for their vehicle fleets. Commonwealth, county, city, municipal and other Virginia government bodies will be able to access special pricing for CNG fuel and services through the state's procurement website, eVA. Clean Energy also plans to build CNG fueling stations and provide CNG vehicle conversions for Commonwealth and local Virginia governments that want to take advantage of the benefits of natural gas as a transportation fuel.
Although states such as Oklahoma, Utah, and California have been big proponents of natural gas transportation, this is the first agreement of this type at the state level I am aware of (please correct me in the comment section if you know otherwise).
Clean Energy plans a strategic network of CNG station locations throughout Virginia, taking advantage of the extensive inter-state highway system. Better yet, the infrastructure created through the agreement will be able to fuel passenger vehicles. This is a huge win for the citizens of Virginia who will now be able to convert their vehicles to CNG and refuel them with natural gas costing in the neighborhood of $1.50/GGE less than gasoline. This is the big difference between this agreement and the Natural Gas Highway deal with Pilot Truck stops. The infrastructure created with the Pilot agreement does not support passenger vehicles, only long-haul trucking. Big mistake in my opinion - they should have put CNG refueling pumps in all urban Pilot stations. Regardless, I am still a big supporter of America's Natural Gas Highway for trucking. It is the most strategic energy policy enacted in America since its dependence on foreign oil went over 50%.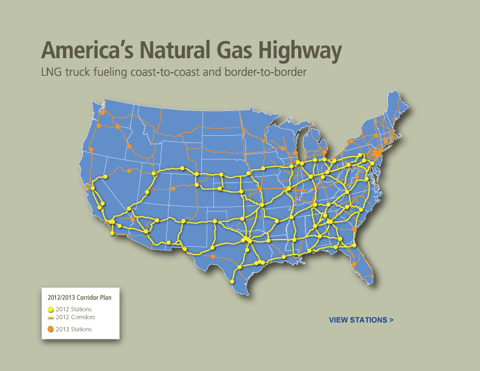 This is a ground-breaking agreement because it opens the door for other states to follow Virginia's lead. It's ironic that a state such as Virginia, which played such a strategic role in America's fight for independence, is now playing a strategic role in America's fight to unshackle itself from the economic, environmental, and national security issues as a result of its dependence on foreign oil.
My hat is off to Virginia Governor Robert McDonnell. Well done sir!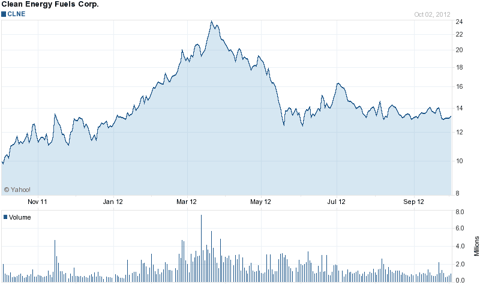 It's even better news for Clean Energy Fuels Corp. The economic and environmental benefits of natural gas transportation are a no-brainer and now, with this highly visible agreement with Virginia, who can doubt other states will follow? Volume is what CLNE has always needed. Not just for natural gas sales, but for procurement of the equipment to build out its CNG refueling infrastructure. Once states pile on, CLNE will have a much better hand to play when negotiating for compressors, pumps, meters, pipes, and all the other components necessary to build LNG & CNG refueling stations.
Many of these components will come from General Electric (NYSE:GE) and that company will benefit all the way from equipment on the natural gas rigs to refueling infrastructure. It is no coincident that GE's recent outlook was much rosier than many other industrial firms. At GE, it's all about throwing off the burdens of former CEO Jack Welch's foray into the "financial world" and getting back to real industry. In this case, that's the energy business, and GE is very well-positioned.
Exxon Mobil (NYSE:XOM), the #1 producer of natural gas in the U.S., will also be a big winner. In my Seeking Alpha article Why Exxon Mobile Should Support Natural Gas Transportation, I pointed out that every $1 increase in the price of natural gas adds over $1.2 billion dollars/year to Exxon's revenue stream.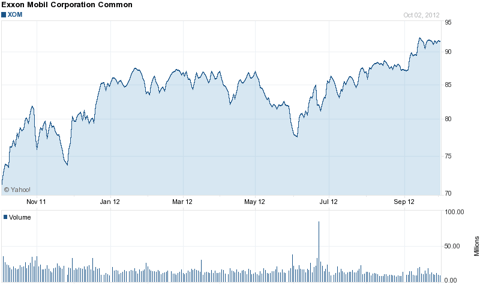 But the real winners here will be the citizens of Virginia who very soon will have an option to buy domestic natural gas for their vehicles instead of gasoline refined from foreign oil. Imagine a day when we see "CNG Station" signs on our interstate highway system. Imagine a day when we can cut out foreign oil imports and stop silly monetary programs like QEI (QE infinity) that simply print money to "pay" for our over $30 billion/month foreign oil bill. Imagine a day when we keep the wealth of Americans inside the country instead of sending it to foreign oil producers. Imagine an era of economic prosperity for the mighty United States! It can happen. Natural gas transportation can do it.
It's enough to make me want to move to Virginia!
Disclosure: I am long XOM. I wrote this article myself, and it expresses my own opinions. I am not receiving compensation for it (other than from Seeking Alpha). I have no business relationship with any company whose stock is mentioned in this article.