With three months to go in 2012, the first prediction for 2013 is already out. Bank of America Merrill Lynch's head of U.S. Equity and Quantitative Strategy Savita Subramanian is of the opinion that the S&P will hit record highs of 1,600 in 2013.
This article discusses the probability of the S&P 500 index touching record highs in 2013. In the current market scenario, which is constantly bombarded with news, it is not an easy task to predict the markets. However, I will try to bring out a fair assessment based on the information available and my personal expectation related to global economic activity.
Corporate earnings and expected earnings trend in the foreseeable future is one of the most important things to consider when talking about the expected direction of markets in the near to medium term.
U.S. corporate profit after tax peaked at record highs in the first quarter of 2012 at $1,671 billion. Corporate profit after tax for the second quarter was marginally lower at $1,665 billion.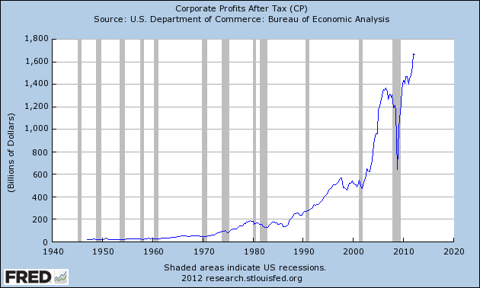 Click to enlarge
I am of the opinion that U.S. corporate profits have reached a near-term high and should trend lower over the next 3-4 quarters. The basis of this assumption relates to a recession in Europe, a sharp slowdown in China, and an expected slowdown in the United States. I expect the U.S. economy to falter as QE3 does little in the foreseeable future to help growth and create jobs.
The global economy is already in a manufacturing recession and a services sector recession can't be ruled out.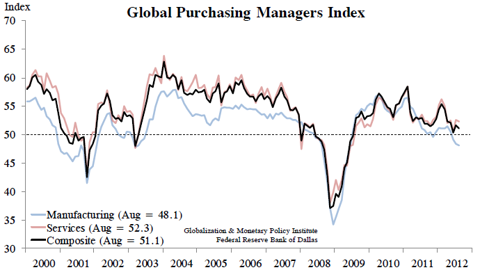 Click to enlarge
The extent of the current slowdown is also indicated by global inflation numbers, which have declined due to weak economic growth.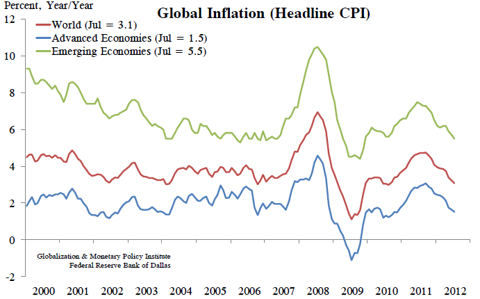 Click to enlarge
In the second quarter of 2012, 24.7% of S&P 500 companies missed estimates. With the above data suggesting weak global growth, I will not be surprised to see a higher percentage of companies missing estimates. As quarterly numbers begin to flow, markets might have to cope with meaningful negative surprises leading to negative sentiment among market participants.
Therefore, sentiment will not be very positive going into 2013 and the next 3-6 months might be a period of sideways to downward trending markets. After the recent rally and the current market valuations, I would not be surprised if markets correct by 15% over the next quarter or two. I will discuss the market valuation in detail later in the article.
Also, as I mentioned in one of my earlier articles, the fiscal cliff issue and the debt ceiling issue will result in a nervous beginning for the markets in 2013. The extension of tax cuts might serve as positive news, but might not prop up markets if corporate earnings are relatively dismal. Further, tax cut extensions would serve just as a relief for the markets and not an added stimulus for the economy. Even under the current tax structure, households are struggling as the number of people not in the labor force swells.
Coming to the point of current market valuations, the S&P 500 index is currently trading at a PE of 16.5 based on trailing twelve months earnings. Clearly, the markets are no longer cheap. This is especially true if one expects earnings to decline over the next few quarters.
Even if we one considers the earnings for the S&P 500 stocks to remain the same in 2012 as the TTM earnings, levels of 1,600 on the S&P 500 would mean that the index will be trading at a PE of 18. I am not very sure that this scenario is possible considering the current macroeconomic environment. I can think of only two scenarios, which can lead to the S&P surging to 1,600 levels in 2013. If corporate earnings are robust, the S&P can scale those levels. However, that is almost ruled out as far as 2013 goes. The second factor is liquidity. Excess liquidity and continued expansionary monetary policies can lead to markets surging even when earnings are dull. If markets do scale record highs in 2013, my only rationale would be liquidity.
Continuing with valuations, the S&P 500 is trading at a PEG ratio of 1.17 times 2013 projected growth. In general, a PEG of over 1 would suggest relatively expensive markets. Further, the energy stocks in the S&P 500 index are trading at a PEG of 2.08 times 2013 projected earnings. As energy companies feel the pinch of a global recession, the valuations should return to relatively reasonable levels. From a PEG valuation perspective, the information technology sector still looks cheap trading at a PEG of 0.79 times 2013 projected earnings. The telecommunication services sector and the utilities sector also might not be very much in favor in 2013 with the sectors at a PEG of 4.3 and 3.3 respectively. The relatively high PEG in these two sectors can be explained by investors looking for stable earnings and high-dividend yields. The broader point I am trying to make here is that some index constituents are overvalued while others will be meaningfully impacted by a global slowdown. This can drag the index lower in 2013.
Besides the valuations and an expected slowdown in corporate earnings, investors also need to consider the fact that problems in the eurozone are far from over. The ECB's OMT program ensures that yields for some eurozone countries remain relatively lower. However, the core problem of loss of competitiveness, high levels of unemployment and high government debt is still not resolved. Going forward, these issues will resurface and will dampen stock market sentiments. I also expect the UK to be another area of trouble in 2013 and I had discussed that in details in one of my earlier articles. With financial markets being very much coupled, U.S. equities will slide if problems persist in the euro zone as well as in China.
I am certainly not suggesting to investors that the S&P 500 will crash in 2013. I am of the opinion that the next 3-6 months might not be great for the markets. Subsequently, markets might recover and trend higher or move sideways. However, very bullish sentiments might not prevail in 2013. Investors also need to understand that the longer the time span we cover without meaningful recovery in the real economy, the greater will be the loss in confidence on central bank actions. In such a scenario, even ample liquidity will not boost market confidence. In other words, unless we witness measures, which really kick start the real economy, the dead cat bounce might get lower and lower for asset markets.
Therefore, I have doubts if markets can really touch 1,600 levels on the S&P in 2013. Market correction and market consolidation can however be used as an opportunity to accumulate quality stocks or invest in the index. The U.S. corporate sector is globally diversified and growth will resume for companies as the global economy stabilizes. For index investing, I would consider exposure to the SPDR S&P 500 (NYSEARCA:SPY) ETF, which seeks to provide investment results that, before expenses, generally correspond to the price and yield performance of the S&P 500 Index.
Disclosure: I have no positions in any stocks mentioned, and no plans to initiate any positions within the next 72 hours. I wrote this article myself, and it expresses my own opinions. I am not receiving compensation for it (other than from Seeking Alpha). I have no business relationship with any company whose stock is mentioned in this article.