Apple (NASDAQ:AAPL) has been one of the greatest growth stories of our generation. It's been a tremendous run for the company, which now has the highest market cap of any US stock. The company sells two of the hottest items on the planet, and should report fiscal year revenues of over $150 billion and earnings over $40 billion later this month.
But as growth rates slow naturally over time, we've seen a lot of major tech companies transition from growth to value plays. The tech names that are no longer growing at double digit rates now pay dividends in excess of 3% per year and are buying back billions of their own shares. Valuations also are fairly low when compared to the overall market.
So when Apple came out in March annoucing both a dividend and share repurchase plan, the question was logical. Is Apple now a value play? Some might say yes, and some might say no. Apple has already paid its first dividend under the new plan, and beginning this quarter, Apple is beginning to repurchase some shares. Let's examine how Apple could be the new value play in the technology sector.
Apple still can be considered a growth story in some respects. Revenues for the fiscal year ending September 2013 are expected to rise by nearly 24% after a rise of 45% (expected) in the just ended fiscal year. That growth rate is slowing, but it still is well above other technology heavyweights. Microsoft (NASDAQ:MSFT), whose fiscal year ends in June of 2013, is expected to see yearly revenue growth of nearly 8.6%. Cisco Systems (NASDAQ:CSCO), whose fiscal year ends in July of 2013, is expected to grow yearly revenues by 6.2%. Intel (NASDAQ:INTC) is expected to see calendar year 2013 revenues rise by 4.2%, but that's after an expected revenue decline in 2012.
It is because of that strong growth in recent years that Apple has built up a balance sheet like no other. As you can see from the following table, Apple not only has the largest market cap and the largest balance sheet (in terms of total assets). But the key here is that Apple has the largest cash and investments pile, and that its cash and investments pile is the largest, in percentage terms, of any company's total assets (Apple has roughly 72% in cash and investments, Microsoft next highest at 60%). Also, and this is most important for investors, Apple has the largest domestic cash and investments pile. Remember, these companies stash most of their cash and investments overseas, so it cannot be used to pay dividends and fund share buybacks unless they bring it back into the US (and pay lots of taxes). All dollar values are in billions.

*Includes cash and equivalents, short and long-term investments.
**Domestic cash values only from cash and short-term investments. As of their latest quarter(s), Microsoft had $63 billion in cash and short-term investments, Cisco had $48.7 billion. Amount of long-term investments held off-seas not disclosed.
Having those large cash and investment piles is what gives these companies the ability to pay dividends and buy back shares. The table below shows a comparison of the dividends and buybacks for each name. The current yield is as of Wednesday's close. The first buyback category (12-mo) shows the dollar amount of shares repurchased over the past 12 months for each name, ending at their latest quarter. For Microsoft and Cisco, those are fiscal year values. For Intel, it is the past four quarters, over two separate fiscal years. The second buyback category (remain) is the amount of dollars remaining on each company's current buyback plan.

As you can see, Apple has the lowest dividend because it just resumed its dividend program recently. Microsoft and Intel have paid dividends for over a decade, and Cisco started its dividend in 2011, but has raised it tremendously since then. In terms of the Intel buyback, Intel repurchased a large amount of shares in 2011. Because 2012 hasn't been as great of a year for Intel, the buybacks have slowed down a bit, and are expected to not be as large as they were in recent quarters.
So now Apple is entering the second stage in its plan to return capital to shareholders. The dividend started again in August, and now that we are in the first fiscal quarter of Apple's fiscal 2013, Apple will begin repurchasing some shares. The company expects to repurchase about $10 billion worth of shares over 3 years.
However, I don't want investors to think that this is a traditional buyback program. It's not. As Apple stated for the program: "the primary objective of neutralizing the impact of dilution from future employee equity grants and employee stock purchase programs." Apple most likely won't actually reduce the outstanding share count. Why does this happen? Look at the following chart, showing Apple's diluted share count (in thousands) over the past few years.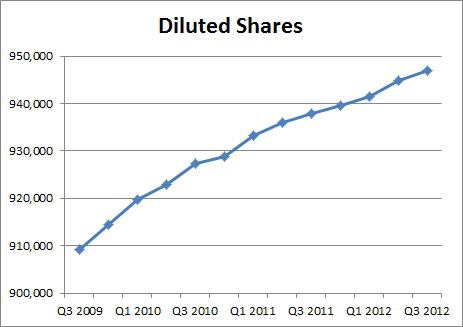 As you can see, the share count has risen over time, standing at over 947 million shares at the end of Q3. In fact, over the past year, the share count has risen by 9.2 million shares, or an average of 2.3 million per quarter. At current prices, to prevent further dilution of 2.3 million shares per quarter, Apple would have to spend $1.5 billion per quarter to keep the count from rising further. Since Apple has promised $10 billion over three years, I think the share count will continue to rise, although not as fast as it was.
You may wonder what the impact of a rising share count is. Well, it basically means that earnings per share do not rise as fast as net income does. The following table shows how this works, showing the year over year net income and earnings per share figures for each given quarter.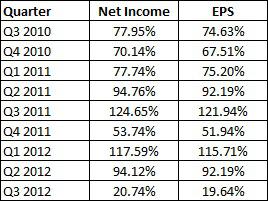 It doesn't seem like much in any one given quarter, but it adds up as you go over a longer time period. For instance, let's compare Q3 2010 to Q3 2012. In Q3 of 2010, Apple had net income of $1.828 billion and earnings per share of $2.01. In Q3 of 2012, Apple had net income of $8.824 billion and earnings per share of $9.32. But over that time, the diluted share count (as you can see in the chart above) rose from 927.36 million to 947.06 million. Had the diluted share count stayed the same, Apple's Q3 of 2012 earnings per share would have been $9.52. That's 20 cents per share more. Imagine the extra earnings per share you would have with the lower share count over time. The Apple price to earnings valuation would be even lower.
With Apple now offsetting some of the added shares from options dilution, the net income to earnings per share gap should come down. That will help future earnings per share to be stronger than they would without the buyback. Just the appearance of buying back shares puts the idea of a "price floor" into the thoughts of some investors. Those investors believe in the theory that if a company is buying back shares, it means that the company believes those shares are undervalued.
So to conclude, let's ask, is Apple now a value play? The answer to that is yes and no. Apple is not a full value play in the traditional sense like a cigarette company or large pharmaceutical name. It's not even a full value play compared to some other large technology names. It's not there yet. But it is a value play in some respects because it is paying a dividend and buying back shares. As Apple pays more dividends and buys back more shares, it becomes even more of a value play. Remember, last week, this name wasn't even buying back shares, and three months ago, it wasn't even paying a dividend. Apple has significant financial flexibility, and it expects to return $45 billion to shareholders over the next three years. While it doesn't have the tremendous dividend yield or stock buyback that other names might at this point, those days are coming. Apple might not be a full value play just yet, but it is getting closer and closer. For that reason, this continues to be a name that you must be in for the long term.
Disclosure: I have no positions in any stocks mentioned, but may initiate a long position in AAPL over the next 72 hours. I wrote this article myself, and it expresses my own opinions. I am not receiving compensation for it (other than from Seeking Alpha). I have no business relationship with any company whose stock is mentioned in this article.