When I heard that Nokia (NYSE:NOK) was considering selling its headquarters in Finland to raise cash, the first thought that popped on my head was that Nokia must be very desperate. After all, you don't sell the house you live in to raise cash unless you are either very desperate or you have a wonderful business plan that is fail-proof. Are things going that bad for Nokia?
First, let's look at details of the story. It turns out that Nokia is only considering the sale of the headquarters and the idea is still in its early stages. Furthermore, if the company ends up selling the campus, it will continue to stay in there and become a tenant.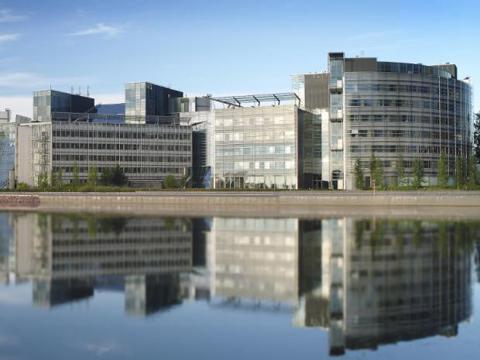 The company could raise between $260 and $390 million from the sale of the campus. At the current rate, the company burns about $300 million per month, which means the sale of Nokia's headquarters would buy the company just another month of survival. On the other hand, keep in mind that Nokia currently has a lot of one-time charges due to the reorganization and reducing the headcount, which should save the company money in the long run. The company's latest cost-cutting measures target at saving the company nearly $2 billion by the end of 2013. The company hopes to invest the money it will raise from sale of real estate into its core operations.
After closing down its last factory in Finland, the company has very limited presence in its home country, Finland. This has led to some speculations that the company was planning to leave Finland and move to another country to get acquired by another company, such as Microsoft (NASDAQ:MSFT). Of course, if Lumia doesn't work out, the company might end up resorting to that. Interestingly enough, as Microsoft denies that it is planning to build its own smartphone, there are rumors claiming that Microsoft keeps the option open as a "Plan B." In this case, I could see Microsoft buying Nokia because the company will need Nokia's expertise, experience, patent portfolio and brand name to build a successful smart phone. Indeed, Microsoft has more than enough spare cash to buy Nokia if the need arises.
In the technology sector, companies often sell their real estate holdings just to lease them. In the recent history, Siemens and Deutsche Telekom have picked the same route. European labor laws make it very difficult for companies to cut costs by reducing their headcount. Nokia has to pay a lot of money to its former and soon-to-be former employees in the shape of severance packages. This makes it difficult for the already-struggling companies to make the ends meet. If a company is burning through cash and trying to cut costs, the last thing it would want to face is huge one-time costs that will accelerate the cash burn in the short term.
On a positive development, the company's mapping business continues to establish itself all over the world. As Apple (NASDAQ:AAPL) attracted a lot of heat due to the poor performance of its mapping software, Nokia is getting a lot of praise for its mapping segment, which may be the only profitable business unit of the company in the short term. Nokia's latest business partners are Oracle (NASDAQ:ORCL), BMW (BAMXY.PK), Mercedes (OTCPK:DDAIF), Garmin (NASDAQ:GRMN) and Hyundai (OTC:HYMLF). Nokia's mapping technology will come in 80-90% of all cars produced globally starting next year. This is an exciting opportunity for the company. The deal between Nokia and Oracle is also important because it will allow Oracle's customers to have access to Nokia's mapping technology and mapping data. So far, most of the consumers of Nokia's mapping technology are individuals rather than businesses. This might come to a change, as Oracle's customers are mainly businesses, and Nokia could use this opportunity to grow in the enterprise sector.
AT&T (NYSE:T) is set to announce its plans to sell the new line of Lumias in a matter of days. We will know details such as the release date and the price of the phone in the U.S. The company is the only carrier that currently sells Nokia's Lumia 900. Verizon is said to be interested in joining AT&T in selling Lumia 920, but AT&T will be the first company to launch this phone. Nokia's phones continue to enjoy the reputation of being indestructible. CNET put Nokia's Lumia 900 through a series of torture tests, which the phone survived successfully.
I am still long Nokia, even though I believe that the company's management has made a lot of mistakes, including but not limited to weak marketing strategies. I believe that Lumia 920 will sell far more copies than Lumia 900 and this one will mark Nokia's turnaround. If not, then Nokia's only hope will be a takeover from another company such as Microsoft.
Disclosure: I am long NOK, MSFT. I wrote this article myself, and it expresses my own opinions. I am not receiving compensation for it (other than from Seeking Alpha). I have no business relationship with any company whose stock is mentioned in this article.