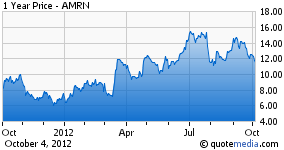 Talk about an interesting few days of trading for Amarin (NASDAQ:AMRN) ... Investors have experienced positive sentiment earlier in the week over substantial option trades suggesting a price of $25 or more by end of Q1 2013, only to experience negative sentiment on Wednesday by what could possibly be one of the most unusual and non-facts based analyst notes/downgrade I have ever witnessed.
The analyst downgrade I refer to is the Wedbush note taking AMRN from buy to neutral and $22 to $15PT. What I find most ironic is that the research note cites frustration that the company has not announced a buyout yet and that the lack of a buyout just a few short months after FDA approval completely changes their investment hypothesis. I'd call it amateur hour, but you would have to read an Adam F. column for that.
Let's check the facts here:
AMRN still has the best and safest therapy that is now FDA approved
Amarin has not talked to anyone, including investment community, as they have cancelled most recent investor conference. So, the Wedbush analyst, made a call based on zero communication with Amarin
Amarin continues to secure serious patent protection
Market checks have verified supply barriers to entry
At least 3 year marketing exclusivity will be awarded, with possible NCE catalyst going to 5 years
Average PTs $26-28
The average pharma deal for companies not sold prior to FDA approval is no less than 3-6 months. A great example involving NCE, high market expectations would be Tercica years ago, Tercica got acquired several months after FDA approval, even though many were expecting 1-2 months
Amarin has not hired a sales force
The company confirms it has and is presently talking to several parties re: business development
Whether you believe that AMRN will achieve NCE or not, on a discounted cash basis, based on revenues generated from their first FDA approved indication, as a prior SA contributor provided, you are looking at a $15-20 stock. But, another major misstep by Wedbush was to not acknowledge the second indication. Did this person even have a valid investment thesis to begin with? That model takes the value toward and exceeding $35 in a hurry.
Make your own determination, but one thing is for sure, the recent share price seems to represent a major wealth-creating opportunity.
Disclosure: I am long AMRN. I wrote this article myself, and it expresses my own opinions. I am not receiving compensation for it. I have no business relationship with any company whose stock is mentioned in this article.