Overview
In September 2011, I wrote an article that followed the progress of Fortune magazine's Top 10 stock picks for 2011. You can see how they all fared here, but it was really a mixed bag-- with two big winners, two big losers and the rest split 40/60 for win / loss performance. In February 2012, I wrote an article that would track the performance of Fortune's Top 10 stock picks for 2012, and it is time for the Q3 update. How are these stocks performing in 2012, and will it be an overall big win for Fortune's tips, or a mediocre result overall?
As I have stated previously, the reason for writing these articles is not to outline my reasoning for buying or selling the stocks, but to place on the record for your average investor, an easy-to-see guide to each of the stock's performance relative to each other. But more importantly, in writing these articles and making these recommendations each year, Fortune (along with every other major and minor publication that does the same) is offering "financial advice" (albeit general) to your average investor. Paid financial advice that is, if you obtain the information by being a paid up reader or subscriber of its print publication (or for free if you access from the web). It is therefore important to note how the public picks from a leading financial magazine perform over the course of the rated period. For disclosure purposes, I am a subscriber of Fortune(Forbes last year, Fortune this year), and I access information on its articles free from the web.
The 2012 Tips
Fortune's Top 10 Stock Picks for 2012 are as follows:
(all entry prices are as at 13th December 2011)
Performance as at Q3 2012
I have been tracking the performance of the Fortune portfolio on a weekly basis, and usually take a screen shot of the portfolio at close of trade on Friday afternoons. For Q3 2012 (for the portfolio) on September 14, 2012, it looked as follows: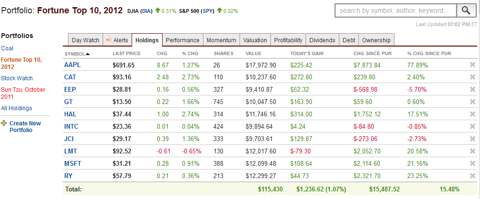 Compared against the entry prices on December 13, the performance is as follows, including dollar price gain/loss, and expressed as a percentage: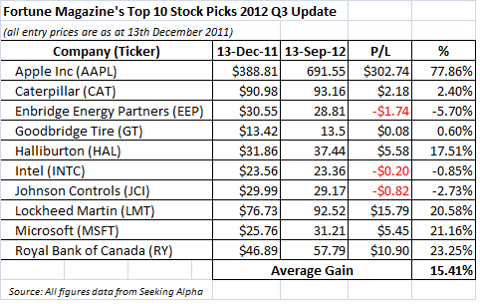 Summary
As I write this I am a few weeks behind the Q3 screen capture, however some things have not changed over the duration of the preceding nine months. Apple remains a consistent outperformer, representing a 77% capital gain that provides a decision point dilemma for fund managers and individual investors about when to take profit, and where to set realistic stop losses given market volatility and how much Apple stock gains, advances/retraces within a single trading day. It is also important to consider what impact the stock's gains would have on the portfolio's average return overall; should it be considered inclusive of, or regarded as an outlier?
Lockheed Martin, Microsoft and Royal Bank of Canada have also performed strongly, notching gains of 20% plus - but again is this indicative of the stock outperforming the market, or just a sign of the broader market recovery (an irrational market performance given some of the articles written by Seeking Alpha's macroeconomic contributors).
On the underperforming side of the portfolio, Enbridge Energy Partners, Intel and Johnson Controls continue to remain on the losing side of the trade. Enbridge's underperformance is interesting to ponder; it is a stable operation, it pays a high distribution yield, and it has potential for growth within its operational market. Equally interesting is Johnson Control's performance, and a detailed assessment on its under performance was written recently by "Stock Gamer" (click here). The rationale for inclusion of each of the stocks can be read in Fortune's original article (click here).
The final aspect, which will affect the portfolio's performance overall, is the enduring effect that Bernanke's QEIII program will have on markets. To quote a recent contributor on Seeking Alpha "all bets are off." In fact, there have been fundamental changes to the portfolio in the last three weeks; notably the improvement in Enbridge Energy's share price, secondly the significant drop in value for Goodbridge Tire (~10%), and third the further drop in Johnson Control's value (now at an ~9% loss). The impact pre- and post-QEIII announcement is shown below: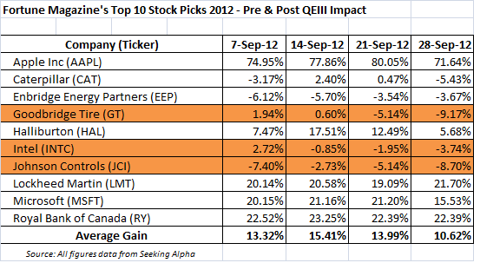 It will be interesting to see whether Fortune's top tips for 2012 peak at the right time to deliver a good year's end result, or to see if it is another average performance lifted significantly higher by a outlying Apple. I will write a year-end summary on the recommended stocks after December 13, which is the one-year closing date for the portfolio from inception.
Disclosure: I am long CAT. I wrote this article myself, and it expresses my own opinions. I am not receiving compensation for it (other than from Seeking Alpha). I have no business relationship with any company whose stock is mentioned in this article.