Last week, a critical piece (see here) was published about Clearsign Combustion (NASDAQ:CLIR) by an individual with a short position in the stock.
I've been researching and following the stock - and have met with management multiple times - ever since the company went public back in April.
Before any investors put their hard earned capital on the line based on the previous analysis, I'd hope they'd at least want to hear the bull case, too.
With that in mind, today I'm sharing the research report I originally provided to my subscribers on May 4, with relevant updates, to help investors make the most informed decision.
Full disclosure: I have no position in the stock, so I'm not simply "talking my book." The only way my business succeeds is if I provide accurate and ultimately profitable investment research to subscribers. Continuously. I believe Clearsign represents an opportunity for me to fulfill that mission. Here's why...
Industry Overview: A Global (and Growing) Opportunity
As the company's name implies, Clearsign develops technologies related to combustion systems. To laymen, though, the size and scope of combustion markets might not be immediately apparent. It's my goal to make sure you no longer fall into that category.
The good news is I can put the enormity of this opportunity into perspective with a single fact:
Nearly two-thirds of the world's energy consumption is currently supplied by combustion of hydrocarbons and other fuels in boilers, furnaces, kilns and turbines.
I'd challenge you to find a bigger market in existence. But the combustion systems market isn't just big. It's growing, too, thanks to our ever-increasing need for energy. Global energy consumption will increase by about 50% by 2035, according to the U.S. Energy Information Administration's 2011 International Energy Outlook. No surprise, the emerging markets of China and India are the main drivers of this growth. Those two countries alone are expected to double their combined energy demand by 2035.
Bottom line: Any technology with the potential to improve a process so critical to everyday life represents an unprecedented opportunity for society and investors, alike. And that's exactly the potential Clearsign possesses. When I say the company is a potential world changer, I mean it, literally.
Technology Overview: A Great Leap Forward
For over a century now, our combustion systems have relied largely on two characteristics: buoyancy and momentum. Buoyancy can easily be understood by using your standard household candle. Hold it upright. Light it. And then turn the candle horizontal and the flame stays upright. That's buoyancy.
Your typical propane blowtorch, which applies pressure to a combustible fuel, is a perfect example of harnessing the power of momentum. (By the way, the first known patent for a blowtorch was granted in France… in January 1791. Like I said, we're talking about centuries-old technologies here.)
What Clearsign's technology does, though, is provide a tremendous leap forward by harnessing a third, yet neglected, characteristic of combustion flames - electrostatic forces. These are the forces created by the movement of electrically charged molecules (ions) that are a natural product of the combustion process. If you remember from high school physics class, electrostatic forces are what hold electrons in their orbits in atoms. So these forces are strong. Billions of times stronger than gravity, in fact.
To tap into that power, Clearsign developed a very straightforward system, with components that are available "off the shelf." In other words, it can be implemented immediately, or as the company states in its S-1 filing, "Clearsign does not depend on any third-party external technology that has not yet been developed."
The four major components of Clearsign's technology are a computer, software to deliver proprietary algorithms, a power amplifier (outside the combustion chamber) and electrodes (inside the combustion chamber). The impact on combustion chemistry that such a simple setup has demonstrated in the lab is significant.
It results in less unburned fuel, thereby increasing efficiency and reducing pollutant formation.
It optimizes flame shape and stability to maximize energy efficiency.
It increases thermal efficiency (heat transfer and heat distribution).
Practically speaking, Clearsign's tests with coal, tire-derived fuel, and wood have shown reductions in visible particulate matter (i.e. - pollutants) of over 80%. Other tests demonstrated efficiency increases of as much as 30% in gas-fired boilers.
Bottom line: Clearsign's technology holds the promise to simultaneously increase energy efficiency and dramatically reduce emissions. No product on the market today can make that claim.
Market Opportunity: At Least $12 Billion
As you might imagine, the emission of pollutants from combustion processes is heavily regulated. Regulations are only getting stiffer, too.
In the United States, the Mercury and Air Toxics Standards (MATS) and Cross State Air Pollution Rule (CSAPR) are recent examples of increased regulation, with compliance due as early as 2014.
In Europe, new directives from the European Union require more reductions in NOx emissions by 2016.
In China, as part of the country's Twelfth Five-Year Plan, the Ministry of Environmental Protection called for more reductions in NOx, with compliance mandatory by January 1, 2014.
The key here is that compliance isn't optional. Companies must get their operations up to standards or they face stiff penalties or the prospect of ceasing operations altogether. So what are they choosing? Compliance, of course. Case in point: More than 10,000 active environmental projects are under way for the world's 7,000 coal-fired power plants to reduce emissions. Put simply, compliance is a cost of business. But it doesn't come cheap. For example, a 1,000-megawatt coal-fired power plant in the United States can expect to spend $400 million to meet new air quality standards, according to The McIlvaine Company.
When we extrapolate those costs over an entire market, the opportunity for Air Pollution Control (APC) equipment quickly reaches into the tens of billions of dollars. In fact, The McIlvaine Company estimates $51 billion will be spent on APC equipment worldwide in 2012 alone. Roughly half of that will be spent in industrial combustion markets and the other half in power generation. What's more, annual expenditures on APC equipment is expected to grow by 6% per year over the next decade, which is faster than global GDP growth.
The problem with the status quo, though, is that the majority of APC technologies are post-combustion. That means we're trying to "filter" out pollutants as best we can from the air, instead of preventing them from forming. And treatment is much more costly than prevention. We can get an idea of how much effort is spent on emissions treatment by looking at a schematic for a typical power plant. The footprint or physical "real estate" required by APC technologies (circled in red) - and the number of APC technologies employed - is significant.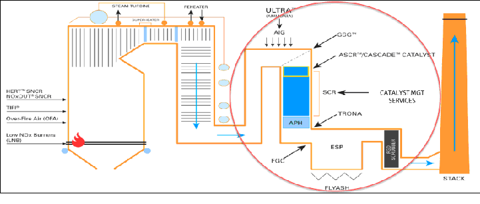 But therein lies one of the major advantages of Clearsign's technology. Because it operates at the combustion source, it prevents the formation of many pollutants. If a picture is worth a thousand words, the following two should speak volumes. They show the smoke produced when biomass pellets are co-fired with propane with and without Clearsign's technology.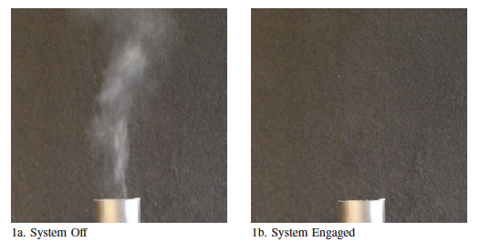 (I encourage investors to check out the "Lab Videos" recently added to Clearsign's website here for an even better idea of how the technology works).
These pictures only demonstrate one of the major benefits of Clearsign's technology - emissions control. Like I mentioned earlier, though, Clearsign's technology isn't just about reducing emissions. It's also about increasing efficiency. Please understand that a simple 1% increase in efficiency would result in millions of dollars of savings for individual companies. And the market would quickly embrace any technology providing such a seemingly small benefit. I bring that up because Clearsign is witnessing efficiency gains of 10% to 30%. So, as Clearsign rightly states, the combined results of its technologies would "transform the economics of coal-fired power generation," as well as other combustion systems.
In terms of actual market opportunity, management is conservative in its estimates, saying:
Based on our internal estimates, the Company believes the total addressable market for Clearsign ECC Technology in the four targeted system types to be between $5.1 billion and $12.2 billion in the United States alone.
The following abbreviated table from the company's S-1 filing provides a breakdown of that calculation:

There are two things worth pointing out here:
The company's estimates are based on annual replacement rates of just 3% to 10%. But the stricter emissions standards looming on the horizon should lead to an accelerated rate of adoption once Clearsign demonstrates commercial viability of its technology.
The company's estimates only take into account the United States market. As I told you earlier, a sizable opportunity exists in China and India, too. China's APC market alone is projected to be three times the size of the APC market in the United States. Add in European markets, and we quickly get to a total addressable market that is many multiples larger than Clearsign's estimates.
Bottom line: By reducing emissions and increasing efficiency, Clearsign's technology could deliver an economic benefit. So it's a no-brainer sale. Especially, since Clearsign's technology would cost a fraction of what is spent on less effective APC equipment. That is, as long as Clearsign's technology scales.
Two Critical Milestones: Scale and Third-Party Validation
Clearsign is still a late-stage development company, entering into the validation period. And before it can enter commercialization and start generating revenue, the company must first prove its technology scales.
So far, Clearsign has designed and built three prototypes:
A small bench-top configuration of 5,000 Btu/hour. (A Bunsen burner size flame.)
A larger system of 25,000 Btu/hour. (A flame a few inches high.)
And a scale reactor of 250,000 to 1,000,000 Btu/hour. (At 100,000 Btu/hour the flame would be about as long as your arm.)
To date, it has conducted 400 experiments. The company's recorded no decrease in performance as it increases the scale, either. That's significant, which management acknowledges in the company's S-1 filing:
If the results we have observed in our testing can be replicated on a commercial scale, we believe our proprietary technology platform may increase energy efficiency and improve fuel flexibility and environmental performance for most types of industrial and commercial combustion systems.
A key commercialization milestone I originally told subscribers to watch for is a 1,000,000 Btu/hour burner, which the company hit last week (see here). At this scale, Clearsign starts getting into commercially relevant sizes. And at about 3,000,000 to 10,000,000 Btu/hour, the company enters the sweet spot for industrial applications. It's important to note that management originally estimated it would hit the 1,000,000 Btu/hour milestone by the end of the year. Clearly, the technology is progressing ahead of schedule.
Another major milestone the company needs to hit is third-party validation of its results. This would ideally come from a highly credible source, like a government facility like Argonne National Laboratory. Once Clearsign gains third-party validation and demonstrates commercial viability in one market segment, I wouldn't be surprised if it started licensing its technology. Especially since licensing would be the quickest path to widespread adoption and, of course, the least capital intensive.
The announcement of any partnerships with OEMs should be viewed as a precursor to any such licensing arrangements and a welcomed milestone in its own right.
Bottom line: At this stage, Clearsign's stock price is going to be determined by the company's ability to hit critical milestones, not traditional fundamentals.
The reason I'm bullish on such an early stage company is because the enormity of the opportunity warrants it. If we wait for Clearsign to hit all its milestones - or for the company to generate meaningful revenue - it will be too late. Wall Street will have already connected the dots and bid up prices.
Key Fundamentals
Other key fundamentals worth noting, include:
Adequately Capitalized: The company netted almost $10 million from its recent IPO, which gives it enough capital to fund the critical steps ahead. That includes scaling up to commercially relevant sizes ($3 million), on-site demonstration ($1.25 million), an initial installation ($0.75 million) and enhancing its intellectual property portfolio ($1 million to $2 million).
Clear, Sensible Path to Market: The company's targeting the low-hanging fruit first. Specifically, natural gas-fired industrial boilers, of which there are currently 163,000 in the United States. At the same time, it's dedicating time to develop opportunities in distribution channels with much longer lead time and fewer targets. Namely, power generation.
Ease of Installation: Although every combustion system is unique, installing Clearsign's technology should only take a few days. So installation can be accomplished during routine, system shutdowns, which happen multiple times per year. In other words, no costly interruptions are necessary to implement the technology.
Proven, Capable Management: CEO, Richard Rutkowski, brings a track record of success from previous startups, MicroVision and Lumera. My personal conversations with him only strengthen my conviction that he understands the opportunity ahead and how to capitalize on it quickly. Some have pointed out that he's a businessman, not an inventor. That's a positive, though.
Solid IP Strategy: Securing patents in the early stages of a company's life cycle are a critical component to ensuring long-term success. Yet, many companies fail to do so. Clearsign definitely doesn't fall into that category. To date, Clearsign has already filed 22 patent applications. And it's earmarked up to $2 million of its IPO proceeds to file additional applications based on more than 100 unique inventions.
No Competition: Based on my research, there are no competitors looking to commercialize a technology similar to Clearsign's. This should translate into a significant first-mover advantage for Clearsign. And a sustainable one, too, given management's aggressive IP strategy.
Disclosure: I have no positions in any stocks mentioned, and no plans to initiate any positions within the next 72 hours. I wrote this article myself, and it expresses my own opinions. I am not receiving compensation for it. I have no business relationship with any company whose stock is mentioned in this article.