Many think capturing profits in the market usually requires at least one of the following pieces of criteria: buying positions in seemingly cheap companies that have "bottomed," or investing in speculative stocks that could appreciate quickly. However, in both of these situations, investors are left vulnerable to big losses, as speculative stocks are often unsuccessful, similar to the "Hail Mary" pass in football. In addition, cheap stocks often get cheaper and cheaper. A prime example of this value trap scenario is one I highlighted in a recent article: Hewlett-Packard (NYSE:HPQ). Despite a full year of pain for shareholders, Tuesday's disappointing quarterly results have indicated the company has still not hit bottom as of yet. I like to think of HPQ as a running back after many successful years of playing and multiple knee surgeries. Hewlett may have had its day, but current performances may never live up to the past.
But enough pondering weak strategies that often hurt investors. Let's discuss an underrated trade that has a high probability of success while requiring a relatively small amount of capital. This strategy can also result in profits even in the event of a moderate decline in share price. This strategy is the bull put spread option play. For illustrative purposes, we will use Sprint (NYSE:S) to explain this strategy since the stock seems fairly strong. Sprint has outperformed the S&P 500 by 45% over the last three months. Also, the company seems to be turning the corner, as new iPhone 5 sales and a restructuring plan should help ensure revenue growth through 2013. In consideration of these fundamentals, a serious decline in Sprint seems unlikely, which makes it worthy for this trade.
Sprint Bull Put Spread:
Sell to open the May 17th 2013 4.00 strike put for .36 in premium
Buy to open the May 17th 2013 3.00 strike put for .14 in premium
Sprint is currently trading for about $5.20/share
| | | |
| --- | --- | --- |
| Net Premium Collected: | $22 | (.36 - .14) |
| Max Possible Loss: | $78 | 4.00-3.00+.22 |
| Max Possible Gain: | $22 or 28% | (22/78) |
| Time till Expiration: | 32 Weeks | May 17th '13 |
| Max Decline allowed for Max Profits (profit cushion): | 23% | ($4.00/share) |
| Decline required for losses to begin: | 27.3% | ($3.78/share) |
| Decline required for 100% loss to occur: | 46.5% | ($2.78/share) |
Visual Aid: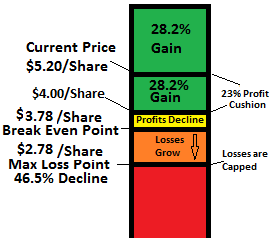 Summary:
This strategy is for investors who feel Sprint shares won't drop more than 23% over the next 32 weeks. This "cushion" as I call it, is what makes this trade so safe. Imagine buying shares of Sprint, and having them deteriorate 15-20% over this same period - a big loss. By using this strategy instead, we would still yield the full 28% profit in this normally devastating scenario - an impressive gain considering this level of share decline. In summary, if shares stay above $4.00/share by May 17, 2013, a gross profit of 28% will be attained. Sounds like a reasonable play in my opinion.
*trade fees are excluded due to varying brokerage schedules
Disclosure: I have no positions in any stocks mentioned, but may initiate a long position in S over the next 72 hours. I wrote this article myself, and it expresses my own opinions. I am not receiving compensation for it (other than from Seeking Alpha). I have no business relationship with any company whose stock is mentioned in this article.
Additional disclosure: I may initiate the outlined strategy within the next 72 hours.