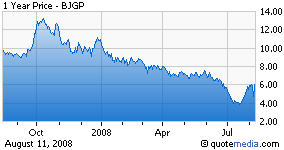 BMP Sunstone Corporation (NSDQ: BJGP) reported sharply higher financial results from its 2007 Q2, the increases driven in large part by the company's acquisition of Sunstone in February. The acquisition did more than provide a boost to revenues. In giving BMP Sunstone an in-house portfolio of OTC pharmaceuticals, the purchase also raised the company's profit ratios by diminishing BMP's reliance on its low-margin distribution business.

In Q2, BMP Sunstone's revenues climbed an amazing four-fold, rising from $7.2 million to $29.6 million. Of that, $19.6 million came from the Sunstone acquisition. The company is marginally profitable – or not, depending on the numbers used. Non-GAAP net income was $1.3 million, or 3 cents per share. Amortization and options-related compensation costs took the GAAP net income figure down to a negative $1.3 million.

Because of its success so far this year, BMP Sunstone raised its full-year 2008 revenue guidance from $96.0 million to a range of $110 to $120 million. The company said the increase was due in part to new acquisitions, but that better-than-expected results from its current business also contributed.

In addition to the $19.6 million in Sunstone-related revenue, BMP Sunstone said that licensed products contributed $1.4 million, and distribution added $8.6 million to its revenue. Both figures were substantial increases from the year earlier. Gross margins rose to 56.2%, a much more comfortable cushion than the 13.6% of Q2 in 2007. General and administrative expenses dropped to 10.8% of net revenues from 20.6% in 2007.

The Sunstone acquisition also brought with it a hospital-focused sales force. BMP Sunstone said that its marketing team now reaches 1,800 hospitals. BMP Sunstone's portfolio is aimed at the therapeutic areas of pediatrics and women's health.

At the end of Q2, BMP Sunstone had just $4.7 million of cash. But it lists another $17.5 million in notes (with maturities of six months or less) that represent accounts receivable. The notes are guaranteed by banks.

BMP Sunstone remains an active M&A player. It paid $12.3 million in January 2008 to establish the Guangzhou Pharmaceuticals Corporation JV and an additional $1.6 million to complete its acquisition of Rongheng in Q2. Last year, in July, the company paid $32 million in cash for its initial 49% stake in Sunstone. It agreed to exchange 8 million shares of stock for the remaining 51% in September. At the time of the announcement, the shares were worth $92.7 million, though they had dropped in value by the time the purchase closed in February of 2008.

On June 20, 2008, BMP Sunstone received SFDA approval for a new brand name for 0.8mm Propess, a vaginal delivery product to induce labor, which the company expects will be more popular than the 1.1 mm product. BMP Sunstone also received an Import Drug License [IDL] to market the new applicator in China during June.

BMP Sunstone launched Ferriprox in China during late June. Under a five-year licensing agreement, BMP Sunstone will market the treatment for iron overload in the bloodstream for Apotex, Inc.

In July, BMP Sunstone closed its acquisition of 63% of Shanghai Rongheng Pharmaceutical Co., Ltd. and signed a letter of intent to acquire 75% of Zhangjiakou Shengda Pharmaceutical Co., Ltd for up to 30.0 million RMB ($4.4 million).

The strong results from Q2 sent BMP Sunstone's share price up 7%. It rose 39 cents to $6.00 in moderate trading.

Disclosure: none.