Barron's recent cover story, "Built to Win - Time to Buy Goldman," presents a fairly bullish case for the stock to rise another 25% within a year based on the current book value of $126 vs. last Friday's closing price of $113. Since Goldman Sachs (NYSE:GS) nosedived in Oct. of 2008 to $53, the stock has rallied back, reaching a fresh high of $189 in Oct. of 2009, and has gone on to make lower highs since. The next high peaked at $179 in April of 2010, followed by $175 in January of 2011, then $126 in March of 2012 and the last at $121 on September 15th. The most recent boost of 4.5% to nearly $119 on Monday was most likely related to the release of this article rather than the slightly positive manufacturing report or any changes to the fundamentals of the company.
Since August of 2011, GS has been in a fairly consistent trading pattern between approximately $90 and $125. Each time the shares rise, they meet resistance and usually fall back another 20-25%.
Barron's points out that the cash/cash-like instruments on hand have risen from $111B in 2008 to $175B in 2012. Total balance sheet assets have fallen from $1.1T to $950B, and leverage has been reduced from 26 to 13 times. The company has kept the dividend at 1.6% or $1.84 a share, and has bought back approximately 7% of its shares since 2009. These are all seemingly positive yet slightly defensive actions taken by the company.
Currently, GS boasts one of the highest P/E ratios in the industry at 17.53 followed by Morgan Stanley (NYSE:MS) at 13.75 and JP Morgan (NYSE:JPM) at 9.46. In addition, GS has a total debt to assets ratio of 49.30, while MS is 26.07 and JPM is 30.22. A recent detailed analysis in an article by Christopher Grosvenor, CMT, "Goldman Sachs is Risky and Not Performing", provides further color on the financial performance of the company.
I think everyone can agree that Goldman Sachs has done a fairly decent job of cleaning up their financial position more so than their image. With $1.4B in expense reduction last year and another $500M this year, Goldman Sachs appears to be attempting to head in the right direction, even if the stock has not.
Why you should hold off on investing in GS right now
Goldman Sachs is a classic institution that is doubtful to take a major fall anytime in the immediate future, yet it's still in an industry that seems to contract a new disease every quarter. The financial sector has been undergoing a massive transition since the breakdown of 08-09 and doesn't really seem to have found solid footing to grow upon. The massive headwinds we face as a nation and a globe in the next several months will undoubtedly have continued strain on banks and investment banks.
Lingering in the wings at Goldman is the current outstanding litigation (including the mortgage debt lawsuit and employee lawsuit, SEC Administrative Proceedings for pay to play political contributions, the loss of fees for conflicts of interest, and looming potential future litigation. While GS continues to battle these charges and proceedings it doesn't help change opinions that the company is coldhearted, shady, and Muppet Masters of the Universe.
It's also important to note, when looking at insider transactions over the last three years, GS insiders have sold at the highest of the highs listed above. In August, there was a flurry of insiders selling, and one would assume that since they made the right call to sell their own stock at nearly every high over the last few years, they would be signaling a high here.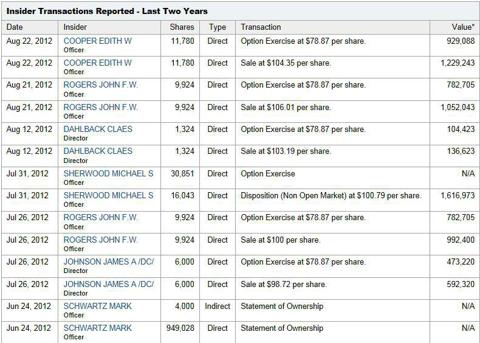 With the high level of leverage, poor performance over the last three-ten years, outstanding litigation, short, mid and long-term headwinds from the global economic slowdown, and lastly unusual insider selling, GS isn't on my radar as an investment in my portfolio.
Just to make sure that I am not overlooking a potential short term buying opportunity, I look at the charts to see how the stock is trending and where it is in its cycles. The longer term trend of the MACD is flat around 0 and in the last three years it's cycled down shortly after entering into positive territory .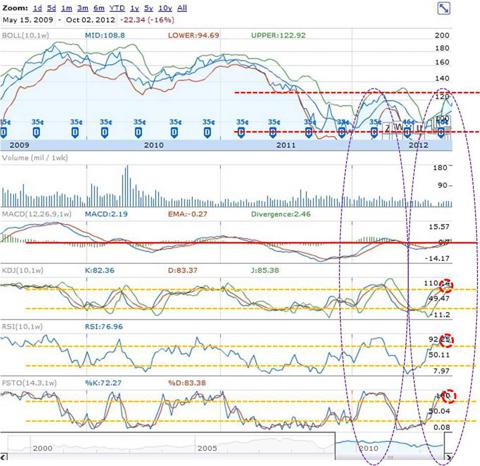 The RSI is also near the top of its cycle, indicating it's overbought at 78; the KDJ at 79|77|74 and FSTO at 71|81 also signal overbought conditions. Over the last three years the stock has failed to remain at these overbought levels and has quickly retreated shortly after. Goldman Sachs could/should trade sideways for the next month before potentially declining when the reality of the US economic situation sets in after the election. I don't see any positive news, or information to give investors hope we would break out of these trading cycles. I do think that we will see at least a 15% correction by late 2012 early 2013 followed by a rally upward, possibly even to the 25% Barron's suggests. Should we attempt to actually deal with our structural economic issues, it is possible GS rallies.
Disclosure: I have no positions in any stocks mentioned, and no plans to initiate any positions within the next 72 hours. I wrote this article myself, and it expresses my own opinions. I am not receiving compensation for it (other than from Seeking Alpha). I have no business relationship with any company whose stock is mentioned in this article.
Additional disclosure: This should not be considered investment advise. After doing your own homework you should always consult with your own financial advisor.