"History is a vast early warning system." - Norman Cousins
I've been noting over the past two weeks in several of my writings online that 1) following the Summer Surprise/end to the end of the world trade the "Fall Catalyst of 2012" will likely bring new-all time highs in the Dow Jones Industrial Average (NYSEARCA:DIA), and that 2) in the here and now, the odds of a correction are rising based on intermarket trend deterioration. While stocks appear to be resilient, I have been noting on my Twitter feed (@pensionpartners) that this deterioration is actually getting worse despite what looks like a continued uptrend.
Consider the following. Forced reflation is clearly the end goal of SuperBen and the League of Extraordinary Bankers through the use of the word "unlimited" when it comes to monetary policy. This means money likely has to be forced out of "safe" investments and back into risk in a bid to keep up with the return of rising inflation expectations. Reflation has very much been a theme of mine all year, with central bank paranoia over a 2008 repeat being bullish for equities. However, since the announcement of QE3, defensive sectors started outperforming, and bond yields came back down after their initial spike.
Take a look below at the price ratio of the Consumer Staples ETF (NYSEARCA:XLP) relative to the Consumer Discretionary ETF (NYSEARCA:XLY). As a reminder, a rising price ratio means the numerator/XLP is outperforming (up more/down less) the denominator/XLY.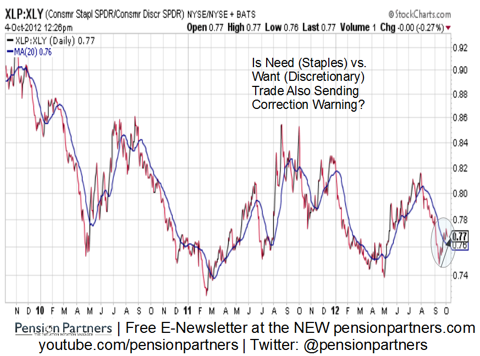 Consider this the "need vs. want" trade. When need (Consumer Staples) outperform want (Consumer Discretionary), it means money is favoring lower beta, less cyclically sensitive consumer stocks. A rising ratio tends to precede and coincide with a weakening period for equities. Note where we are now on the far right of the chart. Strength has kicked back in starting around mid-September, sending the ratio back above its 20 day moving average.
The question here is if the trend continues and what that might imply. The fact that such a strong comeback has occurred means defensive positioning is taking place DESPITE a resilient absolute price tape. This, combined with various other intermarket trends, may be the early footprints of a coming period of volatility and declining prices, all still within the broader theme of new highs in stocks by end of year. This does not mean a correction is guaranteed - it only means the odds are rising based on the message of price. For now, our ATAC models used for managing our mutual fund and separate accounts are sensing weakness in equities, positioning our clients defensively. We'll find out soon enough just how real a potential decline ends up being.
Disclosure: I have no positions in any stocks mentioned, and no plans to initiate any positions within the next 72 hours. I wrote this article myself, and it expresses my own opinions. I am not receiving compensation for it (other than from Seeking Alpha). I have no business relationship with any company whose stock is mentioned in this article.
Additional disclosure: This writing is for informational purposes only and does not constitute an offer to sell, a solicitation to buy, or a recommendation regarding any securities transaction, or as an offer to provide advisory or other services by Pension Partners, LLC in any jurisdiction in which such offer, solicitation, purchase or sale would be unlawful under the securities laws of such jurisdiction. The information contained in this writing should not be construed as financial or investment advice on any subject matter. Pension Partners, LLC expressly disclaims all liability in respect to actions taken based on any or all of the information on this writing.