True Religion Apparel Inc. (NASDAQ:TRLG) is a company operating within the retail industry. The company "designs, markets, sells and distributes premium fashion apparel, centered on its core denim products using the brand name True Religion Brand Jeans." (For a full business description, see Google Finance)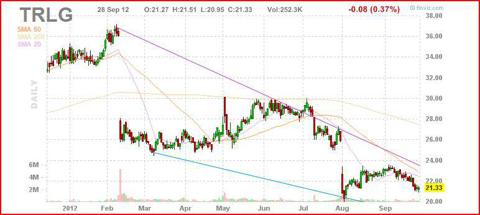 Here are nine reasons why TRLG is a strong value play:
TRLG is trading between the $21 and $22 range, which puts P/B, P/C, P/FCF, and P/S are the lowest they have been in the past four years.
The arithmetic average holding period return over the past four years is 2.42%, in comparison to the S&P, which yielded a slightly negative return over the same time period.
Relatively low market cap ($550M), given their level of sales ($440M).
Excellent signs of profitability:

TRLG has a very strong balance sheet showing no debt outstanding, with the exception of operating leases.
Solid earnings estimates for FY 2012 & FY 2013:
The Board of Directors approved a $30 Million share repurchase in August, which is approximately 6% of all shares outstanding given current market value. This management decision was based upon high expected future cash flows. Although, in Q2 no shares were repurchased, we should begin seeing changes before YE 2012.
TRLG has altered their pricing strategy as well as made changes to their system and processes of inventory control to more efficiently allocate company resources.
Using the corporate valuation model, I calculated an intrinsic share value of $36.03 per share. As you will see in the table below these calculations were based on an average WACC of 13.5% and FCF for FY 2011 was compounded forward to project FCF values for FY 2012 & FY 2013 using expected firm specific growth rates.
Sources: FinViz, Google Finance, and Yahoo Finance.
Disclosure: I have no positions in any stocks mentioned, but may initiate a long position in TRLG over the next 72 hours. I wrote this article myself, and it expresses my own opinions. I am not receiving compensation for it (other than from Seeking Alpha). I have no business relationship with any company whose stock is mentioned in this article.