Looking for undervalued and oversold dividend stocks? Cooper Tire & Rubber Company, (NYSE:CTB) is definitely in the bargain basement bin right now. After topping out at $23.40 in September, CTB skidded all the way down to below $20.00 as a result of an analyst downgrade, which was based on expiring Chinese tire import tariffs, and is now very oversold on its stochastic chart:

However, when you consider Cooper's earnings prospects for 2013, the market may have overdone it. Cooper has beaten earnings estimates for the past 4 consecutive quarters by a range of 9.70%, all the way up to 50% in June.
Analysts' projections for a 37% EPS decline in 2012 may be too negative, and looking forward to 2013, CTB has a very low PEG of just .23 due to its low 4.04 P/E, which leaves plenty of headroom.
For example, even if CTB only grows EPS by 10% in 2013, its 2013 PEG would still be just .41:

Sales Growth: After stumbling during the recession in 2009, Cooper has grown its sales steadily over the past few years, and is projected to keep doing so in 2012 and 2013, albeit at a slower pace than in the 2 previous years:

Dividends: Although Cooper has paid dividends every quarter for 40 years, it has kept its quarterly dividend at $.105 since 1998. Hence there's been no dividend growth recently:

However, you can vastly improve upon CTB's dividend yield on a short-term basis, via selling Covered Calls.
Here's a 5-month trade that expires in February 2013 , with a call option premium that dwarfs CTB's quarterly dividend. You can find more info on this and over 30 other high yield trades in our Covered Calls Table:

Cash Secured Puts: If you're looking for a lower break-even cost, and you'd like to get paid now to wait, this aggressive trade, from our Cash Secured Puts Table, also offers a high options yield:

Financials: Cooper's Efficiency Ratios and debt load are superior to overall industry averages, while its margin is slightly better: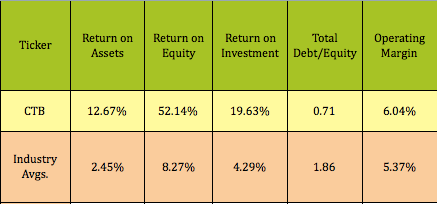 Here's how CTB's valuations compare to its competitor, Goodyear, (NYSE:GT), which has a much higher P/E and Price/Book:

Disclaimer: This article is written for informational purposes only and isn't intended as investment advice.
Disclosure: I have no positions in any stocks mentioned, but may initiate a long position in CTB over the next 72 hours. I wrote this article myself, and it expresses my own opinions. I am not receiving compensation for it (other than from Seeking Alpha). I have no business relationship with any company whose stock is mentioned in this article.