So, uh, take a look at this.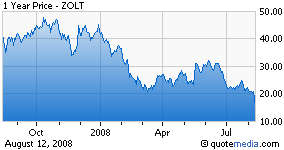 On Monday morning, RBC Capital analyst Stuart Bush wrote a negative note on carbon-fiber producer Zoltek (NASDAQ:ZOLT), warning that "significant margin pressure could result in profits for its fiscal third quarter coming in 5-6 cents a share below the Street consensus of 27 cents a share. Bush said that higher materials costs were likely to hurt margins. He also said that the company would likely cut estimates for the fourth quarter and the full year due to delays in wind-related contracts. (Zoltek makes materials used in windmills.)
The research note pressured Zoltek shares; in the regular session the stock fell $2.81, or 13.3%, to $18.28.
In the middle of the day, a reporter from Bloomberg called Zoltek to ask about the stock drop and the RBC report:
"The company's fundamentals are as good as ever so I don't know what the big to-do is," Zoltek Chief Executive Officer Zsolt Rumy said today in an interview. "I don't know how to respond to some of these analyst reports."
Then, later in the day, Zoltek reported actual results. For FY Q3, the company posted revenue of $45 million and profits (before a charge related to its convertible debt) of 12 cents a share; the Street consensus was $58.1 million and 27 cents. Revenue was down from $49.6 million in fiscal Q2. In the release CEO Rumy said that "the decline in sales from the second quarter to the third quarter was due in part to the reduced shipments against two major wind contracts, the timing of shipments between the periods and lower technical fiber sales."
RBC's Bush, it turns out, wasn't bearish enough.
In its release, Zoltek also seemed to back away from previous guidance. "The Company's sales goal for fiscal 2008 was based upon assumptions which included the successful completion of a new contract from a major wind turbine customer," it said in the release. "However, Zoltek experienced a dearth of significant new contracts from customers in the wind energy field over the past year, which the Company attributes to concerns among wind turbine producers regarding the availability and pricing of the high-performance carbon fibers used in making the longest and most powerful wind turbine blades."
Yes, apparently, "fundamentals are as good ever."
Yeesh.
After hours, Zoltek fell another $1.53, or 8.4%, to $16.75.