In this article, we will discuss if Nuvasive's (NASDAQ:NUVA) earnings miss today is an increased risk or an increased opportunity for those looking for an investment idea in the biotech space.
Today, we read on Bloomberg that NuVasive Inc. (NUVA) declined the most ever after the maker of orthopedic devices said third-quarter revenue was less than the company anticipated. Revenue of $147 million was below the consensus of $154 million. Nuvasive stated that a high account churn rate was the main cause for the miss. The company continued to add that the biggest contributor was from a rep at a large account that went to a competitor. Also, there was the impact from surgeon defections to physician owned distributorships (PODs). On an annual basis, the impact could be in the range of $15-25 million, but the company will reiterate expectations on October 29th, 2012. The biggest risk to earnings was when the company stated that it "cannot give confidence," if it will continue to lose reps, and that it "remains vulnerable" to the POD model. The last thing we ever want to hear from management is that they don't have confidence in their performance.
In an already challenging top-line growth environment, this might mean that it becomes tougher for the company to attract top producers or keep the top producers. This earnings miss might also reflect on the spine market as a whole, which has becoming very challenging. Nuvasive stated that they saw increasing insurance payer denials and delays in the quarter.
So what does all this mean for valuation? The stock dropped 33% today and is now trading at $15, close to its 52-week range of $11-$26, and a 1 year performance of - 7%. The stock trades at 15.2x the 2012 consensus of $0.95, which might be at risk for a further downside after we get clarity from management. Although we would like to expand on the possibility of the stock getting cheaper between now and October 29th, we have to await more details from company management. It would be fair to say that there would not be any quick comeback in top line growth based on possible positive catalysts, such as an expansion in Japan, and potential approval of PCM.
To add pain to injury, we still need information from the company on Medtronic's lawsuit claiming infringement of spinal implant patents.
Conclusion: We think the real move in the stock will be triggered after investors gets more details from management on October 29th. We are hesitant to consider the 33% drop in the stock as an opportunity until we get clarity from management. We don't see any opportunity lost here.
The chart below compares share performance over the past year. "E"s mark earning reports.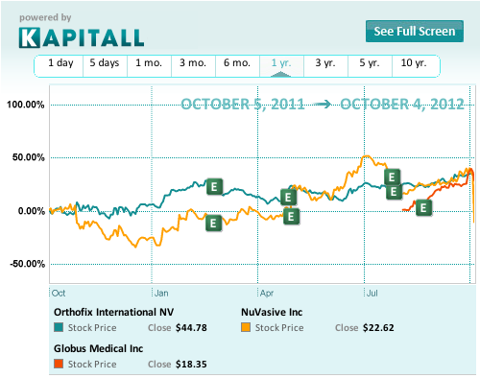 Written by Kapitall's Sabina Bhatia. Tool provided by Kapitall.
Disclosure: I have no positions in any stocks mentioned, and no plans to initiate any positions within the next 72 hours. I wrote this article myself, and it expresses my own opinions. I am not receiving compensation for it (other than from Seeking Alpha). I have no business relationship with any company whose stock is mentioned in this article.