On the 15th of June, we published the following article advising readers to sell puts on Alpha Natural Resources (ANR) with the objective of trying to get in at $2.69 or earning an extra 46% for your efforts. The trade has already started moving in the right direction as the puts have shed a significant portion of their value. It was a hard call to paint a bullish picture at that time for the coal sector was not well-liked, and the stock was still in a strong downtrend. For the record, the general view regarding this sector is still far from positive. From a contrarian perspective, it still makes for a good longer-term investment. We advised readers to wait for the stock to trade down to a specific price target before putting this strategy into play. The suggested targets fell in the $5.50-$6.00 ranges. The stock closed at $8.82 the day the article was published and roughly one month later traded within our suggested entry points. Before we examine the trade in detail, we would like to list the reasons we provided at that time for individuals to consider this stock
Reasons to be bullish on Alpha Natural Resources:
Quarterly revenue growth rate of 71%
Positive levered free cash flow of 454 million.
A strong institutional presence; Percentage held by Institutions = 79%
EBITDA increased from $526 million in 2009 to $899 million in 2011.
Cash flow per share increased from $4.91 in 2009 to $8.01 in 2011.
Sales surged from $2.4 billion in 2009 to $7.10 billion in 2011.
A five-year ROE of 12.81
A 5 year historic EPS growth rate of 23.9
A current ratio of 1.47 and a quick ratio of 1.13
A projected3-5 year EPS growth rate of 5%
A five-year sales growth rate of 30%
A long-term debt to equity ratio of 0.39
A free cash flow yield of 5.06%
In the same article, we made the following comments:
It has broken all levels of support as indicated above in the 10 year chart. Thus at this stage one should aim for an entry point that would have not been imaginable a few months ago. It is currently trading at 8.67 and given that it has shown no signs of putting in a bottom, there is a decent chance it could experience one more wave of selling pressure that could push down to the 5.50-6.00 ranges.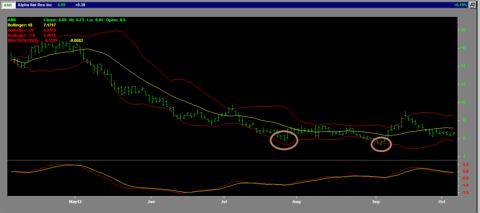 Our prediction that the stock would trade down to the $5.50-$6.00 ranges came to pass on the 26th of July roughly a month later. Subsequently, it traded as low as $5.28 on the 5th of September but ended the day on a positive note when it closed at $5.61. It also generated several bullish positive divergence signals on that day and the stock never looked back until it tested the $9.00 ranges.
In the same article we suggested implementing the following strategy
The Jan 2014, 5 puts are trading in the 1.06-1.10 ranges. If the stock dropped down to the suggested ranged, these puts should move up by 1.25-1.50. For this example we will assume that the puts can be sold for 2.31 if the stock pulls back to the suggested ranges. For each contract sold, $231 will be deposited into your account.
The stock dropped from $8.82 (June 15th) to $5.75 on the 26th of July, a drop of over $3.00. This should have been more than enough to push the Jan 2014, 5 puts to $2.30-$2.50 ranges. First of all this option had plenty of time on it and secondly the stock has a high beta of 2.49. High beta stocks usually tend to command much higher premiums. A drop of 40% in such a short period of time should have had a significant impact on the price of the price of these puts.
How does it hold up against the competition?
We are going to compare against Arch Coal (ACI), Consol Energy Inc (NYSE:CNX) and Peabody Energy Corp (BTU). Alpha Natural resources sports the best quarterly revenue growth rate amongst its competitors.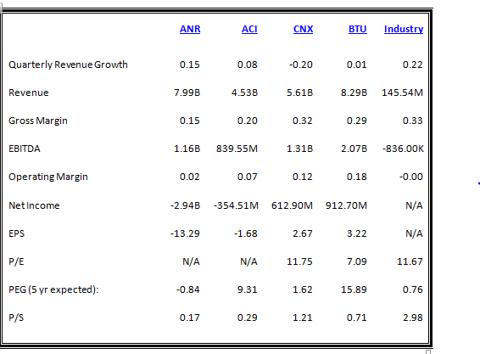 A look at what the puts are doing right now
The puts are currently trading in the $1.19-$1.24 ranges. They are down over 46% if we assume that the options were sold at $2.31. A price of $2.31 means that the option increased in value by $1.25 after the stock shed almost 40% or over $3.00 in roughly one month. If you closed the position out today, you would walk away with a healthy gain of over 21%. This is an excellent rate of return considering that the option was sold roughly 3 months ago.
Suggested strategy going forward
The percentage short of float still stands at a rather lofty 22%. This makes it a perfect candidate for a short squeeze. This stock is a very fast mover. After dropping down to $5.28 on the 9th of September, it tacked on 71% in just nine days. Thus, any good news could lead to another strong upward move. It sports a positive levered free cash flow of $565 million and a healthy quarterly revenue growth rate of almost 15%. The stock appears to be consolidating right now, but we feel that it's just a matter of time before its trading north of $10.00. A weekly close above $8.50 should result in a test of the $10.00-$10.50 ranges. At this point, investors should consider closing half or the entire position out as the puts will be almost worthless. Alternatively, if you are seeking higher gains, you could close half the position out, but place a stop at $7.50 to protect your profits. The stock could potentially trade as high as $13.00.
Conclusion
As it stands the options have already lost 46% of their value. If the position was closed out today, you would be walking away with an overall gain of 21%, which is very good considering that the position was held for less than three months. The stock is consolidating, and the pattern is still bullish. Let's not forget that the stock is also trading roughly $17 below book.
We feel that the stock could be trading north of 9.50 and as high as 10 before the year is out. Thus, investors can consider holding onto this play until at least it trades to the $9.50-$10.00 ranges. At that point, you can close either half or the entire position out. If you only close half the position out, consider placing a stop at $7.50 to protect your profit. The percentage short of float stands at 22%. This is a very large number and given that the stock managed to gain a whopping 71% in less than 10 days, it stands to reason that any positive news could trigger a strong upward move.
Competitor's data sourced from yahoofinance.com.
Disclaimer
It is imperative that you do your due diligence and then determine if the above plays meet with your risk tolerance levels. The Latin maxim caveat emptor applies-let the buyer beware.
Disclosure: I have no positions in any stocks mentioned, and no plans to initiate any positions within the next 72 hours.
Business relationship disclosure: This article was prepared for Tactical Investor by one of our analysts. We have not received any compensation for expressing the recommendations in this article. We have no business relationships with any of the companies mentioned in this article.