This is not a bad deal, at all, for existing (non-MUFG) UnionBanCal (UB) (65.51 +12.60%) shareholders: a decent premium pushing the stock to a new 52-week high, amidst ongoing market woes, not to mention UB's last quote of $65+, which is above the $63 bid by Mitsubishi UFJ Financial Group (NYSE:MTU) 7.96 -1.00%).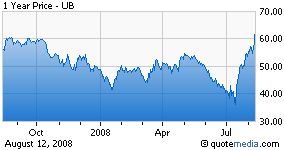 Now, as for MUFG shareholders, you have to scratch your head and wonder if the remaining stake really could not have been acquired at a cheaper price — UB traded as low as $35 a month ago! Furthermore, MUFG seems to have implied it is willing to pay even higher to complete the deal, thus the >$63 trading.
If anything, this is a safe acquisition for MUFG, but not necessarily one to add much shareholder value, if any, at least over the next few years. What it does allow for, however, is further acquisitions.
What's next? How about neighbor Santa Clara-based SVB Financial Group (NASDAQ:SIVB) 57.82 -3.21%)? With a $1.9B market cap, it is not insignificant and it has equally as attractive margins. Unfortunately again for MUFG shareholders, SIVB is not far off 52-week and all-time levels and there would certainly have to be some premium beyond that considering the heavy institutional ownership.
Here's the Financial Times' take.
Disclosure: No stake in any companies mentioned.