OCZ Technology Group (NASDAQ:OCZ) has been the subject of much heated discussion and debate. After a series of negative catalysts - a revenue miss followed by the CEO's departure - the stock price has been beaten and bruised, losing 45% of its value since September 5th. The main concerns, of course, are OCZ's lack of profitability and cash burn. With its current business model, can the company manage to swing to profitability before it's too late?
The SSD Industry - Some Background
The solid state drive industry is, without a doubt, a hyper-growth industry. Solid state drives are faster, more reliable, consume less power, and are more durable than traditional hard disk drives from Western Digital (NYSE:WDC) and Seagate (NASDAQ:STX). The only thing that stands in the way of the eradication of traditional hard-disk drives altogether is the issue of cost; per gigabyte a traditional hard disk drive is much cheaper.
A solid state drive is made up of three major components: NAND flash, a controller, and firmware. The NAND flash is by far the most expensive part of the bill-of-materials (according to CFO Arthur Knapp on a recent call, NAND is 60-70% of the bill of materials). The controller and its firmware (the firmware is the "software" that runs the controller) are the other major components that determine performance, reliability, and durability characteristics of any given drive.
So, you've got two major types of solid state drive manufacturers - those with NAND flash fabrication capabilities and those without. NAND fabs are expensive to build, and even more costly to maintain, but they also give the owners a number of key advantages:
Tighter supply chain management (i.e. having enough NAND to build the drives to meet demand)
Better pricing on NAND flash than fabless competitors (which means either higher margins at the same price point or the same margins at lower price points)
The ability to sell excess NAND to the fabless SSD manufacturers as an additional revenue stream
NAND manufacturers can keep the higher grade pieces of flash for themselves to differentiate against their fabless clients
That brings us to OCZ.
Understanding OCZ - A Differentiated Fabless Player
OCZ is an example of a fabless solid state drive manufacturer. While the company is not fortunate enough to have enough capital to own NAND fabs and invest the R&D necessary to keep up them current, the company does have a significant degree of differentiation over the countless fabless SSD manufacturers:
The company purchased Indilinx, an SSD controller company, last year in an all-stock deal worth $36M at the time. Unlike most other fabless players such as Plextor, Patriot, Kingston,and ADATA, OCZ now has control over its controller and firmware technologies.
The company also acquired a semiconductor system-on-chip design team from PLX Technologies (NASDAQ:PLXT), presumably to complement the Indilinx team with SSD controller development
Finally, OCZ acquired the flash virtualization software developer, SANRAD, in a $15M all-stock deal.
From a business standpoint, these acquisitions allow OCZ to have the following competitive advantages:
Higher gross margin profile than most fabless SSD manufacturers
The ability to compete in the high margin, emerging enterprise flash caching segment that is currently dominated by Fusion-IO (NYSE:FIO). According to its recent presentation at the dbAccess Technology Conference 2012, OCZ it is the only other company that sells solutions into this space
So, with all of this great technology, why is the company posting operating loss after operating loss?
The Lack Of Profitability
A major argument against OCZ is that it is very consistently non-profitable because it is "losing money per drive". This is actually pure nonsense, as the company's gross margins are in the 25% range and have actually been expanding quite healthily (click to enlarge images):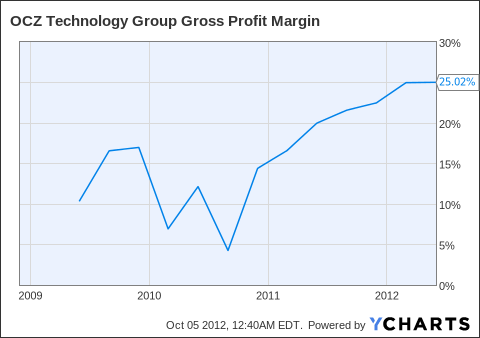 OCZ Gross Profit Margin data by YCharts
In addition to expanding gross margins, OCZ's revenues have been on a fairly attractive double-digit growth path during its time as a public company: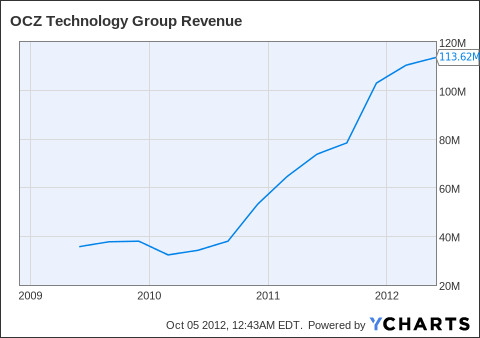 OCZ Revenue data by YCharts
So, with expanding gross margins and revenues, this should be the ultimate growth stock dream, trading at many times sales, right? Unfortunately, the operating expenses are both a blessing and a curse - and the reason for lack of profitability.
Operating Expenses - Research & Development
In the technology world, a company must out-innovate its peers if it is to thrive in the long run, especially in a cut-throad industry such as solid state drives. OCZ's management realizes this and has been spending fairly aggressively on R&D: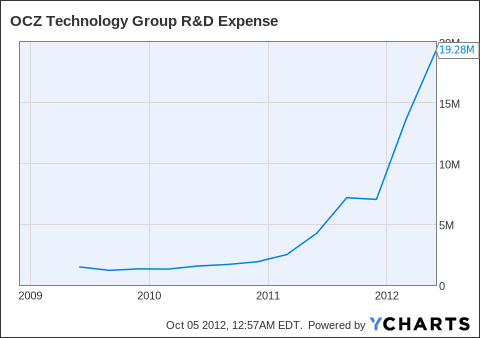 OCZ R&D Expense data by YCharts
This expense is absolutely justified as developing new controller technologies is required to stay competitive in the SSD game. New NAND flash nodes are constantly showing up, competitors are upping speeds and durability, and in general the space is becoming incredibly competitive.
Sales And Marketing - A Big Drain
The next big part of the operating expense line is SG&A: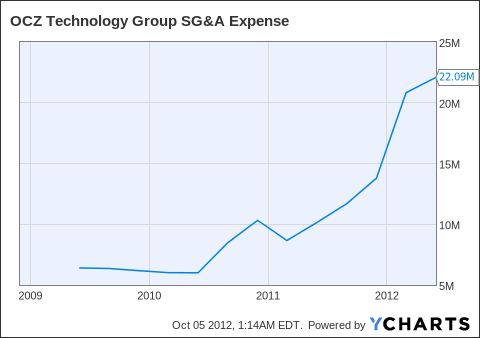 OCZ SG&A Expense data by YCharts
Clearly as sales volume ramps up, the company needs to hire more staff, run more promotional ads on websites, provide rebates, etc. This spending increase is also okay as long as the company's sales and margins continue to expand. This leads us to the next point - the sustainability of the growth.
Is The Growth Sustainable?
Clearly the growth so far on the revenue and margin side has been attractive. Unfortunately, the company has run into issues over the last two quarters. In FQ1 2013, the company reported a shortage in voltage regulators that held up about $27M worth of shipments. The operating expenses associated with building and selling the drives was recognized during the quarter, but the revenue itself was not.
Then, in the most recent quarter, OCZ's management warned of a revenue shortfall due to a lack of NAND flash. Even with the $27M of bookings carried over from the last quarter, the company expects to, once again do $110M - $120M in revenues. At the dbAccess Technology Conference 2012, now ex-CEO Ryan Petersen noted that bookings for the quarter were high enough so as to "lack credibility".
So while demand for OCZ's products is apparently very high, the company is ill-equipped to handle all of the demand. The excuses of voltage regulator shortages, NAND flash shortages, etc. are simply not going to fly with Wall Street on a long term basis. The growth in revenues and margins is critical for OCZ to survive on this business model. The temporary cash burn while margins and revenues were ramping up were acceptable as long as the growth and path to profitability were clear. But with the execution shortfalls, the model is in serious jeopardy.
So, it's time to outline two possible avenues to profitability for the company:
Path #1 - Continue Down The Current Road
On the current path, the company is focusing on a combination of high revenue growth, gross margin expansion, and a stabilization of operating expenses.
At the end of FY2012, when full year guidance was given, the company said that it expected $630M - $700M in revenues, with gross margins ticking up 100-250 basis points per quarter from FQ4 2012's 25%. Further, the operating expenses were expected to come in at $37 - $39M for FQ1 2013 and then exiting the year, these expenses would ramp up to $43M - $47M.
Of course, with the NAND shortage this quarter and the voltage regulator shortage last quarter, the gross margin expansion has not gone according to plan. Last quarter, the gross margins ticked up from 25% to 25.2%, missing even the lowest end of the expected margin expansion rate. More dire is that the NAND shortage has forced the company to use enterprise-grade NAND to fill consumer drive orders which should be fairly painful to gross margins.
But let's assume all these issues are temporary and now that Ryan Petersen is gone, new management will step in and clean things up. At what point does OCZ reach profitability?
Well, first note that the long term gross margin target for the company is 30%. But let's assume that they were wrong and that long term gross margins really only come in at 27%. Further, let's assume that operating expenses going forward average at about $47M/quarter, or the worst case scenario expected during the fiscal year. At that point, it would take $696M in revenues to reach breakeven for those trailing twelve months.
That revenue target, as well as that gross margin target, are quite reasonable. Consumer SSDs will only continue to see secular growth, OCZ's continued focus on vertical integration via its own controller business should help drive the gross margin expansion. Further, enterprise sales ramps - especially in the high margin PCI-E flash caching space - should add quite nicely to the top line as well as to the gross margins.
Unfortunately, as appealing as the aforementioned scenario sounds, it will require nearly flawless execution, stability on the operating expenses line, and enough working capital to deal with a few more quarterly losses. Is there another, safer path?
Path #2 - Aim For High Margins
So, the next idea is to shift focus away from the more commodity/low margin consumer SSD business and become a high margin play ala Fusion-IO or STEC (NASDAQ:STEC). The enterprise SSD market is still in its infancy with expected double digit growth rates over the next several years.
The path here is to supply both hard-disk replacement form factor SSDs (as the company has been doing) as well as PCI-E flash caching solutions. These carry much higher gross margins than the typical consumer drive, as there is much less competition here. Further, OCZ's technological advantages are much more apparent in this sector than in the crowded consumer drive space. According to benchmarks from Anandtech, a leading technology review site, the OCZ Z-Drive R4 is extremely fast in enterprise workloads, besting even Intel's (NASDAQ:INTC) top end SSD 910 offering in quite a few important workloads.
According to Anandtech, OCZ's products perform well, but the major challenge will be to convince the enterprise customers to hop on board, remarking:
I am curious how OCZ will approach enterprise customers and attempt to win over their trust with the Z-Drive R4. You obviously won't see any Newegg reviews of this product, so OCZ will have to get testimonials from some pretty influential customers to gain traction in this space.
Now, the consumer space is still important and I believe that OCZ should certainly have a presence here - but selling lower margin SSDs shouldn't be the big source of revenues. There are a number of issues with OCZ's current consumer drive lineup that need to be cleaned up:
Too Many SKUs - A ton of different SKUs that vary wildly in performance but cost the same: "Octane", "Petrol", "Agility", "Vertex", "Synapse Cache", "Onyx", and now the upcoming "Vector". Stop it! Have at most three SKUs - low end, mid range, and high end. The very low end drives such as "Petrol" and "Octane" still cost a lot to make and, even more perplexingly, sell for as much as the very highest end SKUs!
Too Many Discounts - Up until very recently (likely courtesy of the NAND shortage), OCZ drives were pretty consistently put on fire sales. I can't count how many times I've seen e-mails from Newegg or Amazon telling me about how OCZ's latest "Vertex 4" was, once again, on sale. I worry that the "NAND Shortage" and the revenue miss was due to significantly lowered ASPs and a faster-than-expected selling out of inventory at bargain bin prices.
Too Many Rebates - OCZ likes to include very generous rebates on their drives. I know that, in general, companies do not count on their customers filling out those rebate forms, but many customers still do. Further, rebates are supposed to be a way to get the "final" cost down, even if the upfront cost is a little high. OCZ has the cheapest drives around and still includes a rebate!
Too Much Inventory Clearing - By far the thing that OCZ is most guilty of doing is heavily discounting old models of drives upon the introduction of new models. Unfortunately, while this gets old stock out more quickly, this hurts overall gross margin significantly. Further, as solid state drives are pretty much "good enough" for the average user, most customers will likely buy the heavily discounted older model rather than the newer models in a bid to save money while still getting the advantages of an SSD. OCZ needs to make sure inventory is nice and cleared out before releasing new models.
The aforementioned practices need to stop if the gross margin expansion is to continue.
The next step is to focus on higher margin activities within the consumer space. Selling drives is great, but selling controller technology to the companies that don't have it is better. Companies such as Marvell and LSI run 50%+ gross margin businesses selling storage controllers. Why can't OCZ come in and aggressively sell controller technology for slightly lower margins than its competitors?
If the Indilinx + PLX teams that OCZ acquired show significant ability to develop cutting edge technology with the upcoming "Barefoot 3" controller, then OCZ could become a major player in the SSD controller space. The controller technology could be leveraged internally for consumer and enteprise offerings, but the revenue generated from selling the technology to others is likely to be significant.
In this case, revenue growth wouldn't be explosive, but OCZ would become a higher margin, high quality flash solutions supplier for consumer and enterprise. At the dbAccess Technology Conference, ex-CEO Ryan Petersen expressed a disinterest in focusing just on high margin businesses, instead aiming to be the "next Seagate". He did, of course, resign just a few days later...
Conclusion
In short, with proper management, OCZ can reach profitability. On its current track, it needs to execute flawlessly as it competes in the high volume low margin consumer SSD business while attempting to gain traction in higher margin enterprise businesses.
However, OCZ does have another path, and that is to stop focusing on trying to win on volume. The company's technology will allow it to gain exposure to higher margin, lower volume businesses. This won't lead to as explosive revenue growth, but the growth will still be there and it will be healthier and more sustainable.
Aggressive investors should consider buying shares of the company here now. Should the company announce a major strategic shift to higher margin businesses or if the company confirms that it will have enough working capital to recover from its setbacks on this particular path, then there should be some significant short covering. But if the company ends up running out of money or diluting shares at these already extremely low share prices, then the downside risk is still fairly substantial.
Disclosure: I am long INTC, MRVL. I wrote this article myself, and it expresses my own opinions. I am not receiving compensation for it (other than from Seeking Alpha). I have no business relationship with any company whose stock is mentioned in this article.
Additional disclosure: I may sell the $4 OCZ January puts while simultaneously buying the $3 OCZ January puts within the next 72 hours.