Liz Claiborne (LIZ) is expected to report Q2 earnings Wednesday before the opening bell with a conference call scheduled for 10:00 am ET.
Guidance
Analysts are looking for a profit of 0c on revenue of $970.41M. The consensus range is (1c) to 2c for EPS, and revenue of $908.98M to $1.02B, according to First Call. In May, the company forecast "weak earnings" in Q2 and lowered its FY08 view to $1.40 to $1.60 from $1.50 to $1.70 vs. First Call's consensus of $1.39.
Analyst Views
Credit Suisse cut Liz Claiborne to Neutral from outperform on August 5, as the firm sees sees no catalysts for growth and expects a prolonged difficult retail environment for the retailer in North America and Western Europe, where almost all of the company's business is concentrated.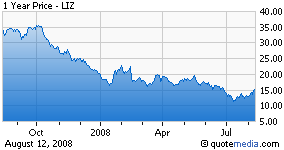 Also, Credit Suisse has concerns about Liz Claiborne's restructuring plan and sees limited upside in the stock until the company can demonstrate meaningful progress on the "bold" plan, particularly with the Liz Claiborne and Mexx turnarounds.
Furthermore, the firm said that it is quite difficult to see the "light at the end of the tunnel" for the turnaround at Mexx given the deteriorating Western European macro environment and tough competition from Zara and H&M. Credit Suisse believes there won't be any "real signs of life" for the Liz Claiborne brand until next spring, the first season that new Creative Director Isaac Mizrahi "will have his fingerprints on the product and marketing."