Founded in 1863 from the ashes of a bankrupt local brewer, Heineken NV (HINKY.PK) has become the third largest global brewer of beer by volume and is focused on premium branding. HINKY operates 170 breweries in 71 countries offering 250 brand names. Heineken is the largest brewer of premium beer brands. Revenues in 2012 are anticipated to be around $21 billion and HINKY has a market capitalization of $25 billion.
Headquartered in the Netherlands, HINKY offers the following brands: Heineken, Amstel, Birra Moretti, Cruzcampo, Desperados, Dos Equis, Fosters, Newcastle Brown Ale, Ochota, Primus, Sagres, Sol, Star, Tecate, Zlaty Bazant, Zywiec, Anchor, Cristal, Kingfisher, Tiger, Bulmers, and Strongbow Gold. In addition, HINKY offers hard cider and non-alcoholic beverages. HINKY is a US sponsored ADR that represent 0.5 shares of the European-listed securities.
The company is getting lots of Wall Street love recently after it agreed to buy its partner's interest in Asia Pacific Breweries. APB was a joint venture that included HINKY and Fraiser Neave. The prize is the Tiger Beer brand, along with other brands including Anchor, Baron's Strong Brew, DB Bitters, Tui, ABC Extra Stout and Archipelago Brewery Company. APB operates 30 breweries in 12 countries mainly in Asia, and is ranked either #1 or #2 in its markets. 45% of APB's EBITDA is generated in Thailand and Indonesia, two high growth markets.
The reason for the Street love is the acquisition increases HINKY's exposure to the growing premium markets in several countries. In 2011, emerging markets generated 65% of beer volume, 50% of EBITDA and 45% of reported eps. These numbers are sure to grow over time. The APB purchase is expected to be accretive to eps in 2013 by between 5% and 6%.
The percentage of geographic revenues will change dramatically as HINKY takes control of APB. Post-purchase, 2013 geographic revenue distribution is expected to be Asia Pacific 18% (up from 3% in 2012), Western Europe 29% (down from 34%), Africa & Middle East 21% (down from 25%), Americas 22% (down from 26%) and Central& Eastern Europe 10% (down from 12).
The bond guys seem to like the acquisition as well. HINKY just floated $3.25 billion worth of bonds, about half of the $6.1 billion paid for APB. Interest rates were booked at historic lows for the company. From Oct. 2 Wall Street Journal:
Heineken exploited investors' appetite with a $3.25 billion four-pack featuring three-, five-, 10- and 30-year maturities. They were priced to yield 0.859%, 1.469%, 2.771%, and 4.102%, respectively, or 0.55, 0.85, 1.15, and 1.30 percentage points over comparable Treasurys, reflecting the narrow end of earlier pricing guidance. The deal is rated Baa1 by Moody's Investors Service and BBB-plus by Standard & Poor's Ratings Services.
In addition to the APB acquisition, organic growth seems to be progressing nicely with the flagship brand Heineken volumes up 6% over last year. Overall, 1st half 2012 volumes were up 3.3% and revenues up 4.5%. However, due to higher costs associated with input materials, marketing, and up-front strategic investments, net profit declined by 5.5%. Free Operating Cash Flow also declined from $970 million last year to $430 million during the 1st half this year, reflecting higher capital expenditures to achieve its growth profile.
Marketing and selling expenses as a percentage of revenues are expected to decline to 12.5% for the second half from a multiple year high a year ago of 13.6%. This will save about $80 million. HINKY has been working on a multiple-year cost reduction plan that has yielded increases in operating efficiencies. These efforts delivered about $110 million in cost savings during the first half and the company is beginning another round of cost savings programs that could deliver an addition $200 million in savings over the next few years.
A slideshow of recent operating results can be found here.
While input costs have been increasing over last year, it seems the tide may be turning as barley and aluminum commodity costs have been sliding. If this trend continues into 2013, margins will improve over forecasts.
Cost savings and organic growth, combined with APB, will help expand earnings per share from $ 1.88 per ADR in 2011 to an estimated $1.84 per ADR this year, consensus $2.25 per ADR next year, and estimated $2.55 in 2014, with long-term eps growth rates estimated at 13% and higher. Currently trading at $31, 2012 pe ratio is 16.8 and 2013 pe ratio is 13.7, more than reasonably priced for a large-cap consumer staple stock valuation with high emerging market exposure.
It seems HINKY stock is being given a discounted valuation compared to its beverage competitors. The table below listed estimated 2012 and 2013 pe ratios and current dividend yield for HINKY and a few others in the beer and premium liquor business (as of Sept 17 - the stock has rallied since and the PE ratio is a bit higher;(NYSE:DEO), (OTCPK:PDRDF), (NYSE:BUD), (OTCPK:SBMRY) and HINKY trade as ADRs with the balance trading on foreign exchanges):
| | | | | |
| --- | --- | --- | --- | --- |
| Name | Ticker | 2012 PE | 2013 PE | Divy Yld |
| Diageo | DEO | 17.9 | 16.3 | 2.6 |
| Richard Picard | PDRDF | 19.2 | 16.6 | 1.8 |
| Remy | RMC.F | 24.2 | 20.2 | 1.7 |
| AB Inbev | BUD | 18.3 | 16.8 | 2.2 |
| SAB Miller | SBMRY | 18.5 | 16.3 | 2.3 |
| Carlsberg | CARL-A.KO | 14.2 | 12.4 | 1.1 |
| Heineken | HINKY | 14.9 | 13.1 | 2.1 |
| Heineken Holdings | HEIO.AS | 12.5 | 11.1 | 2.5 |
| Avg |   | 17.5 | 15.4 | 2.0 |
Just as the acquisition of FEMSA in Mexico in 2010 improved HINKY's business in the Americas, investors should expect the same from the most current purchase in Asia. However, not all is rosy with Heineken. It's Return on Capital falls short of its competitors at 28% vs. 43% and supports a basic bias that HINKY overpays for acquisitions. HINKY is paying 17.1 times EV/EBITDA on an incremental valuation basis. This is more than the 11 times management paid for FEMSA in 2010 and the 12.9 times paid for S&N in 2008, but is lower/about the same as ABI's purchase of Modelo for 16.0 times and of CND for 24.6 times, both also this year.
Heineken NV is 50.002% owned by Heineken Holdings NV (OTCQX:HKHHF) and the Heineken and Hoyer families own 58% of HKHHF. Another way to invest in Heineken is through HKHHF or the foreign exchange listed HEIO.AS for better liquidity. From their website:
Every HEINEKEN N.V. share held by HEINEKEN Holding N.V. is matched by one share issued by HEINEKEN Holding. The net asset value of one HEINEKEN Holding N.V. share is therefore identical to the net asset value of one HEINEKEN N.V. share. The dividend payable on the two shares is also identical. However, historically, HEINEKEN Holding N.V. shares have traded at a lower price due to technical factors that are market-specific.
A 4-year price comparison of HINKY and HFHHK: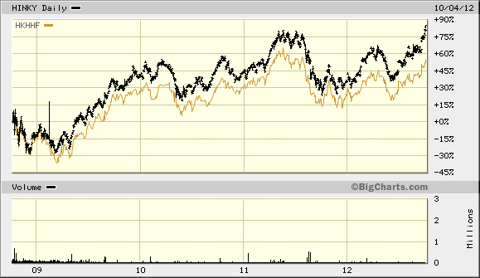 Going back 4-years, Heineken and Heineken Holdings have tracked each other with little divergence until recently. However, currently HINKY is trading at $31.60 and HKHHF is trading at $51.46 (on a 1:1 conversion basis), giving HKHHF the nod as to the better value - for those who can stand the illiquidity of 700 shares average daily US volume or who have access to foreign exchanges. Many holding companies trade at a discount to the NAV of their portfolios, and it seems to be the case here. In addition, there are not options on HKHHF nor is it part of any broad based indexes, creating lower visibility and demand for its shares. It would seem the currently divergence would favor Heineken Holdings.
The corporate structure of HINKY is found here, and is important for all investors to understand the relationship between Heineken and Heineken Holdings. More information is found here.
A 5-year price comparison of HINKY, BUD, and SBMRY: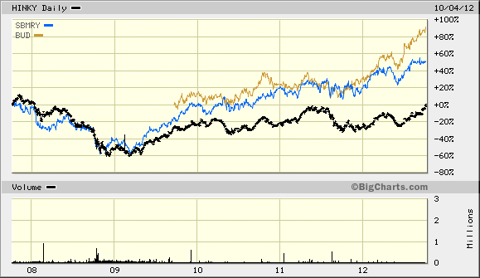 As shown by the above chart, HINKY has a bit of catching up to do and has been a relatively poor performer over the past 5-years. Capital gains have been much better at SABMiller and AB InBev. However, it may be time for HINKY to get some more love from investors and to close the valuation gap.
HINKY pays a semi-annual dividend that is subject to a 15% Dutch withholding tax, and may not be suitable for tax-advantaged accounts seeking income as they cannot recoup this tax. Dividends in 2012 should be $0.55 and, like many European firms, sets it based on profitability. With a low payout ratio of 31% and a growing earnings base, dividends could climb to between $0.67 and $0.75 over the next few years.
In the course of conducting my ongoing due diligence as both a SA contributor and long-term shareholder, I feel it is my duty to maintain a first-hand appreciation for Heineken's products, so I'm off to the refrigerator for another "quality test" and to see what's on tap.
Author Note: EUR to $ exchange rate used is EUR1.25:$1. Please review important disclaimer in author's profile.
Disclosure: I am long HINKY.PK. I wrote this article myself, and it expresses my own opinions. I am not receiving compensation for it (other than from Seeking Alpha). I have no business relationship with any company whose stock is mentioned in this article.