Investors either seem ready for progress with the US economy or simply may be reacting to a seasonal phenomenon where stock indices rise at this time of the year. Thursday's focus was on the labor segment and the election November 6th with hopes for an improved economy to come.
US Initial Jobless Claims increased by 4,000 to 367,000 last week up from the previous reading of 359,000. The continuing unemployment benefit claims were unchanged at 3,281,000 on a one-week lag. US Factory Orders decreased 5.2% to $452.81 billion in August. The decline may have been due to transportation orders declining by 34.9 %. US consumer goods demand increased 1.4% in August. The defense capital -goods decreased 40.5 % impacting the report.
This market will be about the US recovery, containment in the Euro Zone and inflation. This is really viewed as more of a short-term phenomenon as a bit more of inflation is regarded healthy as long as employment is rising. Should the economy experience both high inflation and high unemployment, then stagflation would take over as we experienced in the 70's. Hyperinflation is inflation spiraling out of control from the excessive printing of money that devalues the currency and make it ineffective in purchasing goods and services.
The National Inflation Association (NIA) is concerned that the US economy may enter a state of hyperinflation between 2013 - 2015. The $2.3 trillion in US government and housing debt through QE1 and QE2 and the buy program of mortgage debt worth about $40 billion per month with QE3 including an open ended condition may stimulate growth and employment, but at the risk of the US dollar. Operation Twist is still in effect as the Federal Reserve bought $1.89 billion in long-term debt with maturities between 2036 and 2042.
Federal Reserve Chairman Ben Bernanke reaffirmed with confidence his action in stimulus QE-Infinity. The Federal Reserve continues to support their decision on a buy program of mortgage debt worth about $40 billion per month from September 13th. They will continue this program until the labor market shows substantial improvements or inflation goes to 3% and unemployment goes to 7%. In addition, they intend to keep interest rates low until at least mid-2015. This is all on top of the two prior QE programs that purchased about $2.3 trillion in US government and housing debt.
The European Central Bank (ECB) is ready to make good on its bond-buying program under the title "Outright Monetary Transactions" as ECB President Draghi revealed at a press conference in Ljubljana, Slovenia. The central bank decided to keep the 0.75% interest rate in effect. Of course, first the indebted countries must seek aid and comply with the conditions of the program. Inflation in the Euro Zone has increased to 2.7% in September up from 2.6% in August partly due to higher energy costs and increased taxes.
The Spanish 10-year bond yielded 5.85%. Spain's stress tests revealed a capital shortfall of $59.3 billion euros within the banking system. Spanish Prime Minister Mariano Rajoy pledged his commitment to fiscal and structural reforms within his country leaving no one without sacrifice for 2013. Prime Minister Rajoy approved a new tax on lottery winnings and may raid the pension reserve fund that purchases government debt to pay for the increased retirement payments.
Pensions will account for 122 billion euros in 2013. Spain may also freeze public worker's wages and increase taxes further. It is a vicious spiral as unemployment is about 25% and the budget deficits certainly do not help. Consumers must earn in order to spend. Moody's credit rating agency is to review the ratings on Spain soon. Egan-Jones credit ratings agency downgraded Spain to junk status. Standard & Poor's credit rating agency has a BBB+ on Spain. Fitch's credit rating agency has Spain at BBB.
The losses in Spain's bank's may be attributed to deteriorating real estate assets. The problem is when four ratings agencies consider a downgrade of a country, it may go to a non-investment status. It would be no longer able to be used by banks as collateral for the European Central Bank loans. If declined, they may have to pursue funding through the Emergency Liquidity Assistance funds which is more costly. The market viewed the global economy as a cup half filled.
On the stock side: JP Morgan Chase and Co. (NYSE:JPM) was up 2.35 % to $41.82. Citigroup Inc. (NYSE:C) was up 2.61 % to $34.95. Bank of America (NYSE:BAC) was up 3.29% to $9.41. Alcoa Inc. (NYSE:AA) was up 3.42 % to $9.08. Boeing Co. (NYSE:BA) was up 0.11 % to $69.94. Caterpillar Inc. (NYSE:CAT) was up 0.96 % to $86.10. General Electric Co. (NYSE:GE) was up 0.17 % to $22.95. Halliburton Co. (NYSE:HAL) was up 2.91 % to $33.97. Hewlett Packard Co. (NYSE:HPQ) was up 0.07 % to $14.92. SPDR Select Sector Fund - Financial (NYSEARCA:XLF) was up 1.64 % to $16.09.
E-Mini S&P 500 Chart.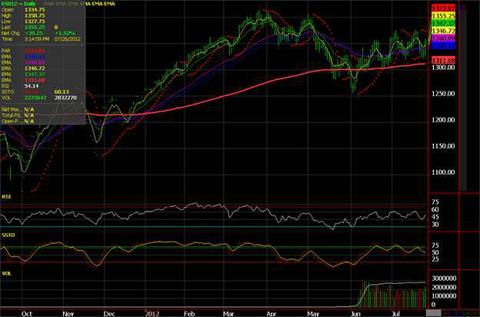 Click to enlarge
Friday, what to expect: We maintain a bearish bias unless the (December) E-Mini S&P 500 penetrates $1458.00. Today we anticipate an inside to higher day. Thursday's range was $1457.75 - $1444.00. The market settled at $1455.75. Our comfort zone or point of control for this market is $1452.25. Our anticipated range for Friday's trading is $1469.50 - $1449.50.
Disclosure: I have no positions in any stocks mentioned, and no plans to initiate any positions within the next 72 hours. I wrote this article myself, and it expresses my own opinions. I am not receiving compensation for it. I have no business relationship with any company whose stock is mentioned in this article.