The search for quality, yielding dividend stocks appears to be garnering increasing interest. Much of this is in part due to a variety of trending factors. For many, the recent economic recession has maintained a heightened awareness to pursue "safer" equity investments, of which dividend-paying stocks have often merited such a title. Additionally, the burgeoning "baby boomers" population of the 1950's has introduced a greater need for those looking to replace their income streams. Likewise, the Federal Reserve's actions to keep interest rates to all-time lows has also spurred on the pursuit for yield in the stock market as bond rates have fallen across the board.
Finding a high-paying dividend, however, is best thought of when compared against that which is the norm. The S&P 500 (NYSEARCA:SPY) is a stock index which follows the common stock prices of 500 publicly traded American companies, as determined by the S&P. As a result, it has often been used as a benchmark measure of the market itself. Shown below, the dividend yield of the S&P 500 therefore represents a rough gauge of the average yield. It's a fair conclusion that stocks capable of modestly surpassing the yield of 2% often present an advantageous distribution.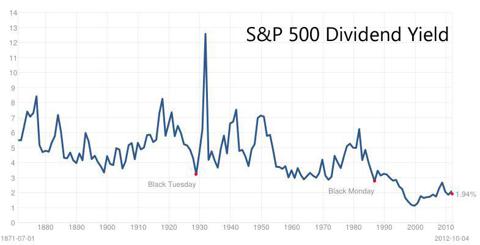 Click to enlarge
The following five companies offer a look at a well-rounded dividend portfolio. Each of these companies remain established leaders in their own respective industry with little relation to the markets of the others. The overall beta of the portfolio remains relatively low thereby providing increased stability against market shocks. With a beta of 1 representing the market average, this portfolio averages a beta of 0.89. The average enterprise multiple (EV/EBITDA) remains well below 10, an estimated market norm under typical circumstances. Above all, the average yield of the portfolio remains high with a median yield of 4.7% and an average yield of 5.5% overall. All values were taken as of October 4.
| Company Name | Market Cap. | Beta | EV/EBITDA | Fwd. Div. Yield% | Industry |
| --- | --- | --- | --- | --- | --- |
| Vector Group Ltd. (NYSE:VGR) | $1.42 Billion | 0.26 | 10.54 | 9.7% | Cigarettes |
| The Dow Chemical Company (NYSE:DOW) | $34.96 Billion | 1.99 | 7.66 | 4.4% | Diversified Chemical Conglomerate |
| Lockheed Martin Corporation (NYSE:LMT) | $30.45 Billion | 0.75 | 6.61 | 4.9% | Aerospace & Defense Products |
| AT&T, Inc. (NYSE:T) | $221.18 Billion | 0.44 | 7.96 | 4.6% | Domestic Telecom Services |
| Intel Corporation (NASDAQ:INTC) | $112.39 Billion | 0.99 | 4.47 | 4.0% | Semiconductors |
No stock exists without a concern to be careful about, and the following thoughts are worthy of consideration:
As an established veteran in the market for cigarettes within the United States, Vector Group remains a consistently high-paying income play. Yet with the negative sentiment surrounding its industry, it may be subject to increasing regulation over time.
As demonstrated by its sensitivity to the economic recession in late 2008 and into 2009, Dow Chemical remains highly correlated to industrial production. This can be problematic with increased fears of low productivity in the economy.
Lockheed Martin may face a more difficult business environment as defense spending cuts become a more likely reality. While Lockheed has increased efforts to pursue more commercial operations, its core business still revolves around defense spending.
AT&T's high debt load is a reality of its industry but a factor to always bear in mind. However, much of this debt remains tucked inside of infrastructure projects that are often well-perceived by financial institutions.
Due to the speed of technology's evolution, Intel Corporation must remain agile enough to adapt in light of product variation and quick phases of commercialization. As a result, the company must continually commit to shifting consumer trends and costly capital commitments.
Despite these ongoing concerns, these companies have traditionally performed well throughout their public lives. Above all, their willingness to place the shareholders as a priority can be reflected in the maintenance and growth of their high dividends. Lengthy distribution histories can be an additional testament to overall stability.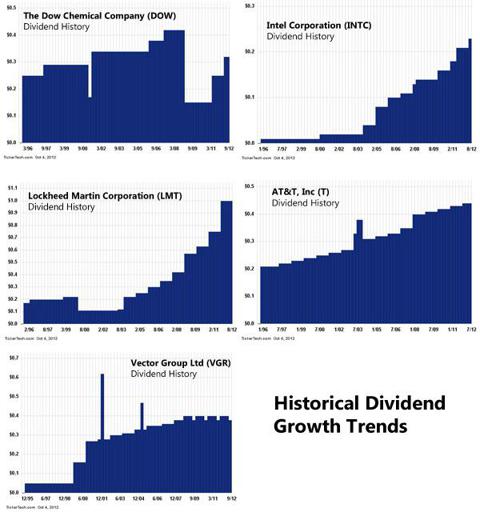 Click to enlarge
The ideal high-yield dividend portfolio offers a diversified approach to the market in regards to the companies within its holdings. This is reflected in the area of expertise as well as the type of consumer involved. Such a portfolio also retains relative consistency in the yields entailed. Preferably, these yields have also proven to grow over time. Considering the fairly priced multiples, overall aversion to volatility risk, and balanced play on the economy, the aforementioned portfolio appears to qualify as one such example to these qualifications.
Disclosure: I am long INTC. I wrote this article myself, and it expresses my own opinions. I am not receiving compensation for it (other than from Seeking Alpha). I have no business relationship with any company whose stock is mentioned in this article.