Over the last month, investors have witnessed extreme volatility in the price of iron ore, with it gyrating to a three-year low of $90 per metric ton (PMT) at the end of August and then recently rebounding to around $106 PMT. This rebound can be attributed to increased optimism surrounding Chinese economic activity, which is currently the key driver of the iron ore price, resulting from China's much vaunted $150 billion infrastructure investment program. However, I believe that this bounce in the iron ore price is premature, despite the plethora of market pundits now talking up the prospects of iron ore stocks, including one of the industry's currently most unloved, Brazil's Vale (NYSE:VALE).
At the end of August, I published an article on the outlook for Vale calling for investors to take a more cautious approach generally when investing in the iron ore industry, and in particular with regard to Vale. The reason I have formed this view is that the majority of economic indicators signify that Chinese economic growth and hence the demand for iron ore will continue to remain subdued for some time yet.
Current iron ore price
While iron ore has recovered by almost 16% from its late August 2012 low, it is still down by 80% from its October 2009 high of $187 PMT and also down by almost 31% for the year to date. The significant pullback in the price of iron ore can be primarily attributed to falling demand caused by slower Chinese economic growth and the European financial crisis, which has seen a number of Europe's major economies contract.
The chart below sets out the iron ore price over the last five years and clearly shows the correlation between the iron ore price and the share price of Vale, which as the world's largest iron ore miner is unsurprising.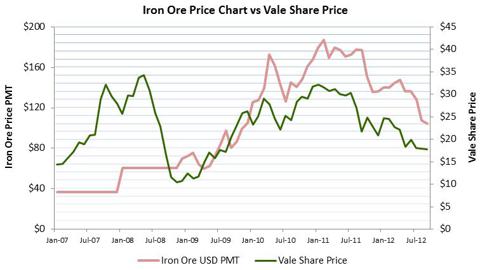 Source data: Index Mundi, Yahoo Finance, NYSE Euronext
This will obviously have significant impact on iron ore miners and in particular those miners like Vale, which rely upon iron ore for the large majority of their revenues.
Therefore, any rise in the iron ore price should be a positive for not only Vale but all major iron ore producers, including BHP Billiton (NYSE:BHP), Rio Tinto (NYSE:RIO) and Cliff Natural Resources (NYSE:CLF). But with Vale and Cliff Natural Resources being less diversified, iron ore is the key driver of revenue. Currently, there is substantial conjecture as to the future direction of iron ore prices, with some pundits along with the management of Vale stating that it should settle in the $100 to $120 PMT range.
It appears that the key reason for this view is that at this price range, supply will reduce as high-cost, low-margin and low-quality Chinese ore producers will no longer be able to operate profitably and will cease operations. However, I don't share this optimism regarding the iron ore price, and over the longer-term I expect to pullback further settling in the $75 to $85 PMT range.
I have taken this view for a number of reasons, but key is the nexus not only between Chinese economic growth and demand for iron ore, but also that between global demand for China's manufactured products and Chinese economic activity.
Macro outlook for iron ore and the Chinese economy
As the chart below illustrates, Chinese economic growth has been the key driver of the price for iron ore, especially since fixed price contracts ceased and spot prices were introduced in late 2008.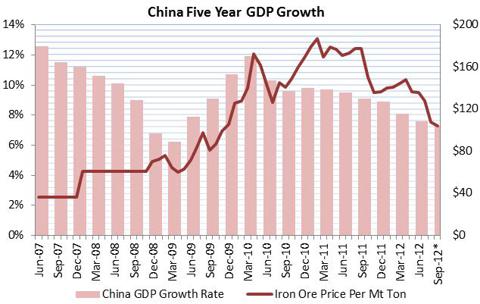 Source data: Index Mundi, National Bureau of Statistics of China, UBS AG
*Chinese GDP growth rate for the 3rd quarter 2012 is an estimate of 7.3% made by UBS AG.
As the chart further illustrates, the peak prices for iron ore were sustained by Chinese economic growth of between 9% and almost 12% and accordingly have declined along with Chinese economic growth over the last year. If anything, the prices witnessed between December 2009 through to September 2011 formed part of a bubble that fueled speculative expansion and investment across the iron ore industry.
With China's government focused on targeting a lower and more sustainable growth rate of around 7.5%, which is well below the 9% to 12% that saw iron ore prices soar into bubble territory, I don't expect iron ore prices to rebound to close to their historical highs. A key reason for China's adoption of this policy is to head off inflationary pressures, particularly those on food prices, which historically have been a particularly sensitive political subject in Beijing.
This sensitivity is caused by the linkage between spiraling food prices, political dissent and civil unrest. Even in recent years, there have been a number of incidents of civil disobedience across China that have been spurred by rising food prices in a country where much of the population lives a subsistence lifestyle and the average monthly income is less than $700. This obviously makes significant segments of the population particularly sensitive to food prices.
Another key reason is to support the government's goal of moving China's economy from an export-driven economy to one driven by domestic consumption. In order to do this, China needs to create a broad-based middle-class and focus on building sustainable internal wealth. This process is easily derailed by inflation and speculative asset bubbles, which the government believes can be avoided by curbing the rate of economic growth. This will also position China to make the difficult leap from being a high middle-income economy to a developed economy. This is a particularly difficult feat to complete, and over the last fifty years only a handful of countries have successfully made this transition.
For these reasons alone, it is clear that over the longer term, China will not experience the rates of economic growth required to boost iron ore prices and in all likelihood serve to push them lower. In addition, there are also a number of other factors that will contribute to pushing iron ore prices lower over the short to medium term.
The European crisis is affecting demand for China's exports
Key among these factors is the poor economic outlook for Europe, which has seen economic growth across much of the region slow and even contract in a number of major economies as the chart below illustrates.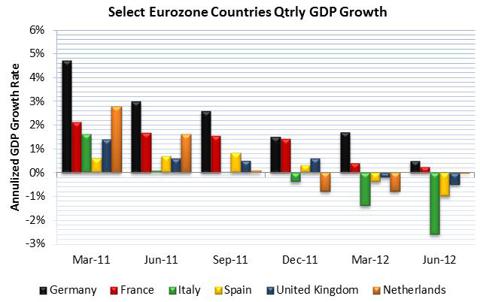 Source data: European Central Bank
This financial crisis has seen the economy of Italy, the United Kingdom, Spain and the Netherlands contract considerably over the last two successive quarters. This is also creating a significant drop in business activity and consumer confidence in those economies along with rising unemployment, which is clearly affecting demand for goods and services.
These economies are major Chinese trade partners and as a whole account for 12% of all Chinese exports as the chart below illustrates.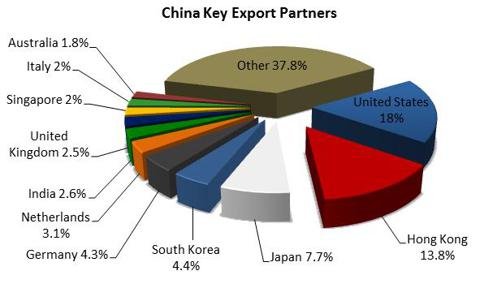 Source data: PRC Customs, Austrade, National Bureau of Statistics of China
This makes the European Union the third most important Chinese export partner after the U.S. and Hong Kong. Therefore, any significant and sustained economic downturn in the region will have a significant impact on Chinese economic activity. This impact is already being witnessed with demand for Chinese products in the region, with sales from China to the region for the first half of 2012 falling by 16.2%.
Of further concern is the view of the World Bank's Chief Economist Kaushik Basu, who recently stated that the contagion from the European financial crisis will continue to weigh upon not only China's but the world's economy for some time. Another less significant impact arising from the crisis is that it has caused trade finance to dry up, making it more difficult for export-driven economies like China to sell their products on global markets. All of this certainly does not bode well for increased Chinese manufacturing activity and thus ultimately impacts on the demand for basic materials such as iron ore.
China's industrial activity is contracting
Over the last two months, the Chinese manufacturing production managers index (PMI) has fallen below 50 points, which is the threshold that indicates whether China's industrial output is expanding or contracting. For August 2012, the PMI hit a nine-month low of 49.2 points, and then for September 2012 rose to 49.8 points as the chart below illustrates.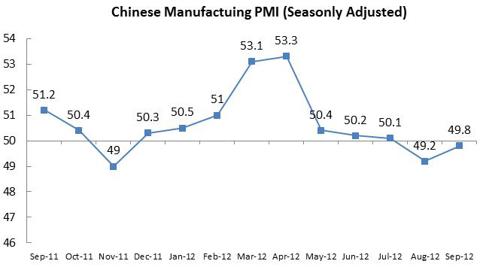 Source data: National Bureau of Statistics of China
Given the lead in time required for increasing industrial production, combined with the fact that there is no evidence of increasing global demand for China's products, it is unlikely that there will be an increase in demand for basic materials for the short-term.
High iron ore and steel inventories are affecting demand
Another factor that is exerting downward pressure on iron ore prices over the short-term is the large iron ore and steel stock piles in China. It has been estimated that it will take some months to diminish these stockpiles to a level where demand will exceed supply. Furthermore, until recently there has been a surfeit of steel production in China and this will serve to stymie demand for iron ore for some months to come.
These factors will also constrain any rebound in the iron ore price and certainly support the thesis that the iron ore price will settle at a level well below $100 PMT. In fact, some commodities' analysts have estimated that iron ore may fall as low as $50 PMT by the middle of next year. However, I believe that this is overly pessimistic and reiterate my view that it should settle at around $80 PMT, which accords with the long-term outlook put forward by many analysts.
The one positive that will arise from iron ore prices moving to this level will be that it is no longer cost effective for the majority of Chinese iron ore miners to continue operating. This will allow stock piles to be drawn down faster and secure the market position of the triumvirate of low-cost, higher-margin and higher-quality iron ore producers BHP, Rio and Vale.
How does this affect the value of Vale?
Vale is currently trading with an extremely attractive price-to-earnings ratio of around 7 and a trailing dividend yield of around 6%. This on first appearance makes it an attractive investment, but when all of the factors discussed are considered, it is clear that there is a reason for the market's valuation of Vale. If the long-term price for iron ore was to settle at around $80 PMT as I have predicted, then Vale's revenue would take a significant hit as just over 70% of the company's revenue is derived from iron ore.
This price also represents a 41% discount on the average price of $136 PMT that Vale received for its iron ore in 2011, and a 25% discount on the average price of $106 PMT that it has received for the first half of 2012. In addition to which, Vale is currently embroiled in a number of disputes with the Brazilian government over royalties and taxation that have a total worst scenario potential financial impact of $17 billion, which would significantly affect Vale's cash holdings.
At the time of writing, both of these disputes have yet to be resolved, although Vale has accepted that with regard to the royalties' dispute it will have to make some form of payment to the Brazilian government. As a result, to date, the company has provisioned around $695 million, but this is far less than the $2 billion in additional royalty payments sought by the Brazilian government. To date, no agreement between the parties has been reached as to the total amount to be paid.
The second dispute relates to a taxation claim made by the Brazilian government for an additional $15 billion in taxes on the profits of the company's foreign subsidiaries. At the time of writing, the matter was on appeal before the Brazilian Supreme Court after two lower courts had found in favor of the Brazilian government with a judgment pending.
While Vale has expressed confidence that this matter will be resolved in its favor, I believe that it is unclear in which direction the ruling will fall. Vale's argument rests on the claim that it constitutes double taxation, which is unconstitutional in Brazil and also in breach of various tax treaty provisions and international tax rules. But with two lower courts already having found in favor of the government along with an increasing willingness of the courts to find in favor of the government and its populist agenda, I am not as optimistic as Vale's management.
The financial impact on Vale will be quite significant if in the worst-case scenario, it is found liable to pay the full amounts on both disputes. This will have a significant impact on the company's capital expenditure and growth plans along with dividend payments.
Accordingly, I have valued Vale using a discounted cash flow methodology across a number of scenarios, which are primarily focused on iron ore prices as set out in the table below. In each of these valuation scenarios, the following assumptions have been applied:
Cost of goods sold (COGS) over the long-term has been calculated at an average ratio of 50% of revenue, which is the five-year historical average.
Capital expenditure has been calculated as an average of the previous five years' outlay, giving a capital expenditure to revenue ratio of 27%.
Any payments made with regard to settling the royalties' dispute with the Brazilian government have been taken from the company's cash, while any payments to resolve the taxation dispute have been deducted from cash holdings and through a debt raising.
An industry average weighted cost of capital (OTC:WACC) of 11% has been applied to the calculations.
The table sets out each scenario with the first based on an estimate of its 2012 performance and each scenario after based on the decreasing price of iron ore. At each price level, there is a valuation representing the best-case outcome with regard to the royalties and taxation dispute and one that takes into account the worst case.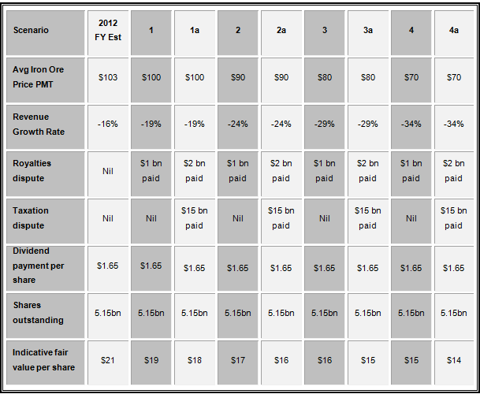 As the table highlights, with Vale trading at around $18 per share, there is some value for investors based on the full year 2012 estimate. However, once iron ore prices start to drop into the $100 to $90 PMT range, it will become apparent that the market has fairly valued the company.
Should iron ore prices fall to around $80 PMT over the long-term, which I believe is the most likely scenario, the valuation model indicates that Vale at its current price is marginally over-valued by the market. This becomes even more pronounced when it is assumed that Vale will have to pay the additional royalties in full and loses the taxation dispute.
Bottom line
With many of Europe's economies expected to take years to fully recover from the financial crisis coupled with a slowing Chinese economy along with high iron ore and steel stockpiles, it is clear that iron ore prices have some way to fall. Furthermore, with the Chinese government pressing ahead with stabilizing economic growth at a lower and more sustainable rate, along with moves to transition China from being an export driven economy to a domestic consumption driven economy, it is clear that the heady days of iron ore prices exceeding $120 PMT are well behind us. In fact for all of the reasons discussed, I believe that the long-term iron ore price will settle at around $80 PMT. This doesn't bode well for high-cost low-quality producers, but it does still mean that the triumvirate of major iron ore miners will continue to be profitable.
However, it will have a significant impact on their share prices and in particular that of Vale because, of the three, it has the lowest level of product diversification and hence the highest correlation to the iron ore price. For these reasons, I believe that long-term investors would be prudent to identify opportunities in other sectors, especially until the direction of both China's and Europe's economies become clearer.
Disclosure: I have no positions in any stocks mentioned, and no plans to initiate any positions within the next 72 hours. I wrote this article myself, and it expresses my own opinions. I am not receiving compensation for it (other than from Seeking Alpha). I have no business relationship with any company whose stock is mentioned in this article.