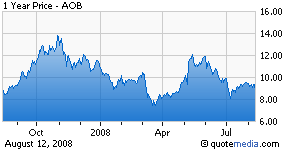 American Oriental Bioengineering, Inc. (NYSE: AOB) announced in its Q2 earnings announcement that it signed a letter of intent to acquire an unnamed China pharmaceutical distribution company. In the follow-up earnings call with analysts, management said that it would pay $110 million to purchase a company with $550 million in annual revenues. In response to questions, American Oriental refused to disclose the profitability of the company. However, the company did say that margins for the potential acquisition are "above the industry standard," which is usually below 5%.

American Oriental defended the proposed acquisition, saying that a fully integrated company would be better able to weather upcoming changes in the pharmaceutical market in China, a market that it sees as turbulent. Consolidation in the distribution sector is also imminent, and a company that controls its own distribution will be better off, according to American Oriental.

In response to one caller, American Oriental also said that, after the acquisition, the focus of distribution for its own products, which has typically emphasized rural markets, would be expanded in the urban markets of China.

American Oriental reiterated that it expects $255 million in revenue from its ongoing businesses in 2008. That means distribution will contribute over two-thirds of the company's revenue, once the purchase is completed. American Oriental expects to close the purchase this year.

During the conference call, the company also revealed it has made a $6 million deposit on a parcel of land in Beijing, where it will locate an R&D center, a centralized administrative office and training facilities for management. Up to now, American Oriental has rented its facilities, but it says that rising rents, especially in the Beijing area, are making the investment in ownership a better financial proposition.

Aside from its blockbuster acquisition announcement, American Oriental also disclosed significantly higher revenues and profits in Q2. The company said Q2 revenues were up 74% at $59.0 million, while net income climbed at a somewhat lower rate of 43% to $13.9 million. Fully diluted EPS were 18 cents. All of the numbers came in higher than analysts' estimates.

Pharmaceutical product revenue rose 91.5% to $49.8 million. OTC pharmaceutical product revenue saw the largest percentage increase: it climbed 103% to $29.4 million. AOB's two newest acquisitions, CCXA and Boke, contributed $13.4 million to revenues during Q2 of 2008. They were not part of AOB in Q2 of 2007. Nutraceutical product revenue was the laggard in the product mix, increasing a relatively small 17% to $9.2 million during the period.

Gross profit increased 69.1% to $40.1 million, almost keeping pace with the growth in revenues. But gross margins slipped slightly to 67.9% from 69.9% a year earlier. American Oriental blamed the drop on a change in product mix.

Net income was hurt further by a 76% increase in operating expenses. The company cited higher sales and marketing costs, but depreciation and amortization of the CCXA and Boke purchases also added. It also took a $600,000 charge in connection with its minority position in China Aoxing, the manufacturer of narcotic pain drugs in China.

American Oriental ended the quarter with $144.5 million in cash. In July, the company placed $115 million in convertible notes. $30 million of the proceeds went to buy back shares of the company, to counter the dilutive effect of the offering. After that outlay and the costs of the offering itself, American Oriental netted an additional $80 million of cash, giving it $224.5 million. The company expects to pay for its newest acquisition with cash, leaving American Oriental with more than $110 million after it completes its latest M&A foray.

Investors were not impressed with American Oriental's news. The stock slipped 6% lower in moderate trading after the announcements. American Oriental dropped 57 cents to $8.77. It has a market cap of $685 million.

Disclosure: none.