By Edward Faubert
Soft commodity markets saw mixed results for the third quarter of 2012 as money managers reduced their sugar positions, but added to cocoa and cotton. Other than cocoa, the sector continues to underperform, while other commodity sectors received a boost in the third quarter from the Fed's QE3 announcement.
For sector context, the iPath Pure Beta Softs ETN (NYSE Arca: GRWN), which tracks coffee, cotton and sugar, has fallen by 2 percent during the last three months and 17 percent year-to-date.
Here's a look at all four of the major soft markets and how they have been performing.
Coffee
Coffee prices, as measured by the ICE futures contract (KC), finished the third quarter at $1.73 a pound, down 4 cents, or just under 4 percent on the quarter, but only after having traversed a range of 36 cents a pound (and still down 22 percent YTD).
The market made a short-term bottom in late June at $1.57 a pound after a long decline that began in May 2011 when prices were slightly more than $3.00 a pound.
In late June and into early July, prices rallied on the absence of producer selling and concerns of too much rain in Brazil during the critical harvest season. Excessive rain can damage quality. Both events triggered a short covering rally by money managers.
Long-term moving averages crossed in late June and early July, triggering buy signals, only to indecisively cross back again in September.
After rallying to a high of $1.93 a pound in early July, prices fell back on renewed producer selling. Cash premiums also fell, as a lack of buying from manufacturers made the ICE futures contract the best buyer of physicals and has resulted in an increase in certified stocks.
Fund managers are currently net short a minor 6,000 lots, about unchanged on the quarter. The marketing of next year's crop from Central America will be key to the future direction of coffee prices. The Central American harvest begins in earnest in December and extends through March of next year.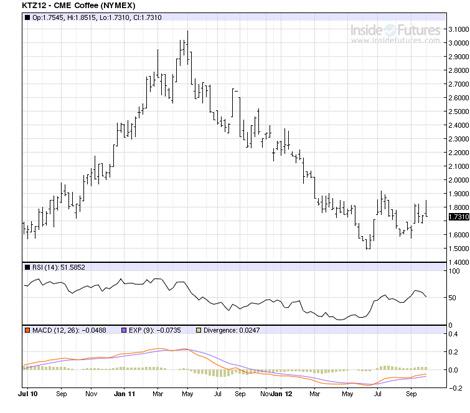 Cotton
Cotton prices as measured by the ICE Futures #2 contract (CT) finished the third quarter at 70.65 cents a pound, down just more than 1 cent, or 1.5 percent during the second quarter (down 26 percent YTD).
Prices have languished since the lofty highs of March 2011. Since that time, prices have been in a slump due to increasing supply, competition from synthetic fibers and reduced demand, especially from China, where the general economic downturn is weighing down estimates of cotton usage.
Even though the U.S. is one of the world's largest cotton producers and exporters, the market shrugged off this summer's drought conditions in the Midwest. While conditions were dry in many U.S. cotton-producing regions, they were notably not as dry as those experienced during 2011.
U.S. cotton yield estimates are lower for 2012 compared with a year earlier, but are offset by higher harvested acreage. Fundamentals continue to look bearish, with global ending stocks for 2012/2013 now estimated to be 76.5 million bales, or a historically very large 260 days of usage. Money managers are bullishly biased at the moment, and hold a modest net long position of 10,000 lots from a flat position three months earlier.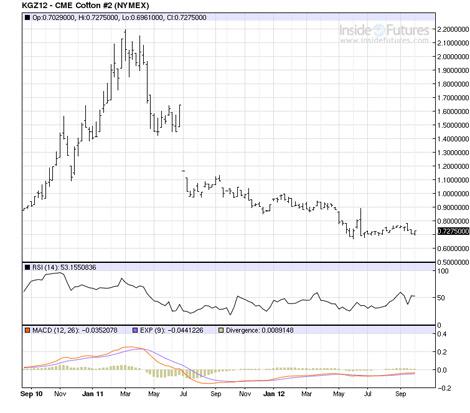 Cocoa
ICE Futures cocoa prices (CC) have finally broken out of their second-quarter trading range of $2100 to $2300 a ton, and finished the quarter at $2516 a ton, up $211 a ton or 9 percent (up 24 percent YTD).
The rally was fueled by a late August report by the International Cocoa Organization on the 2011/2012 crop year ending Sept. 30. The ICO slightly lowered its estimate for total world production and slightly lowered its estimate of grindings (roughly approximating consumption).
The result was a mildly bullish overall reduction of end-of-season stocks by 20,000 tons for this crop year and a reduction of the stocks/grinding ratio to 44.5 from 45.1 a year earlier. There are also reports of a spike in Indonesian production for the 2012/2013 crop year. In counterbalance, West African crops, which account for 70 percent of the world's cocoa, appear to be adequate and problem-free.
Money managers are net long 31,000 lots, representing 15 percent of the open interest, up from 8,000 lots during the previous quarter.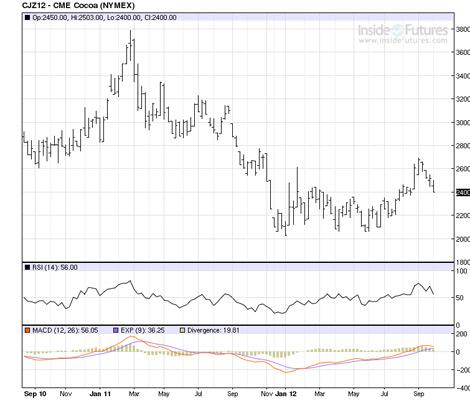 Sugar
International sugar prices, as measured by ICE Futures NY 11 contract (SB), finished the third quarter at 20.42 cents a pound, down about 1.5 cents, or 6 percent during the quarter (down 11 percent YTD).
Three years of rising production and estimates for a fourth year to come have left sugar prices at a two-year low. During the third quarter, prices peaked in late July near 24.00 cents before bottoming out at 19.50 cents six weeks later. Since then, prices have managed to rally off their lows.
The International Sugar Organization, in its first forecast for 2012/2013 (October-September), estimates sugar output to rise by 2.3 million tons to a record 177.4 million tons. If true, this would result in a significant rebuilding of world inventories, with a stocks-to-use ratio approaching a more comfortable 40 percent.
In the background have been concerns over Indian production due to a weak monsoon season and concerns about demand, especially from China. However, the focus has been on Brazil's crucial Center South region, with production there expected to soar 11 percent to 38.1 million tons.
Money managers had been holding a substantial long position for quite a few months, but have substantially reduced their positions to net long 33,000 lots, down from 107,000 lots from the previous quarter.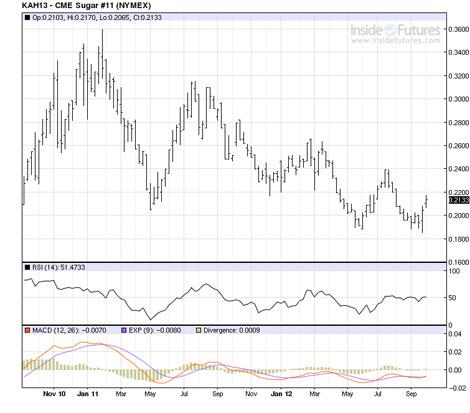 Individual ETFs are available for:
Coffee: The iPath Dow Jones-UBS Coffee ETN (NYSE Arca: JO) and the iPath Pure Beta Coffee ETN (NYSE Arca: CAFE) also issued by Barclay iPath
Cotton: The iPath Dow Jones-UBS Cotton Total Return Sub Index (NYSE Arca: BAL) and the iPath Pure Beta Cotton (NYSE Arca: CTNN)
Cocoa: The Dow Jones-AIG Cocoa Subindex (NYSE Arca: NIB) and the iPath Pure Beta Cocoa ETN (NYSE Arca: CHOC)
Sugar: The Dow Jones-AIG Sugar Total Return Sub Index (NYSE Arca: SGG) the iPath Pure Beta Sugar (NYSE Arca: SGAR) and the Teucrium Sugar Fund (NYSE Arca: CANE).
All are based on futures contracts.