Mild Weather a Double-Edged Sword for Crops and ETFs
Some nice weather could mean lower prices for certain crops, but it might not do anything to add to the performance of agriculture ETFs.
After flooding this summer, farmers in the Midwest staged a nice rally. They're now on pace to produce the second largest corn crop and fourth largest soybean crop in history, says the Associated Press. Corn hit a record $8 a bushel earlier this year, and is now at $5 a bushel. It's still higher than the 2006 prices, which stood at $2 a bushel.
The soybean crop is forecast to fall slightly, but the prices are still expected to drop. Wheat production is predicted to be slightly higher, also causing prices to dip a little.
Falling prices could deliver a dose of relief to farmers who rely on corn and soybeans for feed. High prices for grains have almost eliminated profits for chicken and beef companies this year.
It hasn't been the best of times for commodity ETFs these last few weeks, and it has some asking if it's time to stick a fork in them. One advisor tells investors not to panic, because much of the losses are reflective of a stronger dollar. But even with a strengthening dollar, there could still be room for commodities to resume the uptick.
Some commodity ETFs are off their highs into the double digits. The PowerShares DB Agriculture (NYSEARCA:DBA) has dropped off by 21.3%, although it's up 1.4% year-to-date. The fund holds futures in soybeans, wheat, corn and sugar.
Just because commodities are falling here doesn't mean that it's the same everywhere, though. In many developing countries, inhabitants are looking for ways to boost their own production and make some money.
Honduras is one country that has taken matters into its own hands and has become a cross-section view of the global food situation, according to Morning Edition on NPR. On the one hand, there are fields of lush and green genetically engineered corn. On the other are low-income families that joke (we hope) that they'll have to eat one another if they become too hungry.
After farmers endured years of neglect by the government, the country is now trying to reverse the food shortage and feed its people by putting more money into food production.
Agriculture ETFs that could be affected: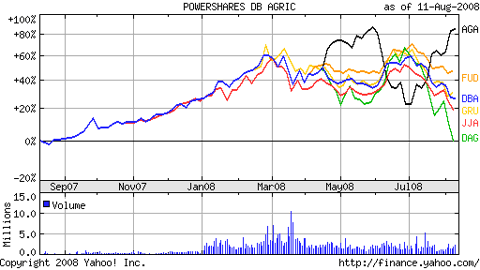 Comparing the Large-Cap ETFs
When it comes to ETF investing, are large market capitalization funds created equally?
Large-caps are the most common and popular investing asset class, and they are easy to compare because their make-up is similar.
Will McClatchy for ETF Zone gives us an in-depth look at the different large-cap ETFs on the market, to help you decide which fund works best for your goals.
SPDRs (NYSEARCA:SPY): Holds one-tenth of all ETF assets above $70 million; pays quarterly; down 10.6% year-to-date.
iShares S&P 500 (NYSEARCA:IVV): Tracks the same index as SPY, yet charges 0.1% less than SPY; pays bi-annually; down 10.6% year-to-date.
In terms of returns, SPY and IVV are pretty much right in line with one another. McClatchy also notes that SPY may be one of those ETFs with innovative managers who are making index changes efficiently. Smaller spreads may be executed behind the scenes by the specialists.
Large-cap firms are more likely to be mixing in with foreign currencies due to the breadth of their market cap. There is the added attribute of hedging the U.S. dollar, if that is a plus for you. Other large-caps ETFs available:
Vanguard Large-Cap ETF (NYSEARCA:VV): Follows top 750 U.S. large-cap stocks; expense ratio 0.7%; down 10.1% year-to-date.
SPDR Dow Jones Wilshire Large-Cap (ELR): 0.20% expense ratio; follows top 750 U.S. large-caps stocks; down 11.2% year-to-date.
SPA Market Grader Large Cap 100 (SZG): Has a basket of 100 stocks, with an expense ratio of 0.85%; down 15.1% year-to-date.
Rydex Russell Top 50 (NYSEARCA:XLG): Has a basket of 50 stocks and an expense ratio of 0.20%; down 12.2% year-to-date.