The carry trade was a virtual lay-down for most of the last decade. Anyone could play and win. With the constant slide of the greenback, any other currency you chose would be a winner as far as price appreciation was concerned. It took no special skills to profit from the dollar's slide.
But now things are changing. The dollar is in a recovery mode, so the automatic gains that were so good for so long are gone. Today, to profit from the carry trade investors must include calculations that take into account the all too-real potential for capital loss. If the dollar continues its rebound, most other currencies will depreciate against it. This means the carry trade investor may lose the interest payments received from holding foreign currencies, and quite possibly, even more.
This puts an extra burden on the carry trade practitioner. How does one know which currencies will hold their own against the dollar and which will not? The simplest rule would be to go with only the currencies that are pegged to the dollar. If a foreign currency follows the dollar up, as they mostly followed it down, then your capital is protected, and you can keep all of the interest payments.
This is not as simple as it seems, though, because there are pegs and then there are pegs. Technically, the Chinese yuan is pegged to the dollar, but it is a loosely floating peg that the monetary authorities in China are allowing to gradually appreciate versus the dollar. Pegged? Yes! Tightly pegged? No! Brazil follows this same type of loose peg, allowing the real to gradually appreciate. Mexico is more on the tighter side of the peg. It has allowed the peso to slowly appreciate over the last years, but it keeps it within a fairly tight trading band. With 80% of its exports going to the U.S., it is not a tough guess as to why and for how long they will maintain this stance. Australia broke away from pegs years ago, so the Aussie$ floats with little apparent intervention by the Reserve Bank of Australia.
There is a potential downside, however, to investing in a tightly pegged currency—the risk of a sudden devaluation. The origin of this potential lies in the necessity of maintaining the pegged price, which explicitly requires a store of dollar reserves that can be used if the currency comes under price pressure. Once the pressure is felt, the monetary authorities must use their dollar reserves to buy their own currency—bidding up its price. If the country has a big reserve (China, Brazil, Mexico, Saudi Arabia, e.g.), then it can maintain its currency's integrity for a long time. But building a store of dollar reserves requires a strong balance of payments surplus over a long time. If a nation can accomplish this, as those listed above have, then things are fine. It can control its currency's price for a long time.
The problem begins if their balance of trade turns negative. If the deficit continues due to fundamental internal problems (often domestic budget deficits and loose monetary policy), then its store of foreign currency reserves will be depleted. The only hope, assuming the country does not address its fundamental problems, is to borrow reserves from the IMF or a friendly neighbor (as Mexico did from the U.S. in 1999). If this options fails, devaluation is more probable.
The risk of a major devaluation can be handled, however. You can hedge your currency holdings, or you could write covered calls—but these remedies add costs and hassle to maintaining your portfolio. A better solution, in my view, is simply to diversify your holdings. Don't put all your carry trade eggs in a single or even a few baskets. Just as holding the total stock market diversifies away the business risk of owning shares in a single company, holding a large basket of currencies greatly reduces the risk of loss from a single currency devaluation.
There are two ways to execute a diversified solution: make your own bundle by buying many of the high interest rate currencies, or buy a prepackaged bundle in the form of an ETF or ETN. I prefer the pre-packaged solution. It's simpler to administer, and it takes a lot less cash to execute.
I am confident that in the future, there will be many prepackaged currency bundles, but for now there are not. There are two ETNs that offer G10 bundles of largely unpegged currencies: DB G10 Currency Harvest Fund (DBV), and The Barclays Intelligent Carry Index (ICI). These ETNs were covered in my article earlier this year. Both are carry trade-oriented funds; they borrow in low interest rate G10 countries and buy currencies that have higher yields. The downside with these funds is they use a mechanistic approach to determine what to borrow and what to buy, and they limit themselves to the G10 countries—all more or less fully developed nations that are the behemoths of the currency world.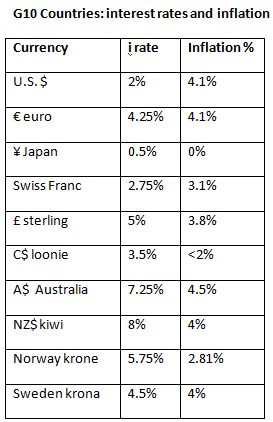 As you can see in the table to the right, there are only a couple of carry trade possibilities in the G10 if you want to stay in U.S. dollars as the base currency.
Australia and New Zealand stand out as having the greatest spread, but in both these countries, the trend in interest rates is down, and both currencies are now falling against the U.S. dollar-neither are pegged.
Of course, the ¥ is always a prospect if you will sell it short and buy about any other currency in the world, but the Japanese currency is generally expected to appreciate. Selling it short to take advantage of the carry trade may leave the investor with little or nothing to show for the effort.

In my view, the G10 countries are not good prospects for the carry trade at this time.
The good news is that there is one ETN that holds a diversified bundle of foreign currencies, although loosely pegged for the most part. Barclays Capital brought out their Global Emerging Markets Strategy ETN (JEM) earlier this year. The fund consists of a basket of 15 emerging market currencies: five from Asia, five from Latin America and five from eastern Europe and Africa. The specifics of this ETN are covered in my June 26 article, Currency Bundles Pegged to the Dollar. It has a good geographic spread, covering currencies used on both sides of the equator. Another currency product, using fully pegged currencies, is the Asian and Gulf Currency Revaluation ETN (PGD) . This ETN was introduced at the same time as the GEMS fund and will be discussed more fully below.
When I first wrote of these new instruments, I was curious why Barclays would bring out new exchange traded products without the iPath name. These ETNs had no web site for general information, and, aside from their formal SEC filings, hard info was hard to come by. About a week ago I began looking into this enigma more seriously. I ultimately located a number to call about the funds and found myself speaking with someone with Corporate Communications at Barclays Capital in New York. Arrangements were made for an interview with Mr. Philippe El-Asmar, Head of Solution Sales, Americas.
According to his bio, Mr. El-Asmar:
...is responsible for the structuring and sale of investor products across all asset classes: single stocks, indices, commodities, foreign exchange, fixed income, inflation and emerging markets. His team provides risk management and financing solutions to Institutional Investors, Middle Market Investors, and Individual Investors through financial intermediaries.
I finally got to the right guy. Two other team members who work with these investment products, Mr. Sam Caplan, Emerging Markets Structuring, and Mr. Nick Cherney, Solution Sales, also joined the conversation.
It turns out that this department is something of an incubator for new ideas for investment products. I was told that the currency ETN, ICI, the G10 Carry Trade product mentioned above, was originally their creation. It was given the iPath name earlier this year.
The origin of JEM and PGD are similar. Both were begun as private instruments, created at the request of some of their large institutional investors. It seems they wanted an investment vehicle that would give them a higher return than conventional American short-term money market funds. They knew that higher returns were available in other parts of the world, but they needed diversity in order to reduce the currency risk.
For the first couple of years these new instruments were available only to the institutional investors, but on February 1, one day after ICI was announced as an iPath name, JEM and PGD were introduced to general investors under their current names. According to Mr. El-Asmar, JEM and PGD will themselves move to the iPath brand at some time in the future. When asked about when that would be, he said it was a matter of judgment.
The ensuing conversation made it clear to me that the diversity of JEM was well thought out.
They have a wide geographic diversity.
9 out of the 15 countries have a current account surplus while six have a current account deficit -- this is largely a function of countries being commodity exporters versus importers.
The macro economic strength of the EM countries is strong in terms of GDP growth and FX reserves .
The 15 countries have a wide spectrum of interest rates ranging from Korea at around 3% to Turkey at 18%.
The returns this year through July 31 08 are:
Composite: 7.57%
Asia: -2.78%
Latam: 12.38%
EEMEA: 13.00%
When I questioned Mr. Caplan about the wisdom of including Argentina in the Latin America mix, he made a spirited defense for its inclusion. "In times of crisis, while the currency depreciates, the interest rates often go up too, and GEMS through its monthly rolling can benefit from the higher interest rates. This is illustrated in the case of Argentina where an investment of $100 in July 2001 would be worth $226 in July 2008, implying an annually compounded return of 12.35%. The spot depreciated from 1 [to the U.S. dollar] to 3.05 during this time, but the high interest rates more than offset this, thus resulting in positive double digit returns in USD terms of around 14% pa before any fees."
At least they didn't include Venezuela in the mix.
The JEM fund is paying a monthly dividend in the 7% range, annualized. Total assets under management as of July 31 are $132 million.
The other currency ETN, Asian and Gulf Currency Revaluation ETN (PGD), is different in structure, designed to follow a globally diverse group of dollar-pegged currencies that are candidates for revaluations. PGD was also reviewed in my June 26 article, which has the specifics about the constituent currencies that make up this instrument. It has a 14+% total return for the last year, but the return is almost all currency appreciation; the interest portion is closer to 1%. This is not so much a carry trade vehicle as a speculative play on revaluation, as the name implies.
With a total of $230 million in assets under management, JEM and PGD have achieved a substantial level of assets with no help from the iPath name.
One last piece of information gleaned from my conversation with the Barclays executives is that there are more ETNs in the pipeline. Of course they wouldn't disclose any of the details, but I was glad to hear that we may have more currency bundles in the future to help structure carry trade portfolios. I believe a bundling strategy is very important for individual investors. Building your own basket of currencies is difficult and expensive for individuals. In my view, a well diversified bundle of currency holdings, even currencies as inherently risky as those from emerging markets, is a prudent way of playing the carry trade if the amounts are within the investor's risk limits. These ETNs are money-market types of investments, but they do not have the all important feature of being managed not to break the buck . So, tread softly if you are not experienced in the world of currency markets.
For purposes of full disclosure, I own the JEM ETN. This is not a recommendation for others to do the same, however. Whether this type of currency instrument fits your goals, needs and risk preferences is a personal matter—not one I can make assumptions about.
The risks of currency investing are different than for equities or fixed income products. (I have another article on this issue that will be ready in a week or so.) It is vitally important that investors keep the distinction between currency investing and currency speculation clearly in mind. It is easy to be lured into the speculative mode, especially if things are going well in your carry trade portfolio. My advice is to clearly delineate between these two poles of the currency trading world. As can be seen from the experience with JEM and PGD, currencies will appreciate (or depreciate), even using the carry trade as the primary reason for currency exposure. But it could be a big mistake to forget why you came to the party. Stay focused on your original goal of carrying the dollar upstream.
Disclosure: Author holds JEM