Quick Summary
Using the Absolute PE Valuation method, the current PE of 12.7 undervalues Cisco's (NASDAQ:CSCO) fair value PE range of 15.2 to 17.9.
Investment Overview
To start, here's a dashboard overview from the OSV Stock Analysis Spreadsheet for you to review.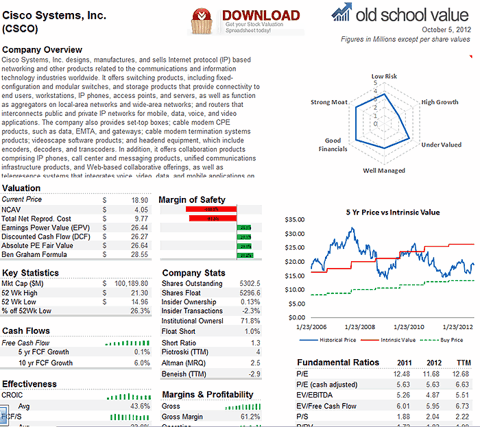 Click to enlarge
Here is a free 12 page PDF report on CSCO to help you follow this article.
There are many ways to value stocks and one of the most popular and simple ways is to use the PE multiple. It's quick and it's easy, but it doesn't necessarily mean it's right.
The problem with using just the PE is that it is a relative measure.
But there is an alternative method to value stocks using the PE is called the Absolute PE valuation created by Vitaliy Katsenelson.
This valuation method makes adjustment to the current PE based on the quality of the business, financial status and earnings predictability.
And I'll use Cisco as an example of how it is done.
Fundamental Numbers
In the recent couple of years, more and more tech stocks have fallen into the value investors territory.
Cisco is among the group and with numbers like below, it is a tempting value play.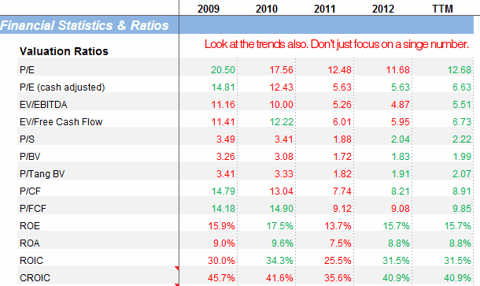 Click to enlarge
Right from the top, you can see there is a big difference between the regular PE and the cash adjusted PE.
This is because half of Cisco's PE is made up of cash. Adjusting the cash, the adjusted PE, and therefore the business aspect of the PE comes down to 6.6.
An interesting point here is that Benjamin Graham concluded that a company with zero growth prospect should have a PE of 8.5.
In other words, the non cash PE of Cisco is being valued at negative growth by the market.
Cisco isn't as cheap as it was in 2011, and there has been a slight uptick as analysts have been upgrading the stock again, but with an EV/EBITDA or 5.5 and EV/FCF of 6.7, these are tempting numbers.
An ROE of 15.7% and ROIC (Return on Invested Capital) of 31.5% are good numbers for any business and outpaces Cisco's cost of borrowing by generating excess returns to the business and shareholders.
1. Finding Earnings Growth Rate
The first step of this valuation method is to determine the growth rate.
Rather than using analyst projects or making educated guesses, every PE has a certain growth percentage baked into it.
Here is a table that I use to determine what the expected growth rate of the current PE is.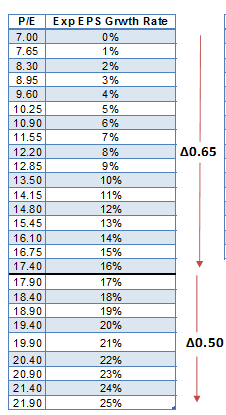 Since Cisco has a PE of 12.7, the expected growth is 8% (I round down instead of up to err on the side of conservatism).
Any PE higher than 21.9 is capped to 25% growth as it is difficult to sustain over long periods.
2. Factoring in Dividend Yield
The powerful aspect of this valuation method is that it gives extra points to companies that give out dividends.
The table below shows the points for corresponding dividend yield.
The reason for this extra adjustment is that dividends are real and tangible. You are making profit when you receive dividends whereas earnings and growth are non tangible and have a non linear relationship.
However, dividend paying companies are subject to lower growth and the relationship between dividend and growth is linear.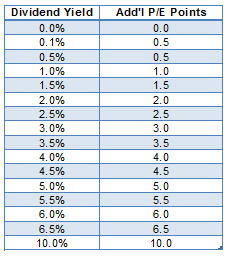 With a yield of 2.96%, Cisco receives an additional +2.5 adjustment to the current PE (remember, rounding down).
3. Points for Business Risk
The three main parts of the valuation focus on the business, financial status and earnings predictability.
Business risk is all about trying to find out whether Cisco is a stable, solid, low risk business.
Rather than using subjective measures, I determine business risk based on four criteria.
ROE (Return on Equity)
ROA (Return on Assets)
CROIC (Cash Return on Invested Capital)
Intangibles as a % of Book Value
The first three are self explanatory. Businesses capable of sustaining above average returns or increasing returns each year has a good business model, moat and capable management.
The fourth may need some explaining.
I've added intangibles as a percentage of book value because I do not want businesses to grow by acquisition which could lead to issues later on. Growth through intangibles is not a good business model and is not a competitive advantage.
High intangibles does not necessarily reflect business risk, but continually growing intangibles is a warning sign for sure.
Cisco receives 16/20 points in this section and gets a 6% premium factor. The premium factor is used in the final calculation.

Click to enlarge
4. Points for Financial Risk
The four numbers that make up financial risk are:
1. Current Ratio
2. Total Debt/Equity Ratio
3. Short Term Debt/Equity Ratio
4. FCF to Total Debt
A company with a strong current ratio does not run the risk of going under.
Total debt/equity and short term debt/equity is included because total debt may not give the whole picture. A large upcoming debt payment is much more worrisome than a low interest, long term debt due in 10 years.
FCF/Total Debt displays the financial strength because it shows whether the company is able to pay back its debt through FCF instead of taking on new debt.
Cisco receives 20/20 in this department and a strong 10% premium.

Click to enlarge
5. Points for Earnings Predictability
Trying to quantify earnings predictability is much more difficult, so I've tried to keep it as simple as possible.
1. Gross Margin
2. Net Margin
3. Earnings
4. Cash from Operations
For a company to be predictable, it has to have stable margins, stable or increasing earnings and cash from operations.
As much as I like FCF or owner earnings, I did not include it here because it is volatile and not a good measurement for predictability.

Click to enlarge
Cisco scores 11/20 in earnings predictability. Only 1% premium here.
The Simple Formula for Fair Value PE
Using the premium factors based on the points, Cisco's fair value PE can be calculated with the following formula.
Fair Value PE = Basic PE x [1 + (1 - Business Risk)] x [1 + (1 - Financial Risk)] x [1 + (1 - Earnings Visibility)]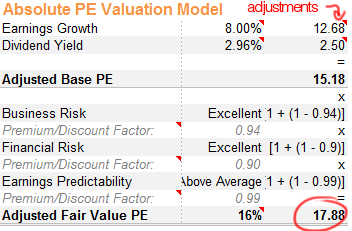 The calculation shows that based on the growth expectations of the current PE, dividend yield and 3 business factors, Cisco's fair value PE is 17.88.
This is equivalent to a fair value in the mid $20 range.

Click to enlarge
Summing Up
Rather than just using the PE multiple as is and measuring across competitors to see whether it is cheap or not, try making these adjustments as shown with Cisco to get a better understanding of the business and to come up with a final adjusted fair value PE.
Cisco shows that the fair value should be 17.9. What do you think?
Disclosure: I have no positions in any stocks mentioned, and no plans to initiate any positions within the next 72 hours. I wrote this article myself, and it expresses my own opinions. I am not receiving compensation for it (other than from Seeking Alpha). I have no business relationship with any company whose stock is mentioned in this article.