I have not written about Blackstone (NYSE:BX) since early June. This is a stock I have profitably traded several times this year (primarily by selling naked put spreads). The stock looks like it has had several recent positive news items, catalysts and technical support that make it time to get into the shares again.
Recent positives for Blackstone
Blackstone's stock chart has been positive since bouncing off a technical support level of $12 a share. The stock continues to make higher lows (See Chart).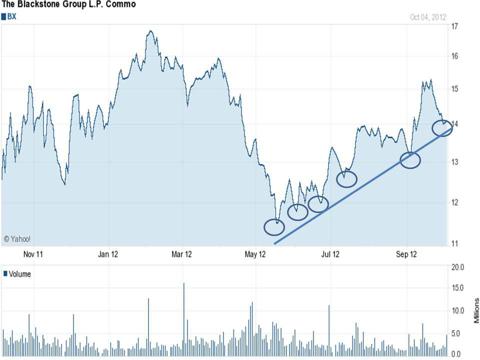 The company is poised to book an over $500mm gain in just 18 months on a London office park.
The company is becoming a major player in buying foreclosed homes, and should benefit from the continuing rebound in the housing market.
Since I last wrote about BX, it crushed earnings estimates during its second quarter report and Barclays upgraded the stock to an "outperform".
The Blackstone Group L.P is one of the largest asset managers in the world. It manages private equity, real estate, hedge fund and credit funds globally.
4 additional reasons BX is buy at $14 a share:
Earnings are on a significant up ramp. Blackstone made $1.25 a share in FY2011, but is on track to post $1.45 a share in FY2012. Analysts have it making over $2 a share in FY2013.
The median analyst price target on BX is $17.75 a share. Credit Suisse has an "outperform" rating on Blackstone and believes the company can make $3.25 a share in FY2014.
Operating cash flow has risen some 150% over the past three years and the stock sells at a very reasonable 7 times OCF.
The stock yields just under 4% based on the last twelve months of dividend payouts. Given projected earnings path, I would look for payouts to increase substantially over the next year.
Author's Note: I have an open order to sell the March 14 puts for $1.50 currently.
Disclosure: I have no positions in any stocks mentioned, but may initiate a long position in BX over the next 72 hours. I wrote this article myself, and it expresses my own opinions. I am not receiving compensation for it (other than from Seeking Alpha). I have no business relationship with any company whose stock is mentioned in this article.